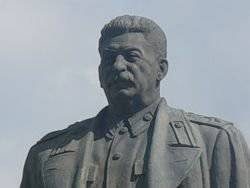 The solemn opening of the bust of Joseph Stalin will take place in Yakutsk on 8 in May, Interfax reports, citing the first secretary of the CPRF Yakutia Party Committee Viktor Gubarev.
"Activists of the Council of Veterans of Yakutia negotiated with the company Almazy Anabara for a year. As a result, the General Director Matvey Yevseyev agreed to the installation of Stalin's bust on the territory of the company's office, "said Gubarev. As Irina Efimova, a spokesman for the mayor of Yakutsk, Aisen Nikolaeva, said the head of the city administration does not object to such an initiative of veterans.
The Yakut communists for the first time appealed to the authorities of the republic with a request to allocate a site for the installation of a monument to Stalin back in 2007. The activists motivated their request with the military merit of the "father of nations" and the approach of the 90 anniversary of the October Revolution.
Later, in 2010, the Council of Veterans of Yakutia sent the same request to the administration of Yakutsk, but was refused. The then mayor, Yuri Zabolev, explained his decision by not considering Joseph Stalin to be worthy of the monument. "While I am the head of the (city), there will be no monument to Stalin in Yakutsk," said the mayor at a meeting with cultural workers, which took place on February 9 of the year 2010. In turn, Gubarev said that Stalin's bust would be installed in any case, even if the city authorities would not give permission to do so.