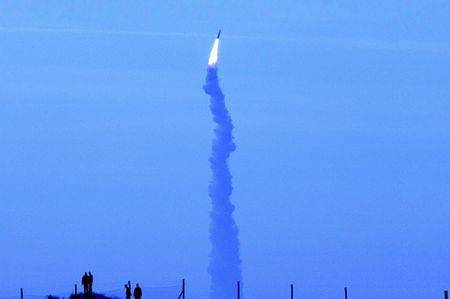 The latest French ballistic missile M-51 exploded on Sunday during a test launch from a submerged position onboard a nuclear submarine, French media reported, citing representatives of the country's military and civilian authorities.
Tests of the missile, which under the terms of the shooting did not carry either conventional or nuclear warhead, were held off the Atlantic coast of France in the department of Finistère, RIA "
News
».
According to the representative of the maritime prefecture of the Atlantic region Lionel Delor, shortly after the launch of the nuclear submarine Le Vigilant, a rocket self-detonated. Delors said that the possible causes of the incident are not yet known.
The French authorities emphasize that the unsuccessful launch of the rocket could not lead to serious consequences, since the test area was closed to the movement of sea and air civilian ships in advance.
The M-51 intercontinental rocket from 2010 of the year is in service with the new generation of submarine nuclear-powered missile carriers, which are part of the Strategic Marine Forces of France. She replaced the earlier M-45 strategic ballistic missiles. Compared to its predecessor, the M-51 rocket has increased accuracy.