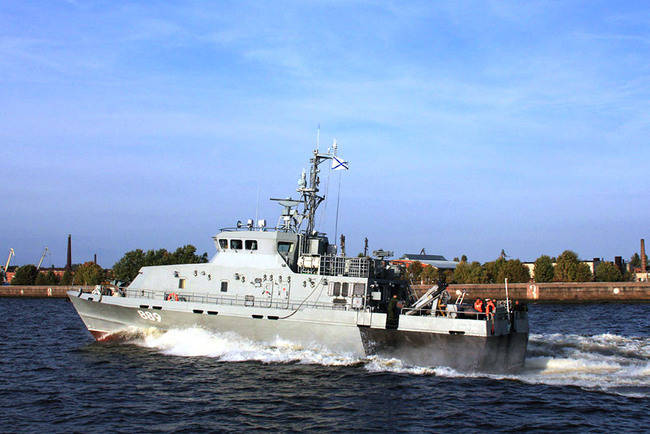 Boats of this project are designed to protect the water areas of the naval bases of the Russian Navy. Modern equipment and high seaworthy characteristics allow them to solve a wide range of tasks peculiar to ships of much greater displacement.
The lead boat of the project - P-104, laid down on February 18, 2008, serves as part of the connection of the ships of the guard of the water area of ​​the Leningrad Naval Base. In May 2012 was admitted to the Black Sea
fleet
the second Grachonok boat, the P-191, laid down on May 7, 2010. On November 14, 2012, a state acceptance test certificate for the third boat, the P-349, laid down on May 6, 2011, was signed at the Novorossiysk Naval Base. In April 2013 the fourth boat launched on May 5, 2012 was launched. The fifth boat, which was launched on July 27, 2012, is currently under construction on the stocks of the plant.
The solemn event, held on the eve of Victory Day celebration - 9 May, is scheduled to be attended by representatives of the Russian Ministry of Defense, ministries and departments of the Republic of Tatarstan, managers of the Zelenodolsk municipal district, JSC Ak Bars Holding Company, as well as representatives of the designer and counterparty organizations.
Brief tactical and technical characteristics of the XAPE XAP project:
Displacement - about 140 t
Main dimensions: length - 30 m, width - 7,3 m, draft - 1,8 m
Full speed - knot 23
Navigation range - 200 miles
Autonomy - 5 days
Crew - 6 man
On the same day, a ceremonial launch of a new hydraulic press, intended for three-dimensional bending, will take place in the body building shop of the plant. This state-of-the-art automatic installation allows bending sheet metal up to 20 mm thick. Its launch is one of the stages of modernization of shipbuilding production in the framework of the program of technical re-equipment of the enterprise.