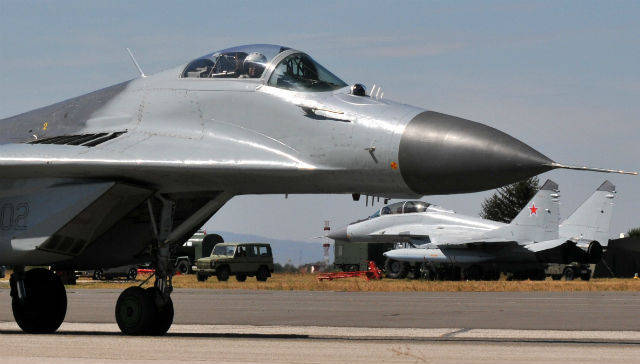 The Belgrade daily Blitz reported that the contract will most likely be signed during a meeting between Vucic and his Russian colleague Sergey Shoigu on May 23.
Earlier it was reported that Serbia plans to buy 12 new combat aircraft, presumably eight single and four double. Probably due to budget constraints, their number was halved.
The Serbian Air Force has three MiG-29 and one MiG-29UB of the early series, which in the 2007 year were "modestly modernized" with an increase in flight resource for 700 hours, or 10 years. The new MiG-29 will replace the old MiG-21bis, which are still in service. Unofficial sources believe that the MiG-21 has been upgraded with the help of a Russian manufacturer, which will allow them to be in the ranks outside the base resource.
Belgrade began the process of acquiring new fighters a few years ago, submitting formal requests to such global manufacturers as American Boeing and Lockheed Martin, Chinese Chengdu, French Dassault, European consortium Eurofighter, Russian RSK MiG and Sukhoi worth $ 1 billion.
Mi-17 helicopters will complement the Mi-8. Competing manufacturers, including Eurocopter, are also joining in the fight for a new tender.
Meanwhile, the Serbian Air Force is also in search of a contractor for the modernization of the 15 avionics jet training aircraft (TCB) / Soko G-4MD Super Galeb light attack aircraft. One of the bidders are EADS Cassidian and Thales, which should ensure their operation before the 2030 year.
Russian MiG-29 fighters were demonstrated in the air during an air show at Balanitsa in the 2012 year (top photo). On April X, in the framework of the celebration of the Serbian Armed Forces Day, an airshow was held in Krusevac, in which the 20 aircraft and helicopter participated, including five TCF Super Galeb, five Soko J-21 Orao light fighters / attack aircraft, one An-22 transport aircraft, nine helicopters Aerospatiale / Soko SA26 / 341 Gazelle and one Mi-342 (bottom photo). Utva Lasta's basic flight training aircraft are laid up after a fatal crash for the crew in September of one of this type of aircraft in September 8.