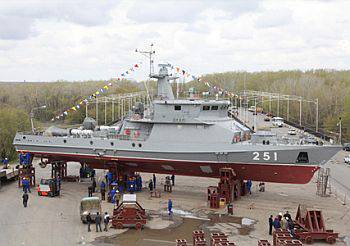 This is the second ship made at the enterprise, which is part of the National Company Kazakhstan Engineering JSC. Exactly a year ago, the first rocket-artillery ship descended from the stocks of this plant, which was given the name "Kazakhstan". The new ship was named after the plant - the manufacturer and by geographical location - "Oral".
The ship's total displacement is about 250 t. It is equipped with missile and artillery weapons, modern communications, navigation and navigational weapons. In the future, several ships of a similar project are planned to be commissioned by the Naval Forces of the Armed Forces of Kazakhstan.
The message is posted on the website of the Ministry of Defense of Kazakhstan.