About 79-year-old Anastasia Antonovna Peshkova needs to be told only by high calm. Otherwise, there will be only a dry biography: "Artek", two family dinners with Vuchetich, a hip fracture ... And she, Anastasia Antonovna, is also
история
. Ours is with you. Motherland.
She meets me without a coat. The top of the "peas" dressed, the bottom - no. In the hands of a thick magnifying glass and "crib": Motherland read out the decayed reports of the Information Bureau from the military fields - teacher! - thinking that I will ask about the war. And I ask about childhood. Grandpa partisan, beat Kolchak. Father died in the Great Patriotic.
Mother alone raised six children.
- What was here in those years! All Altai - barracks, zones, wilderness! But I studied well, and I was sent to Artek - it was like a flight into space. There I opened my eyes to our beautiful huge country.
So she began to dream of Moscow, and her dream came true. The Moscow Pedagogical Institute, after it worked in the Hudfund as a senior accountant, "kept in touch with sculptors and artists." "Bohema!" - inserts Tatyana, wife of nephew Anastasia Antonovna. They have a light blue room, in which there is only a bed, in recent years and the Motherland lives. "No TV, no phone, no mail!" Lives up ...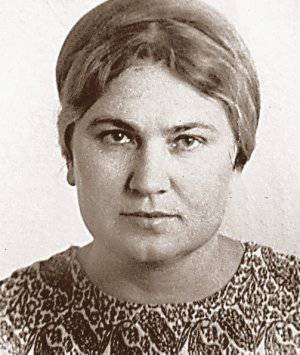 - Once my card got into an album that Vuchetich himself began to look at. "Where did you get this girl?" Send her to me! "- said. I came. Twisted spit: "You will pose for me." And for two years I worked for him, starting with 1962. How did she work? Why, to raise your arms and legs, turn your head — a simple matter ... I posed in a bathing suit, and when I realized that he was looking at me as an artist, not as a man, and was exposed ... I was even twice invited to family dinners - Vuchetich lived in rooms above the workshop.
Nastya Peshkova, 28-year-old, saw that the sculptor sculpts a female figure - but for what, he did not divulge ...
- That Vuchetich asked me to take the flag into my hands, then I kept a very long line ... How did I goggle my eyes when the monument "Motherland Calls!" Was opened in Volgograd. "So I got to where!" - I thought.
After this work, she went to pedagogy, 3 taught Russian in Ulan Bator, and when she returned to Moscow and wanted to see the sculptor, to thank, he was already dead. In Volgograd, on the Mamayev Kurgan, she, by the way, never visited ...
"I will hold this sacred burden!"
She is modest, our Motherland.
"For my part, I have consigned this story to oblivion for many decades - because what does my merit mean compared to what the whole country has invested in defeating fascism!"
Childless ...
- I had fans, hobbies, suggestions. In Mongolia there was a Hungarian, in Moscow a Pole. But I was too passionate about work ...
"I loved myself," Tatiana says.
Not beautiful, Motherland.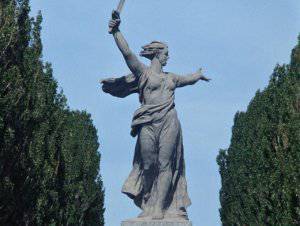 "My eyes are small, my hair is threefold ..."
Lonely ...
- There were, of course, blunders and omissions. I could be more indulgent to those men who were biased towards me and ready to change their lives ... A Pole, Laszlo Terek, was married ... He wrote letters of demand, but I left them at the Post Office ...
Poetic ... Writes poems in a checkered notebook, lying all day long (fracture of the femoral neck), about "beautiful eyes in cats." Anastasia Sibirskaya is her pseudonym.
And shocking rending prose: "Listen, listen, listen! I, the Motherland, keep the memory of those day and night who, with their ardent hearts, rose above the fear of death. Who, in spite of the power of treachery, cruelty and destruction, raised this heavy Sword of Courage to the pure heaven of Peace and the Shield of the boundless Faith in bright human ideals. In the hot summer, in the cold of winter, in hail and downpour, I will keep this sacred burden until the world stops shuddering at the word "war."
Her "gnawing pain", almost no sleep at night, the Motherland. The Red Cross gave a wheelchair - but it does not even get to sit down ...
I have to ask a little.
- Stalin? When I died, I was sad.
The God? I almost believe. I can not say that I doubt. I believe so - without worship. With the inner attitude that He may exist. And remembers me.
Naked, old, sick. My motherland.