I came back from work, turned on the TV for the background, periodically "shoot" with the remote control and so do it, - I hit the "Comedy woman" - cooking that I always kept for a cheap hack that is not worthy of the very fact of existence. I sit, eat, look half-eyed ... And ...! Above all, I pleased at the time when these narcissists, who had lost the concept of morality, were playing around with their regular, obscene and vulgar scene, where one of them portrayed either a psychic, or a soothsayer. And all would be nothing - well, you explain to satisfy your own ugly self-conceit, find understanding with the same tact and conscience-free as you yourself are, and - figs with you ... But, after the words in this skit - "What is it some kind of chill terrible breath ...? No ghost of General Karbyshev with the winter blizzard ... "I was numb for a second and could only say to my wife -" But this is already an unforgivable disgusting! "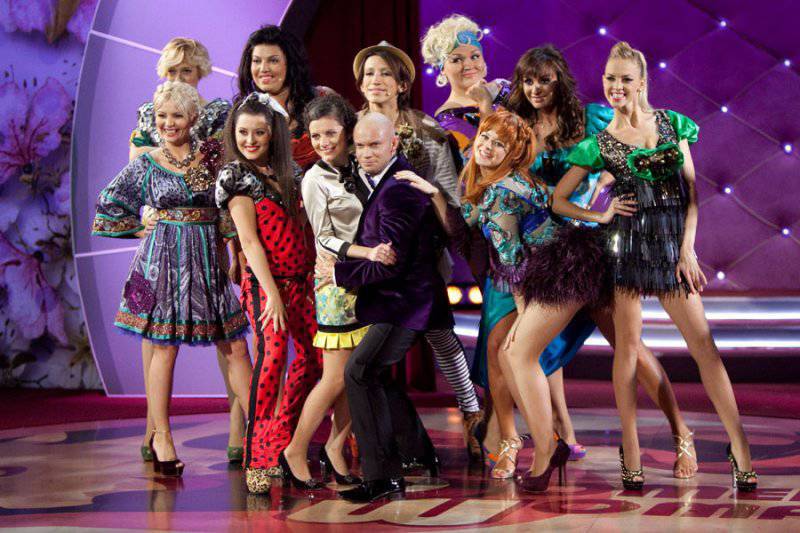 This bohemian trash, which has lost its boundaries, tact and conscience, the name of the person who gave his life and accepted a martyr's death so that all subsequent generations of Soviet people live, mentioned in such a mocking, juggling sense and only for the sole purpose - to laugh from souls! There is not a hint about any feeling of compassion, nor about any attempts to realize the sufferings and torments that this man accepted.
In the conclusion of this whole farce, their fussy bald clown exclaimed: "You were at the Comedy Vumen - a place where it is pleasant to be, but it is not a shame to remember!". So nothing before this bald one, with vulgar lustful eyes, didn't come to it ... So, with his creative thinking, he didn't understand what they were doing - SHAME!
After that, my wife and I started a conversation on the topic that there are things, names, moral standards and examples that are strictly forbidden to touch with dirty paws. This is especially true of the names of those who gave their lives in the name of fulfilling their moral, civic and military duty, in the name of a better life of subsequent generations, in the name of us living with dignity, caring for our children, elderly parents, with the participation of in the eyes and empathetic to someone else's trouble.
Everything that happened shook the soul and prompted to speak in the "VO".
And here - I open the "Military Review" and in the thread that opinions have appeared about the expediency of holding the Victory Day Parade, I see "revelations" of the same as these girls from the box and devoid of conscience, a creative person like this Dima from Comedy Wumen "- Vasily 71! And after all, mind you, such opinions have appeared right now, when both the country's leadership and all normal and not indifferent people are in search of those
historical
milestones that could serve as moral beacons for the country's younger generation. That is, there are ongoing attempts to knock the moral support from under our feet and deprive us of sovereign pride, leveling the glorious achievements and victories of our people and country!
And how nice it was to see, in response to the bleating of this forum-inspired creative, the outrage and monolithic condemnation of his pathetic comments and his "reasoned" dodges! To the credit of the members of the forum - no one allowed himself obscene attacks in the direction of this user, but "unleash" him - notably! And what beautiful words sounded on the site ...!
Gari
Quote: domokl
This is our Victory, this is my Victory, this is the Victory of my children and all those who left their loved ones on the fields of war ...
Dear, I, too, is not Russian, but not as infuriated as yours, this scum has no nationality, subhuman
My two grandfathers Armenians from Georgia, fought, one returned in fragments from Stalingrad, the other came as Berlin's marines
It was the Victory of our Grandfathers, our Fathers, now Our Victory will be the Victory of our children!
Because I am the Great Victory!
And what kind of example of incredible generosity did Nina (Tverichanka) tell us
I will add my story about Russians and enemies.

My uncle went missing in September 41-th near Kiev. He was just 22 of the year. Grandma hoped all his life that he was alive. If not a funeral, then maybe he was wounded, he lost his memory, and so on. That is, I believed that my son survived and lives somewhere ... And in 42, they were under occupation. The combat units of the Germans were gone, and in the village they had some kind of quartermaster unit. Winter was frosty. So the women gave warm clothes to the German soldiers, because they did not have a winter uniform. And when I asked my grandmother: "How is that? They are fascists, enemies!" The grandmother answered: "Well, do they have no mother? She thinks you don't feel sorry for your son? Or maybe someone will give or cover up my Fedya!" It was not very clear to me then. And now, I think, this is what kind of soul our grandmothers were, if even in such circumstances they were able to separate evil and good, hatred and compassion. Here they are Russian women !!! And they can break into shreds and immediately regret !!!
I am extremely pleased to be in the community of you all, dear colleagues and I (without pathos) - I am proud that such thoughts and words sound here!
And I would like to say a few words to the address of the above-mentioned user Vasya 71, which is justly correct. If you don't know something from the history of the country in which you live, or you don't understand something, if you are completely deprived of pride in your country, then don't try to dirty yourself with tar, in which you've gotten yourself, others. Read more books on the history of Russia, maybe you will understand something about moral values ​​and expediency. But it seems that all this is not yours. Yours are stories about the decisive role of states in the Great Patriotic War and about Land Lease as the "decisive and crucial factor in the war."
And the pride for the Victory of the USSR in the Great Patriotic War - for OUR VICTORY - is not yours. And if not yours, then - do not touch!