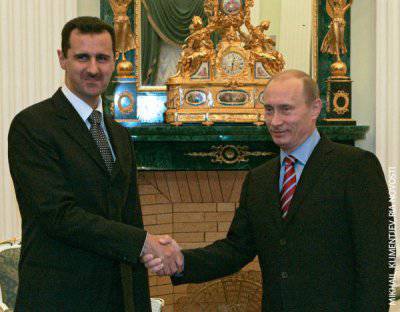 Hello, gentlemen, comrades!
I would like to touch on the topic on which, it seems, so much has been said and spoken, but nothing has been put in its "rightful places". It seems that, as soon as the lazy one did not discuss, he did not "analyze" and did not "ponavyvodil" on this very important question today. I am talking about the situation around Syria, which is very often discussed in the world media from various points of view. For some, "this angle of view" is clearly anti-Syrian, for others, on the contrary, is clearly pro-Russian, since today, everything related to Syria is going along with a strong mountaineering bond with Russia's position on this issue. And outright speculations, outright trolling, outright misunderstanding with misunderstanding together and outright cheating juggling on this topic - RP-E-D-S-T-A-T-O-H-N-O in all communicative means - from talking to an Internet. The most commonly thrown in arguments are speculations of a different kind on the subject of Russia's retreat from its allied obligations towards Syria and, almost completely, surrendering Syria to please Western Hegemon ambitions. Especially often and with hysterically increasing intonations, it begins to fill the space at those moments when the scales of Fortune, in a purely internal conflict, are clearly leaning towards Assad and the Syrian Army. And now, when Assad's troops are planning one of the strongest attacks, which can initiate the complete destruction of all hired gangster rabble in the country, the Western media is increasingly heard hysterical screaming about a certain red line and readiness to deliver to the troops of Assad "a decisive blow from the US ". And, as a rule, speculation on the topic that Putin Assad almost "merges" and that Russia favorably relates to the issue of Assad's care (only details with Uncle Sam left to discuss - to bargain), and that "As soon as it's right! "
This is about the topic of betrayal of Russia or loyalty to my allied duty, and I would like to say a little today and put some dots on some of the "I".
In the internet, two articles on the Syrian subject caught my eye. One is called "Putin in the backstage conversation said he would not give up Assad, even if the battle reaches the streets of Moscow," and the other, which sounds like an addition to it, "By the way about the" no-fly zone ", and what about Syria's air defense?" Even without having titanic analytical abilities, on the basis of these two Internet "notes", one can make, excluding any other speculation, the conclusion - Putin, and consequently Russia, do not abandon their own! What do you think - guys from the West ?! Should everything be subject to your "cunning" theories and rules of policy? This is when in order to create a precedent for the invasion of a sovereign country and its plunder, it is enough to wave the powder powder from the podium in a bag, passing it off as chemical weapons - are these "internationally recognized rules of foreign policy"? Or, when, borrowing money to hold your electoral company from the ruler of another sovereign country, to provoke a military conflict to destroy this leader, so that there is no one to return the debt, as happened with Gaddafi? Are these the rules and principles of international politics in a European way? Dismiss ... Let us be uncivilized and wild in your eyes, but we can honestly look into the eyes of the enemy, rather than smiling with our slits and hiding a knife behind our back (in a civilized and European way!) For a traitorous blow.
And what did you want and waited for, gentlemen good from the "wild" ruler of Russia, who at one time did not shake off to go alone with a pistol against a crowd of drunk German swells with the words: I am an officer. And I will do what I was taught - I will shoot ... I will leave the last bullet for myself ... For those who are interested in the fact from Putin's biography, given by me:
Links to the following articles:
http://warfiles.ru/show-30104-putin-v-kuluarnoy-besede-zayavil-chto-ne-sdast-asada.html
http://warfiles.ru/show-30114-kstati-o-bespoletnoy-zone-a-chto-tam-u-sirii-s-pvo.html