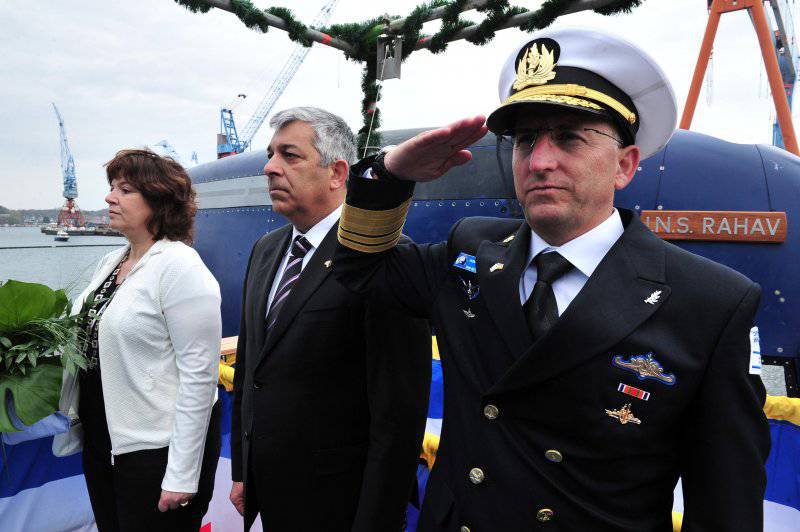 April 29 (TKMS) in Kiel (Germany) at the Thyssen-Krupp Marine Systems shipyard held the inauguration ceremony (launching and consecration) of the fifth submarine of the class Dolphin for the Israeli naval forces capable of carrying nuclear
weapon
reports defensenews.com.
INS Rahav, the fifth of six submarines ordered, was built in Germany with financial assistance from the German government and is expected to arrive in Israel next year after running trials and testing the integration of weapons systems.
In May last year, the inauguration ceremony was held for the fourth submarine of the Dolphin class, INS Tanin, which is scheduled for operational deployment in the coming months.
INS Rahav, as well as the sixth submarine, currently under construction at the TKMS shipyard, is equipped with an air-independent power plant (AIP), which will increase the diving range and autonomy.
By the middle of 2017, the Israeli navy should have fully operational strategic submarines.
Dolphin-class submarines of the Israeli Navy are the product of a twenty-year strategic cooperation program between Israel and Germany. Submarines built in Germany in accordance with Israeli requirements are equipped with Israeli-developed combat command and control systems, which include, according to foreign media, the use of cruise missiles capable of carrying tactical nuclear warheads.
The construction of the first two submarines was fully financed by Germany, the third - by half, the fourth and fifth submarines - by one third. The contract for the construction of the sixth submarine class Dolphin was concluded last year. The amount of the transaction is more than 600 million euros, of which Berlin is ready to allocate 135 million euros (175,8 million dollars).
The INS Rahav launch ceremony was attended by the Israeli Defense Ministry's Director General Udi Shani, the Israeli Navy Commander, Vice Admiral Ram Rothberg, and German colleagues.