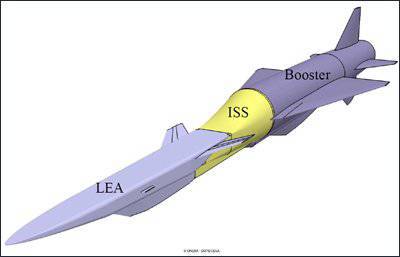 Steps hypersound. Tu-22M - X-22 - LEA - Hexfly
According to the information of the Department of National Defense of China for Science and Technology, the European Space Agency (ESA) is developing a technological demonstrator of the Hexfly hypersonic experimental apparatus at speeds up to 8M, a Chinese source big5.chinanews.com reports on April 3.
The Hexfly program was initiated in October last year for "accelerated creation of hypersonic technologies." Program partners can be Russia, Japan and Australia.
The goal of the program is to integrate various advanced technologies, such as Lapsat (development of a hypersonic engine with a long duration of work) and Atlas (development of heat-resistant airframe materials). According to the plans of the ESA, such a device should develop speed to 5M, then reach the speed of 8M. The length of the body of the future hypersonic aircraft is considered from 1,5 m to 4,5 m. "Although the large device allows you to place more means of technical control and registration, the device of small sizes will have less technological complexity, weight and cost. Therefore, we need a certain compromise, "according to a press release from ESA.
To speed up the implementation of the Hexfly program, it is planned to conduct preliminary tests of the French hypersonic LEA device with a ground or air launch. If a decision is made to use the air launch, the device is planned to be launched using a specially modified Russian X-22 / D2 Raduga Russian anti-ship missile and its carrier, the Tu-22М3 supersonic bomber (Backfire). Tests are scheduled for 2014.
It is also necessary to resolve the issue with the test site. ESA stated that the test apparatus should be conducted in Europe or Russia. In the case of the air launch of a hypersonic aircraft, it will be necessary to rent a test site in Russia, since in Europe there is no test base with the required length.