In the title of this article I have taken the words of one of the members of the military review forum, who, while being very jealous of his person and his human dignity, nevertheless, tirelessly allows the absence of such respect for the human dignity of other people and, in particular, relation to the personality of the President of Russia. In his comments, our colleague, without being embarrassed and especially not thinking about the ethical side of his actions, allows shortcuts to anyone who dares to have an opinion opposite to his opinion and is very offended when they are treated in a similar way to him. I think many people guess who I mean, and I think he perfectly guessed that we are talking about him and his statements.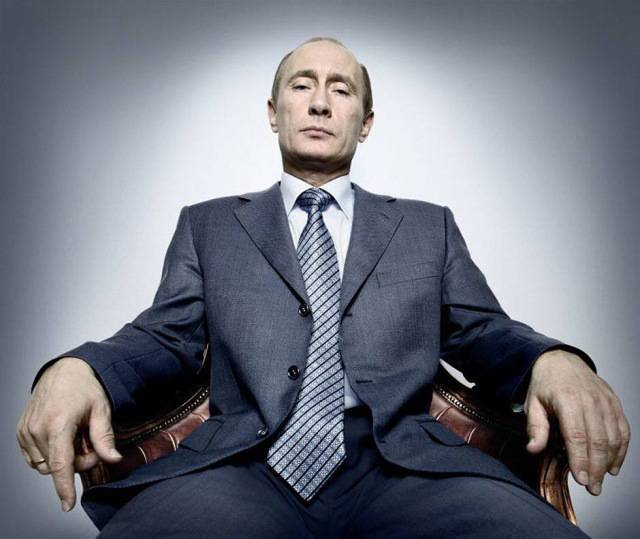 Now - in order. I personally would like to define how applicable are the words "GREAT AND ALL-POSSIBLE", so beloved by our colleague, to describe Putin? And you know, colleagues, are absolutely true and absolutely relevant, no matter how unexpected it sounds! To such a conclusion, one involuntarily comes by observing the consistency and strategic forethought of his actions. Still, we must pay tribute to the Soviet school of the KGB - they were able to train personnel! Look at the skill with which he wraps any move of the "Western progressive political thought" so that this thought then begins to look for the "fifth corner" in search of a way out of the impasse in which it falls after Putin's counterattacks!
The Poles fought fiercely against laying a gas pipe through the territory of their country. And the basis of this rage was not the broadcasting slogans on the protection of ecology and European solidarity, but the banal desire to podgadit Russia at least a little in its desire to enter the European market of hydrocarbons. To the credit of Putin, it should be noted that he did not try to jump over the fence lovingly and at an accelerated pace built by the Poles, and having thought a little, weighing and agreeing with other members of the "European family" (not so snobby and fixated on his originality and irreplaceability), who more perspicacious (though not less greedy), laid the said pipes along the bottom of the Baltic. Yes, he did it so much that it turned out to be so beneficial, both for Russia and for its partners, that these partners gladly supported the idea of ​​increasing the number of pipelines to four!
Putin's actions regarding his support for his long-time ally, Syria, are a separate topic, sounding like a song! There is no that dray, inexperienced and stupid pile on which he was repeatedly pushed, like the compassionate Western well-wishers, and many domestic "strategists"! How many arrows were shot at him with accusations of betraying a trusted ally! It is clear that the West in every way wanted to repeat for Russia a new Afghanistan, but already on the Syrian land, and domestic "military geniuses" are simply not able to think in categories except - "Right now I will give a face!". And Putin, in spite of these "benevolent and wise" advice, led his game. And he led her so that the West is in a state of prostration, not having a clue how to play the game further. Now, having lost the possibility of a political maneuver and a limit of political means, all the actions of the anti-Assad coalition are gradually reduced to cries about the intersection of a certain "red line", which this coalition itself drew for Assad. But already from the first reaction and the first statements of Cameron and representatives of the American administration, it is perfectly clear that Assad passed this line for the hundredth time, all these militant gentlemen just have a guts to decide on something radical, since they are well aware that behind Assad is standing, carefully and intently watching everything that is happening, Putin. Without Putin, there would not have been such a long slaughter in which the legitimate government of Syria has consistently and successfully defended its country's independence from world democratizers. Grateful Syrians are well aware of this, but the domestic pseudo-patriots regularly click into place, bringing the country's leadership into engaging in the slaughter, knowing full well that they (these pseudo-patriots) will not risk their lives there.
Take another example of Putin's non-standard solutions - Magnitsky's list and its implications for American business. It is necessary so far-sighted and sophisticated to play on the eternal and all-conquering (more precisely - all the awesome) love of Western business for money! At the beginning, play on the eternal desire of these gentlemen to fuck their gesheft on everything, to tie them with the benefits of business in Russia, so that later Jesuit and cynical mock their noble impulses in the protection of human rights! They adopted the Magnitsky Law — they put the presumptuous Russia in place (as they thought), and here — a brazen bummer! Russia responded to their law with its own law! And so she answered that American diplomats of the first echelon with dispatches from OBAMA had flown to Moscow! And in the dispatches of those - subtle hints that Russia itself asked the United States to repeal the law that turned out to be so scandalous and double-edged! And Putin, instead of listening to the DEMANDING REQUEST of the great democratizer, through the mouth of Russian law enforcement and lawmakers, said that all Russian specialists involved in the case of the deceased Mr. Magnitsky may not fear for their further career and fulfill their duties as successfully on the basis of the Russian legislation, as they did when Mr. Magnitsky was a "prisoner of conscience".
In short, one headache from this President of such an incomprehensible and terrible country as Russia. Some of our liberal patriots' favorite argument for the inferiority of the economy built by Putin is the argument he gives from the West about the total dependence of the Russian economy on hydrocarbons. Gentlemen, as they learned a good example of the collapse of the USSR through the complete petrodollar dependence of the Union and its successful collapse through the collapse of oil prices, they still believe in this technique. Most recently, an attempt was made to collapse oil prices and it turned out that in a situation of destabilization of the main supplier of hydrocarbons to Europe and the states of the Middle East, the economies of Western countries are more vulnerable to the petrodollar. Not a ride - after a couple of weeks of failure everything was back to normal. Why am I doing this? And besides, Putin managed to turn pipelines into geopolitical
weapon
, which he can achieve the desired result without waving a nuclear cudgel, but solve problematic issues for Russia through a not-weak gearbox in the form of Gazprom, Sibneft, VTB and other Russian structures that are tightly integrated into the global economic system.
According to his political weight, in my opinion, Putin is by far the most powerful politician. Vesomey and Obama, although many believe the opposite. Obama without the Senate and can not look askance, but our Senate is looking in the direction pointed to by the Supreme High Command! So, friends, one should be proud that a politician of such a level and masterful political thinking leads our country, and not another. Otherwise we would have an epoch of incessant "revolutionary storm".
So - both GREAT and ALWAYS, as if this did not cut the ears of my opponents.