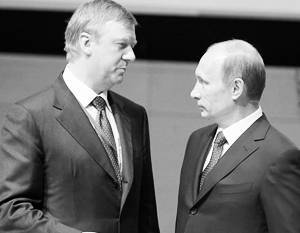 The head of Rosnano, Anatoly Chubais, who in the 1990s held the post of head of the State Property Committee, said that prior to the statement by Russian President Vladimir Putin, he did not believe that the two former privatization consultants of Russia belonged to the CIA.
"I have heard this information many times and, frankly, treated it like rumors. But if it says the president of the Russian Federation, then this is serious. Not a single official document, which would at least to some extent confirm this information, put this question before me, neither during my work in the government, nor later I was presented. It seems that those who are responsible for this, there is clearly flawed, "- said Chubais, RIA"
News
».
Recall that the day before, during a straight line with the Russians, President Vladimir Putin said that in the 1990s, cadre CIA personnel were working around the main ideologue of privatization in the country, Anatoly Chubais.
"In the entourage of Anatoly Borisovich as advisers, as it turned out today, the staff of the CIA of the USA worked. But the funniest thing is that upon returning to the USA they were brought to justice for being enriched in the course of privatization in the Russian Federation in violation of the laws of their country and did not have the right to do that as acting intelligence officers, "Putin said, but did not specify who exactly are we talking about.
As the person who worked on Chubais's team later said on condition of anonymity, people from the entourage of the current head of Rosnano, who were suspected of working for the CIA, could be Shleifer and Haye, a professor of economics and a former lawyer at Harvard University, respectively. However, experts from the United States questioned that Shleifer and Hay were employees of the CIA.