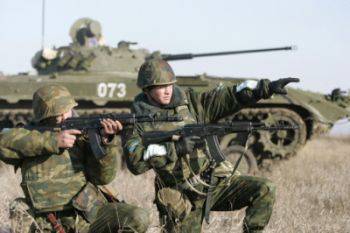 Today, not every day the media tells us about the horrors of future wars, which will be led by NATO, including against us with the help of combat unmanned attack weapons (drones). Some go further, talking about how the sixth generation aircraft will look like, which, as many people think, will also be unmanned ...
And we, as usual, lag behind. And everyone is terrified! Just take it and hang it. We do not have the fifth one yet, it's just being tested, and here it's already the sixth, albeit simply drawn. Fearfully! Everyone laments over this. Liberals - where, they say, with a pig's snout. Patriots are the same thing, but under a different slogan: about ... whether the country, and now there is nothing to fight! And self-intimidation is the brand of today.
And the worm sharpens me all - something reminds me of everything. Eighty-third, Reagan, SDI. In the absence of computer graphics at the time, an animation of how orbital platforms with nuclear-pumped lasers litter rockets with a sickle and hammer on the sides. The fact that they did not finish off the platform is famously hit by ground-based anti-missiles.
Intimidated to death, and together we rushed to do the same.
Evgeny Velikhov told how academicians persuaded the leadership of the country and the Armed Forces, that it was not necessary to do this, that technically it was impossible to accomplish this, and to make rockets and warheads less vulnerable ... But who listened to them - the decision was made at the very top, perform.
Gleb Evgenievich Lozino-Lozinsky urged: let's not repeat their shuttle, we will make the Buran in our own way, it will work out better and the experience has already been. He replied: do not be clever, do as the Americans, only more ...
And always the same - just more. Directly some kind of disease according to Freud.
Well, burst out. Of course, there were many reasons for the collapse of the country: the concocted collapse in oil prices, the war in Afghanistan, and a lot of things internal - from the betrayal of the elites to the madhouse in the economy. But our imitation of the American SDI played its foul role.
Now everyone knows everything and readily writes that they separated us then as children, that it was a bluff and nothing more. But what did this teach us?
This is our ineradicable desire to do as they have. There are not stupid people, and there is nothing to be clever. The main thing is the same, but only more.
I wonder where we would be in now
aviation
if the Sukhoi Design Bureau had not defended its SU-27 concept? Would make a copy of the F-15? We always had enough fools, but we did not learn to believe our specialists. A stranger - yes, his own - no. And this trouble is not today's, but very old - decisions are usually made by those who have a very distant idea of ​​the essence of the problem. This is not only our problem, but how bad they are there - I am not very interested.
Notice, we are ahead of the rest, only where we did not catch up, but did it our own way. Now we are proud, and how many heart attacks this pride cost the chief designers, when they defended it, we don't remember or don't want to remember.
I am not an armament specialist or a military man. From the point of view of the latter - an amateur. I am a design engineer who, by necessity, has also become a manager in order to engage in the development and production of engineering products. I just suggest connecting logic and nothing else. Maybe my judgments are controversial - do not judge strictly.
So, the drone is a remote-controlled aircraft. The most famous examples are the American Predator and Raptor. These are the most common multifunctional droids that perform intelligence, target designation, and combat missions. The first is more reconnaissance, the second is more combat, and is generally similar. The maximum altitude is 10 and 15 km. Speed ​​- 150 - 200 km / h. Barrage time - 24 - 36 hours.
Pros
: 1) remote control, operator security; 2) low weight and size; 3) the ability to be in the air for a long time; 4) relatively low cost; 5) can be used without prepared runway and expensive infrastructure.
Cons
: 1) remote control, that is, the possibility of losing the car when the enemy interferes or intercepts the control; 2) low speed as payment for the possibility of a long stay in the air and as a result - the inability to resist manned fighter jets; 3) low maneuverability and speed of response to changes in the situation - the camera can not replace the pilot, especially in close combat: turning your head and the camera is not the same thing; 4) high range only when controlled via satellite; 5) the inability to resist air defense systems and move away from them.
conclusions
. First - drones are needed and in large quantities. Aerial photographs, including the battlefield, target highlighting in a local conflict (somewhere in Africa or Southeast Asia; it's not very clear what we should do there, but that's another question) to search for a caravan of drugs coming from Afghanistan to Tajikistan ... But these are not combat vehicles and not for the army. But where combat operations are really necessary, it is to carry out counter-terrorist operations - when you have to hang in the air for several hours and wait for the appearance of a single vehicle to launch a rocket ... But this is also not for the army. For the army - this is the intelligence of the battlefield. And even then - small inconspicuous devices, which are not paid attention to on the radar screen. And the loss of such a device will not be significant.
This suggests a second conclusion: these "toys" were not created at all for us. More precisely, for us, if we became the recruitment of the Voronezh, Ryazan and Tomsk republics. Here you are welcome to get a drone strike or, at worst, "Tomahawk". Just at some stage, as a state, we have already been written off and thought it was a matter of time. But this has nothing to do with a possible conflict between Russia and NATO.
Yes, it should be recognized that it is necessary to work in this direction and, perhaps, the time will come when the planes will become completely unmanned. But all this is required only for a war with a deliberately weak opponent who cannot deliver a massive blow to the territory of the attacking side.
weapons
mass destruction. Or, more importantly, it all makes sense if the liberal march across the planet eventually leads to the elimination of states and their replacement by corporations, which will solve their local problems in this way. And only lightly armed rebels will be able to answer them. But this is from the field of politics and has nothing to do with the armed forces.
There is no need to go far for examples. When all NATO piled on a small, defenseless Yugoslavia, the Serbs with the help of microwaves induced F-117 to the false targets and beat them down with the 125-based air defense missile system, created in the 1961 year.
Europe used drones for the suppression of Libya - even Gaddafi was calculated using them. But all this only after the Libyan air defense ceased to exist. At the same time, Europe, in the framework of the operation in Libya, spent almost the entire stock of Tomahawks. And this is all for Libya, 90% of which is desert, and everything interesting for bombs is concentrated on the shores of the Mediterranean. At the end of the operation, freedom-loving Europoids rushed in to replenish stocks in the US and ... received an invoice for prepayment.
Unmanned combat systems, cruise missiles, precision bombs were created to fight countries that lack or weak air defense systems. A Turkish reconnaissance aircraft shot down by Syria is an example. And he, as it turned out, was covered with Shilka, with a range of 2,5 kilometers. So even for Iran or North Korea, such an adventure is already risky to start (although there is a desire). And for China or Russia, this is generally from the realm of fantasy. And it's not even a nuclear, chemical or bacteriological weapon ...
An armed conflict between NATO and Russia cannot be launched as a humanitarian mission to change the "bloody Putin regime." This can only be a full-scale war with an attempt to destroy Russia as a state, with tens of millions of victims of our citizens and the same victims from the opposite side. NATO must be ready for tens or even hundreds of thousands of dead soldiers in the very first days of the war. The attacking side of the soldiers must have several million, no less. Several hundred thousand professional military men are not counted, they will be the first, and millions of reservists are needed. What kind of reservists there are now - everyone knows, although we should also think about the quality of ours.
As for drones, it is not technically very difficult to install radio interference and blocking control and we need to develop these capabilities. Everybody has a promising American drone captured by Iran. They say it was not without our "Avtobaz" (always loved the names of our military equipment). Avtobaz itself could not do this, it is not meant for that, but it's probably to participate ...
Then why all these horror stories? In my opinion, then, to distract from the main thing. The Achilles heel of all these systems, as well as the entire modern, especially the NATO army, is a high-precision guidance system. In short, near-earth space. And all the possibilities are for someone who can afford to have a large satellite constellation and use it for global positioning, intelligence, etc.
This means that the reason is not in unmanned killers, but in systems that allow them to be remotely controlled and aimed at a target. And not the one who will use high-precision weapons will win, but the one who can quickly and guaranteedly destroy the satellite grouping of the enemy - without it, all these systems turn into a pile of metal (I vaguely imagine the B-2 pilots with a paper map in their hands).
For this purpose, you can create miniature spacecraft that will quietly stick to the enemy's satellites and control their work, and at the right moment to undermine them. This is from a series of expensive exotic. But you can stupidly, at the right moment, undermine the containers with small steel balls, which at 16 speed in kilometers per second, will sweep away everything, without discerning where their own and where others are. The Chinese draw is neither us nor you. When it comes to the existence of the state, sentiment can be left.
And I will not make a big discovery, saying that in this case the advantage will be on our side. We have such a large number of unguided missiles and multiple launch rocket launchers, as well as
tanks
T-72 without satellite lotions. This is our officers learning to go to the point of concentration on the map in the tablet. And not in that tablet with a bitten apple, but on a paper card in a leather tablet. We still have in our warehouses coils for wire communication, etc.
That somehow - do not judge strictly amateur.
What am I doing all about? And the fact that everything needs to know when to stop. Americans can play F-35, spend huge amounts of money and abandon the Comanche project, use the B-2 cost per aircraft carrier and unable to carry cruise missiles. It is possible for them, but we must think and listen with our head, who with this head can create what is called an adequate response. Adequate not by the number of investments, but by the effect obtained.
After exchanging the "lists", whether someone likes it or not, we re-enter the Cold War era (everyone already understood this). The cold war involves a hot phase of confrontation. We need a modern army, but let's approach this wisely. Let's rely on scientists and engineers, on real officers and generals. Let's create the scientific, engineering and military elite again. And in any case, do not try to repeat the decisions of others. We must remember that not all of these decisions are true. And after all, and without pants to stay long.