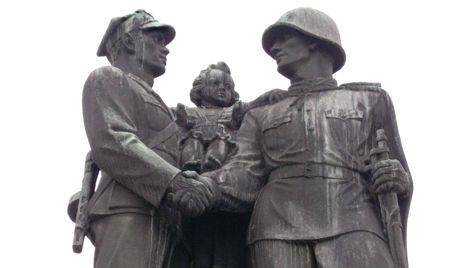 At the war memorial cemetery of Soviet soldiers in Warsaw, the remains of 29 soldiers who fell on Polish soil in August 1944 in the battles for the liberation of the republic from the fascist invaders were reburied. In an exclusive interview with the Voice of Russia, the Russian ambassador to Poland, Alexander Alekseev, spoke about the details of the ceremony.
"The ceremony was attended by representatives of the Ministry of Defense of Poland, representatives of the Mazoviet Province, in whose territory Warsaw is located. The ambassador of Belarus in Poland along with his staff also took part in the event. There were also representatives from the embassies of Kazakhstan, Ukraine and a number of other countries, "Russian Ambassador to Poland Alexander Alekseev told the Voice of Russia.
He noted that thousands of Soviet servicemen were buried on the memorial cemetery, which is located in Warsaw on виvirki Wigury Street. "The cemetery is very important, almost everyone who arrives in Warsaw from Russia on an official visit, lay wreaths at the monument, which is located at this cemetery," the diplomat said.
"I would like, of course, especially to highlight the work of Polish search engines from the organization" Kalina Krasnaya ". These are people who, in their free time, are engaged in seeking the remains of Soviet soldiers who fell during the Second World War on the territory of Poland, and interred their remains. For modern Poland, this is very unusual, and all the more pleasant for us, "the Russian ambassador to Poland emphasized.
In an interview with Golos Rossii, Alexander Alekseev also touched upon the topic of Russian-Polish relations:
"Russian-Polish relations are very multifaceted. There are areas where our relations develop very well, there are other areas where they leave much to be desired. This, it seems to me, shows that our relations have a very big potential. This potential must be used, and if we use it as we should and as we can, then this will be beneficial for both Russia and Poland. "