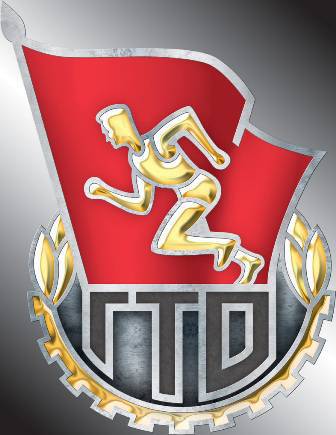 Vladimir Putin commissioned the government, in time for 15 in November 2013, to develop and submit the All-Russian Sports Complex (VFSK) to the Council of the President of the Russian Federation on the development of physical culture and sports.
The presidential instruction states that the implementation of the standards of the All-Russian Sports and Sports Complex will be a prerequisite for "obtaining positive certification in the subject of" physical culture "in educational institutions."
VFSK is a program and regulatory framework for the physical education of citizens, which sets out requirements for their physical fitness and relevant standards, taking into account health groups.
The presidential administration of the Russian Federation was instructed to hold a public discussion of proposals for the introduction of the All-Russian sports and sports complex by October 1.
To revive the TRP complex practiced in the USSR (but in a new format) Putin suggested following a meeting with coaches and athletes on March 13. The President said that the assessment of the level of physical training of the student must be reflected in the education certificate and taken into account when entering the university.
The president's initiative was approved by hockey player, Olympic champion, president of the Russian Hockey Federation Vladislav Tretyak:
- I support, because the TRP at one time played a big role. This is especially important for children who study in school, because they always compete with each other: who learns better, plays football, hockey and so on. Getting the TRP badge will encourage them to stand out, there will be a competition. It is very important to push our young people, especially young men, to go in for sports. You want, you do not want, you have to practice, master the standards, train in summer to pass the TRP. This is a return to the old, but it's not scary - just need to update it a little, introduce new parameters, standards and go ahead.
A return to the updated standards of the GTO will only affect everything in the most beneficial way, Vyacheslav Kruglov, retired major general, doctor of military sciences, professor, honored worker of the Higher School of the Russian Federation, teacher at the Military Academy of the Strategic Missile Forces and General Academy stressed in an interview with "However" headquarters:
- Upon admission to all military universities, you need to pass an examination in physical training, so all this must be returned, then they will not fall at long distances, and untrained young people will not get into military schools. And, of course, when they regularly attend, they themselves will facilitate admission to the university and help in further study.
A man, among other things, was created in order to protect the Motherland, mother, sister, friends and relatives, this is the most noble ideology. Therefore, there are no contradictions with psychology, with some moral principles here, this will, on the contrary, only strengthen the body and spirit.