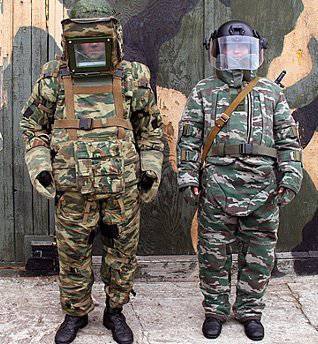 In the media there was a message about the adoption by the Ministry of Defense of a new kit for the sapper OVR-1 "Falcon", in which there was a mass of inaccuracies and errors.
So, the OVR-1 "Falcon", which protects only from fragments (and not from bullets!) With speeds NOT EXCEEDING 550 m / s, was compared by journalists with the Dublon in its maximum configuration. Yes, in the maximum configuration "Dublon" really weighs 40,5 kg, but at the same time it provides circular protection over the entire area from fragments with speeds of 550 m / s and has a reinforced area in 60 square meters protecting the vital organs, as well as AKM bullets with a heat-strengthened core and high-speed fragments. It should be noted that the purpose of these kits is different. OVR-1 "Falcon", in contrast to the "Dublon", is not intended for direct detection and disposal of explosive objects.
We offer readers a more correct comparative analysis.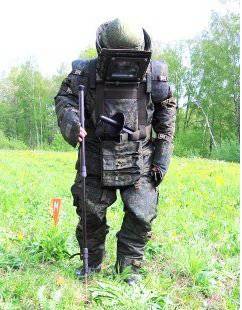 OVR-1 "Falcon" is a modernized Grenadier suit developed by Fort Tekhnologiya, in which steel elements were replaced with polyethylene ones. The level of the main splinter protection in it V50 = 270 m / s, reinforced, including with the help of polyethylene armor panels, 550 m / s. The costume is completed with a splinterproof helmet with anti-shock polycarbonate visor and splinterproof glasses that have a splinterproof level of V50 not higher than 250-270 m / s. 8 kit weight kg.
"Dublon" in the minimum configuration "A" provides CIRCLE protection over the entire area, incl. and face shards with V50 NOT BELOW 550 m / s. At the same time, Dublon-A has no armor elements. Protection is provided only by aramid fabric structures. 17,5 kit weight kg. Yes, it is more than 8 kg, but also the protection, especially of the face and limbs, is significantly higher than that of Falcon.
In the following modifications ("B", "C" and "G"), the Dublon is completed with armor elements, not steel, but TITAN. Titan, as it is known, is non-magnetic, therefore, in the "Dublons" you can not be afraid of mines with magnetic fuses. Moreover, the emphasis is on increasing the level of protection not only of vital organs, but also of the joints (elbows, knees). Modifications differ only in the area of ​​enhanced protection, as a result - and weight.
In the photo: OVR-1 "Falcon" (Photo by the press service of the Ministry of Defense of the Russian Federation); Zaks Dublon (Photo by Andrei Sokolov).