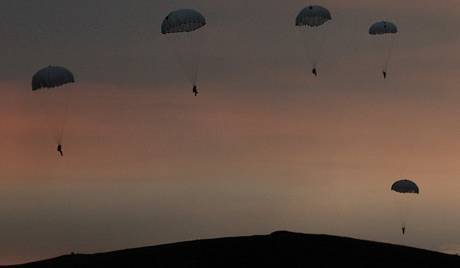 Joint Belarusian-Russian tactical exercises started at the Brest training ground. On the part of Belarus, special forces of the republic's armed forces are taking part, and on the part of Russia, airborne troops.
More than 800 servicemen of Russia and Belarus take part in joint exercises on the territory of the Brest range. The paratroop platoon of the Pskov paratrooper airborne division arrived in Belarus the day before. The maneuvers involved 35 units of armored vehicles and about 100 units of special vehicles, and the Russian paratroopers are provided with all the necessary equipment from the Belarusian side.
The head of the press service of the Belarusian Ministry of Defense, Colonel Sergei Kuzmenkov said:
"One of the divisions of the 38-th separate Guards Mobile Brigade and the division of the 234-th Guards Air Assault Regiment of the 76-th Guards Air Assault Division of the Airborne Forces of the Russian Federation are participating. representatives of the 38-th separate mobile brigade, and the 76-th division of the Airborne Forces of Russia are similar. "
The exercises will practice the skills of airborne personnel from MI-8 helicopters, search, capture, blocking and destruction of a simulated enemy. In addition, with the help of unmanned
aviation
complexes, helicopters and aircraft, the military will conduct training in counter-sabotage operations.
Military expert Alexander Alesin said that these are current exercises that are distinguished by a richness of maneuvers:
"It is assumed that their specialization may be broader than the landing troops: landing from AN-2, IL-76 and MI-8 helicopters. That is, they will cooperate if the CSTO decides to use armed force somewhere in the area of ​​responsibility of the DBKB, or peacekeeping operations will be carried out on the basis of these units. "
The interaction between the Belarusian special forces and the Russian paratroopers is constantly being worked out. So last year, joint exercises were held twice on the Belarusian territory and in the Pskov region. And in September this year, the two states will hold joint military exercises of the strategic level "West-2013".