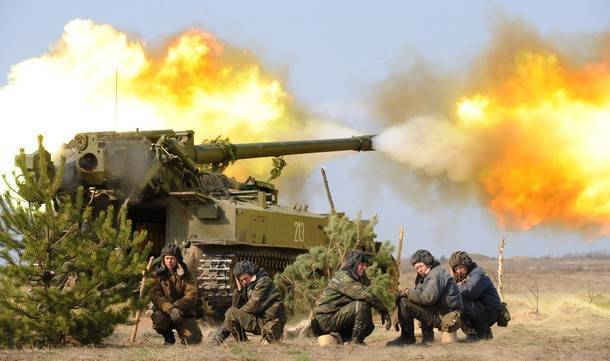 More than 10 self-propelled artillery mounts (SAU) "Giatsint-S" replenished the fleet of artillery armament of the military association of the Eastern Military District (VVO), stationed in the Amur region. In the near future, even more 20 installations are expected here, the press service of the military district reports.
152-millimeter SAU "Hyacinth-S" is a long-range gun capable of hitting targets at a distance of up to 33 km. ACS "Hyacinth-S" on a tracked chassis has light armor protection, high maneuverability and powerful weapons, can shoot, both from closed positions, and direct fire. The gun has a unique muzzle brake, which absorbs more than 50% recoil energy when firing.
SAU "Giatsint-S" is designed to destroy open and sheltered personnel, weapons and military equipment of the enemy.
Mass production began in the year 1976. Self-propelled gun made by reckless scheme. The welded armored hull provides anti-bullet and splinter protection for the crew and internal equipment. The bulldozer equipment for self-digging and a folding base plate are hung on the case. The power plant is a multi-fuel diesel with water cooling.