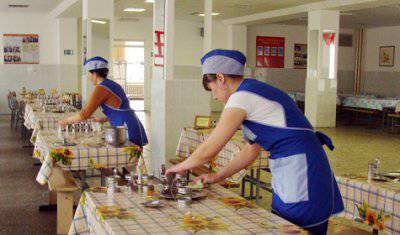 Keen discussions continue on whether outsourcing in the Russian army justifies itself. It is worth recalling that outsourcing in the Armed Forces refers to the process of attracting civilian specialists to perform various kinds of so-called "non-core" works: cleaning of premises, repair of equipment, and cooking. According to this mechanism, civilian personnel appeared in military units, who are now responsible for the cleanliness of the barracks, headquarters, the quality of cooked soups and washed clothes. Repair of any equipment: from armored vehicles to
washing machines
in military laundry is also carried out by civilians.
And if such questions as sewage repair or patching roofs of roofs by civilian specialists do not cause any special questions, then the maintenance of military equipment and the preparation of food exclusively by civilian personnel in the army raises questions. What is the problem here? And this problem lies in the fact that even during the exercises, the troops will have to carry with them a whole team of "civilians", who will have to repair both the military KamAZ and repair the borsch to everyone.
However, representatives of the Ministry of Defense declare that in the course of military exercises, and even more so, in military operations, civilian outsourcing personnel will not be used. In other words, in the military unit, outsourcing will work, but in war already - as in war. But in this connection a not unreasonable question arises: if the soldiers in the military units are used to the fact that outsiders do all the economic work for them, then what will be the quality of this work on their part. After all, even the preparation of the same dinner for several hundred people is a real art, except for the fact that it is hard work that requires some preparation. And where and when these same chefs in the presence of "outsourcers" will be prepared. Today, according to the official representatives of the Ministry of Defense, there were no problems with the training of soldiers in terms of performing "non-core" work during the exercise. But so and full-fledged outsourcing in the army is far from widespread.
In general, the issue of attracting outsourcing companies to work in the military environment requires serious modifications so that, ultimately, the same unprofessional repair of equipment does not affect the combat capability of a separate unit.