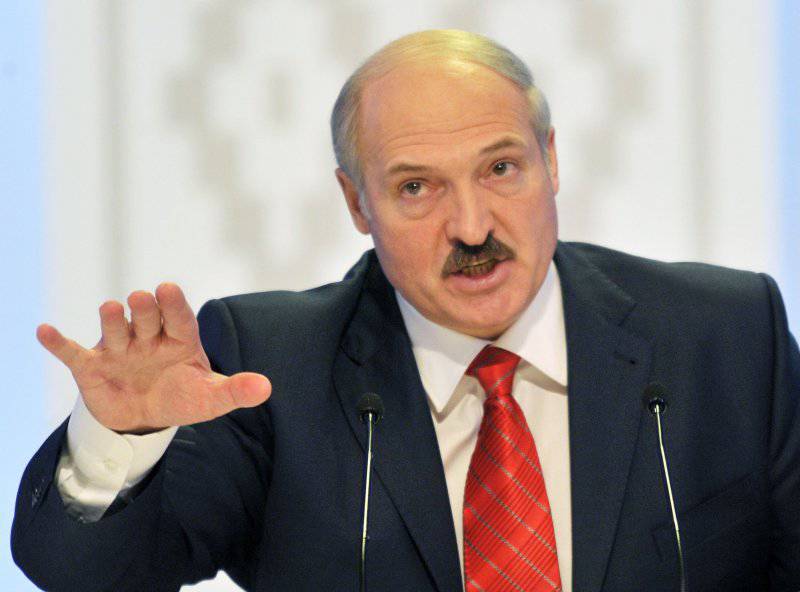 The head of state addressed an annual message to the people and parliament
"We are allied with fraternal Russia, we have no political differences," said Alexander Lukashenko. - We are reaching the highest level of bilateral cooperation within the framework of the union state. And at the same time I want to say frankly, absolutely honestly for the European Union, the United States and others: in negotiating with you, we will in no way proceed from whether we are with you or with Russia. We have no such choice and can not be! ".
"No one is capable of violating this holy law - neither Lukashenko, nor Putin, nor Medvedev, nor anyone else! - he stressed. - It `s naturally. To demand that we turn a certain part towards Russia is counterproductive. This will never happen! "
Speaking about economic problems, the head of state said that privatization is not a panacea for all ills, the country will not go "for sale at bargain prices", and the basic requirements for investors have long been voiced. The merger of the Belarusian MAZ plant with the Russian KamAZ may not be expedient if there are foreigners behind KamAZ who want to close the Belarusian plant, he continued. According to him, it is not clear that MAZ will receive from the merger, the Belarusian enterprise has sales markets, and its products are not inferior to KamAZ products. "I ask: how much do you invest in the modernization of MAZ, since you came here? - He explained the situation. - But they have no money. In addition, they are beginning to inform me that foreigners from Germany and America are standing behind them, who will simply be interested in lowering and closing MAZ. " According to the president, it is only advisable to make a single management company that would work with two assets over the next 3-5 years. "If someone tries to use this situation and razderbanit country - this is not with me," - said the head of state. "I'm on this gangster action, otherwise you will not name, I will not go," he concluded.
He also said that Belarus needs privatization and investors who will ensure the expansion of commodity markets, the creation of new industries and will give a good salary. In addition, A. Lukashenko noted that modernization is an objective requirement of life, and not the manilovism or invention of the president: "Our path is not destruction, but creation. Modernization in the country began a long time ago, I would even say that we are entering the last stage, the extreme stage of this modernization. " Modernization of production in Belarus is named in the country as one of the priorities of economic policy, according to A. Lukashenko, it will not be carried out in large numbers, this process will be limited to serious projects with 12-15. In particular, this process is already underway in the woodworking industry and should be completed this year. Belarus is developing the real sector of the economy, rather than inflating a soap financial bubble, he concluded. According to him, the criteria for the effectiveness of modernization should be "the achievement of annual revenue from sales of products per person employed at least 60 thousand dollars." The head of state stressed that over five to six years of modernization, 7 billions of dollars were invested in the energy sector. Now, he added, "a new energy has appeared."
The country still affected the global financial and economic crisis, but basically managed to stabilize the situation, he said. "Today, we have crossed the 500 dollar line of average wages across the country, coped with high inflation, calmed the foreign exchange market, and secured gold reserves at a safe level," the president concluded. All these positive data, the head of state stressed, have been noticed and noted in the world, according to the annual UN rating, Belarus is among the first 50 countries on the human development index. "This is the highest indicator among the CIS states," A. Lukashenko noted.
The head of state noted that Belarusian customs officers are detaining drugs, uranium and nuclear flows, migrant flows at the border precisely in the interests of the European Union - and this is a good agenda for normalizing relations with Brussels and Washington. "But we will never go on kneeling, stooping," he announced. - Everything that we have agreed with our partners - with Asia, Africa, Latin America, the EU - we will faithfully carry out. But do not strangle us. Sanctions are counterproductive. Do not force us to introduce same-sex marriages. There will be no "blue" and other things as long as I am president. And you move away from Christian values, it is alien to us. We will not accept this. " Also, according to him, there will be no revolutions in Belarus: "Let the opposition exist. Let them fight, participate in the elections, but do not bomb. They will bomb - let's give it in the brain. "
Touching upon the topic of corruption, A. Lukashenko expressed bewilderment about how officials can work badly and steal, and at the same time go to churches and demonstrate their faith. "All believers," he remarked. "I will sometimes look at you in the temple — I think that they will now rush to the floor and knock their foreheads on the floor." Candles are holding. If you come to the temple and pray so ardently, so devoted to these ideals, why are you stealing, why are you not working well? I warn you in advance: do not put your head in the loop. I warn everyone: step to the left, step to the right - you know what will happen. Do not touch someone else's, because it will still come out sideways. "
"If you want to live in your country, you do not want to lose it, you do not want the people to be thrown out of you, and I'll work as a human being together with you from these chairs," he threatened the officials with popular anger.