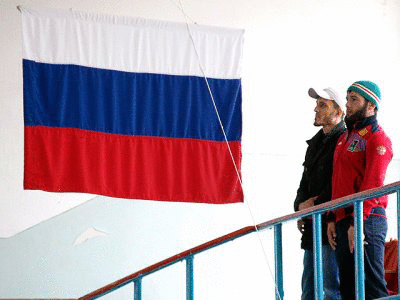 During the grand opening in Stavropol of the first championship of the North Caucasus Federal District in Greco-Roman wrestling an unpleasant incident occurred - at the time of the performance of the national anthem, one of the fans defiantly remained seated. The governor of the Stavropol Territory who was present at the ceremony shamed the young man. According to a number of publications, the spectator who revolted the official was from the North Caucasian republics.
"To the music of this hymn, your grandfathers went to war in the Great Patriotic War, and you sit there. You can't behave like this. I tell you, if you haven't been taught at home: you must get up at the hymn!" - quotes Valery Zerenkov press service of the Stavropol governor.
In the administration of Stavropol, they note that all other spectators and athletes standing stood lifting the Russian tricolor to the sounds of the national anthem. They supported Zerenkov with applause when he shamed a young man.
"Perhaps the young man is not from our lands and does not know that it was our anthem. Anything can happen. And from what region it was in fact, it is not yet known," the Southern Federal University tolerates.
So in the governor's press service they didn't specify which particular region of the North Caucasian Federal District the fan came from who showed disrespect for the symbols of the Russian Federation. However, in blogs and a number of regional sites, Internet users report that the young man came from one of the North Caucasian republics. "While the nationalists are separating the Caucasus from Russia, Caucasians themselves are trying to secede from Russia, publicly showing disrespect to state symbols," writes Stavropol blogger Dmitry Protasov.
As for Governor Zerenkov, he is generally a rather tough leader, notes Moskovsky Komsomolets. And the issues of inter-ethnic relations for him, judging by the policies pursued, are among the priorities in their region.
So, in early February, Stavropol authorities announced plans to involve Cossack squads in law enforcement work. The authorities came to such a decision after another inter-ethnic clash - a Cossack was seriously wounded in Ingushetia - and the nationalist gathering in Stavropol that followed. In connection with the incident, the governor held an emergency meeting, and it was decided: Cossacks should be employed by the police, and Cossack guards should be created, which, if the law allows, should be equipped with "traumatizing".
A pioneer in this matter was a Kuban neighbor, Zerenkov Alexander Tkachev. Last year, Cossack patrols appeared in the Krasnodar Territory, and in January Tkachev decided to give them a traumatic
weapon
. According to the Krasnodar governor, the squads are working effectively, but to protect the rule of law, you need something other than the kulaks.