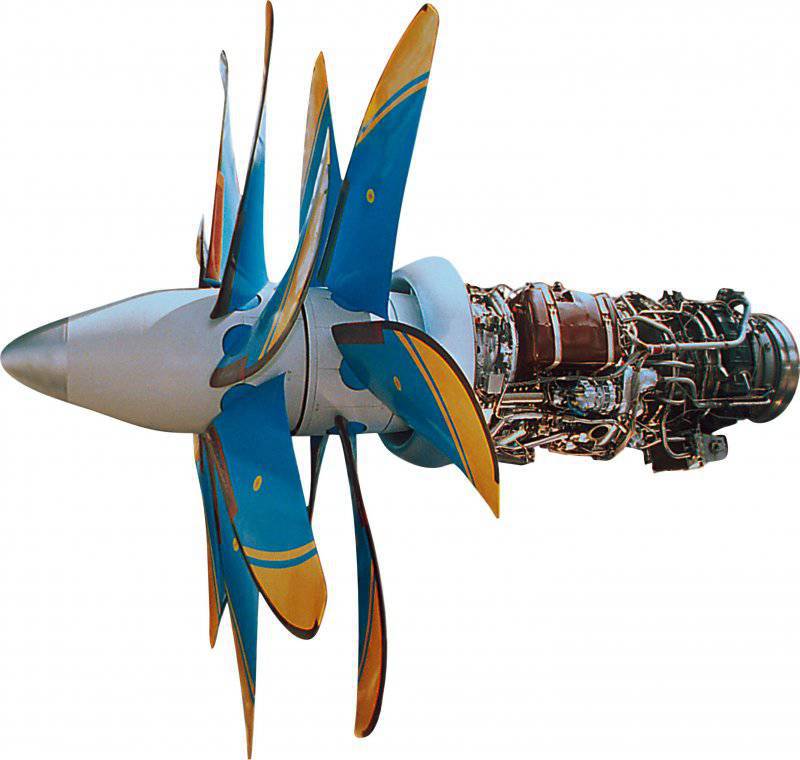 In mid-April in Moscow, an act was submitted on the completion of state bench tests of the D-27 engine, created by the GP Ivchenko-Progress, FSUE NPTsaly Salyut, and Motor Sich JSC for the An-70 military transport aircraft, which will be supplied by the Russian Air Force . The Chairman of the State Commission of the Ministry of Defense of the Russian Federation, Lieutenant Colonel Vladislav Bruskov, who carried out the military-technical support of the tests, noted that the propulsion system is ready to conduct state flight tests as part of the An-70.
Russian military experts during a multi-month thorough check found that the basic technical data and operating characteristics of the product of Zaporozhye engine builders correspond to the technical requirements of the Russian Air Force. Thus, another multi-year problem was solved in the Russian-Ukrainian project of a promising air transport. About the engine and its creators, YV Catherine PUTYLOVA and Oleksandr BABAKIN, freelance correspondents of the NVO, were told by Igor Kravchenko, the designer of the Zaporozhye design enterprise.
- According to international, including Russian experts, An-70 in its class has no analogues in the world. This is the most innovative Russian-Ukrainian product. It turns out, and the engine must be the best?
- We, engineers and designers of "Progress", are engaged in concrete actions. Therefore, I will say objectively about the An-70 project not only my opinion. The entire power plant of the new aircraft and our D-27 passed the bench state tests, the corresponding act was signed. The identified and approved technical parameters show that we have now created the most optimal engine in the world for a new military transport aircraft. It is thanks to this engine the aircraft has the best economy in the world, has the shortest take-off and landing distance and for decades ahead of similar foreign developments.
This promising Russian-Ukrainian aircraft, it seems, must now be fully promoted to the market. The need for it is huge. The state defense order of the Russian side for it already makes up 60 machines. Serial production is scheduled to begin in 2014 year at KAPO named after Gorbunov in Kazan. And it will be conducted in cooperation with the Ukrainian aviation industry. The serial production scheme has already been agreed and the Ukrainian side has begun the transfer of the necessary documentation for it.
I would especially note that, despite the support at the highest state level, the An-70 project was literally inhibited for many years due to financial, political, and often personal reasons. Although Russia is very profitable. So the share of Russian enterprises in the cost of the power plant is more than 70%. 135 Russian enterprises of the engine-building industry are involved in its production. And there are only six Ukrainian enterprises. Only for some reason, some people oppose the Il-476, which is definitely a good airplane, but in different classes with the An-70, as opposed to the new Antonov machine. Its first modification took off 40 years ago, and the fuel consumption of 1,7 is more than An-70 and it does not have such unique take-off and landing characteristics and such a number of advanced modern technologies. For example, such a power plant, similar to ours, foreign aircraft manufacturers expect to create only by 2020 year. And this is true. And we already have it on the wing.
I note that foreign companies of this class can create and mass-produce only 8 – 10 years. Therefore, we still have time to conquer a huge segment of the global aviation market. However, the project was inhibited. But five years ago, the An-70 could already be mass-produced and operated. Engines for it can be manufactured jointly in cooperation with the state enterprise Ivchenko-Progress, FSUE NPTsG Salyut, Motor Sich JSC and other enterprises. An-70 can be successfully used not only as a military transport aircraft, but also as a very efficient vehicle in the civilian freight transport sector. That is why this Russian-Ukrainian aircraft project must be fully developed and supported in two states. If we miss precious years, then competitors will bypass us with their new aircraft and engine products, and it will take us years and huge funds to create new, even more advanced products. If by that time, for quite understandable reasons, we still retain our scientific, design and production potentials, and indeed in general, the aviation industries themselves in two fraternal states.
Currently, An-70 is appreciated by the Russian and Ukrainian Air Forces, the military departments of the states. Such a plane is needed by the military. They have repeatedly stated and said that the new aircraft and its engine are the best in its class, and this is confirmed by many foreign experts.
- It is known that with limited means and capabilities, a new engine was created. Is everything conceived realized in metal, did Russian enterprises take part in complex and labor-intensive research and development work?
- As you know, D-27 had a lot of complaints from certain forces, which for various reasons simply didn't benefit from the appearance of such a promising product in Russia and Ukraine. And then it is not so, and the alleged technical characteristics are far from customer requirements. However, the motor successfully passed the state bench tests. An independent commission of customers carefully monitored. And the act was signed, which draws a line under all disputes and conversations about this engine. This is an accomplished fact that it corresponds to this stage of the tactical and technical tasks.
Of course, in design work it is not always possible to embody what was intended in a real product. Therefore, we will further develop this engine to increase its reliability, resource, and economy. I will say that it was originally laid the opportunity for improvement, modernization. Already today we see how to increase its economy on the 3 – 5%, which will make the new aircraft more economical. In due time, for this engine, the An-70 project, a lot was done by well-known leaders in Russia and Ukraine: Yuri Yeliseyev, Director General of Salyut Moscow (before 2010), Vladimir Skibin, Director General of the Central Institute of Aviation Motors (1994 –2000 years) Colonel-General Anatoly Sitnov, President of Motor Sich JSC Vyacheslav Boguslaev. These and other recognized experts have put their hearts into this project. So at the present time, the D-27 with its tactical and technical characteristics is the best engine in its class in the world. He objectively showed this during difficult state tests.
- And what exactly is new and progressive introduced in this engine, what makes it the best?
"It has eight compression levels 30, which has no analogues in the world, a highly accelerated combustion chamber gives indicators of harmful emissions significantly lower than normalized ones, and a unique gear-size reducer for driving a coaxial multi-blade propeller is designed and manufactured. The engine used Russian control system of the last generation and hydraulic units. As a result, such a painstaking and time-consuming design work of the D-27 is 10% more economical than the best models in the world engine building. Western designers will be able to create such a motor no sooner than in five to eight years. Our engine-building technology, joint with Russian partners, is ahead of foreign technology, I'm not mistaken, noting by seven or eight years. With such products, we must already jointly enter the world market. With this you can not hesitate. Otherwise we will lag behind competitors.
I note that few industries in Russia and Ukraine have such a huge advantage in technology and products created, like our D-27, which allows An-70 to be 10 – 30% more economical than any transport aircraft in the world. Engineers from this year will begin to master the mass production of the created motor. In 2014, we plan to release the first batch of engines. Only for this purpose a guaranteed order is needed for the first military transport aircraft in the world with a promising and economical rotor-driven engine, which was created by the joint efforts of two states and national aviation industries.
- Are the new modifications of the D-27 with improved features?
- What about? We are already discussing with CIAM specialists the creation of an even more promising modification of the motor. The main thing now is to wisely realize the existing scientific, technical and production potential, not to oversleep and it is useless not to waste it in empty conversations and disputes. Otherwise, we'll buy foreign planes and engines for low-cost, popular money, and at the same time we will complain that although we were the first to develop such advanced aviation equipment, we unfortunately did not use the opening opportunities to sell them on world markets. We have plenty of such examples.
Regarding the An-70 project, I would note that there were progressively thinking forces and leaders, and above all in the RF Ministry of Defense, who, despite the years of artificially created barriers, could understand D-27 and give him a way in the promising An-70 project, for developing who frankly say such facts. In terms of flight performance, the Russian-Ukrainian An-70 surpasses similar foreign transporters, including the new European A-400M. Our car has lower cost and operating costs. The maximum carrying capacity of the Antonov machine 47 tons, European 37, and the volume of the cargo compartment we have more on 85 cubic meters. And such an engine like ours is not yet available abroad. This is how Russian and Ukrainian aviation and engine manufacturers worked together in the conditions of artificially created barriers for the benefit of their peoples and states. After all, An-70 and D-27 are tens of thousands of high-tech jobs in our national aviation industries.