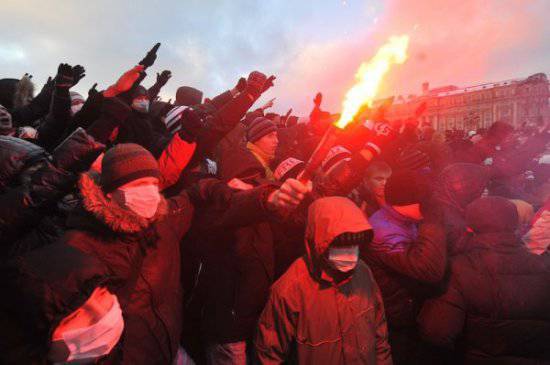 If in Germany having the surname Muller is the same as not having a surname, then in Russia being Russian is the same as not having nationality. Pay attention: Chechens have the right to call themselves Chechens with pride, Ingush - Ingush, and Tabasaran - Tabasarans, but if a Russian starts to be proud of his nationality, he is immediately labeled as a fascist, anti-Semite or skinhead.
From TV screens and newspaper pages, we are constantly taldych that Russians are alcoholics and parasites, that Russian hands grow out of their ass, and that Russian patriotism is the last refuge of a scoundrel.
Meanwhile, we have something to be proud of. In which Kapova Cave would this humanity sit now, if it were not for the Russian people on earth? The steam engine, which was invented by Ramsun, is considered the invention of the Englishman Watt. The plane, on which 20 July 1882, was flown by Major General Alexander Fedorovich Mozhaisky, attributed the practical Wright brothers who took off from the 23 catapult years later and flew less than a minute. Radio, invented by Popov, was attributed to the Italian Guillermo Marconi. The table of our chemist Dmitry Ivanovich Mendeleev is called the table of Julius Lothar Meyer, a bicycle, invented by a peasant Artamonov from the Ural village of Verkhoturye, was attributed to the Count de Sivrac, and the helicopter invented by Professor Yuryev was attributed to the Breguet brothers. But if Russian electrical engineer, inventor and entrepreneur Pavel Nikolaevich Yablochkov had not invented an electric light bulb, which, by the way, is considered to be Edison's invention, our foreign brothers in mind would still be sitting by candlelight.
But if we are so smart, then why so poor? Our Russian God gave us the richest country in the world. Why, then, do we live in our own country as poor relatives in our own country, where we have an absolute numerical majority, everyone, except Russians, has money and power?
Remember how the small Spartans, who were not engaged in anything other than military affairs, kept all of Laconica with military force, and the Helots fed and clothed them? Remember how quite recently, before Frederick Deklerk appeared in South Africa, 80% of blacks served 20% of whites, and they successfully kept them with military and police power? What are we missing in order to make a few national minorities treat us, the masters of the country, with due respect?
We lack the audacity. Insolence is not the second happiness. Impudence is the first happiness. And, on the contrary, our kindness and our generosity are taken by everyone else as weakness and cowardice. Just as it would be naive to expect that a university professor would be loved and respected in the Butyrka prison, there is no reason to hope that other nations will be loved and respected by the Russian people. So maybe enough already to substitute the second cheek?
It's time for us to understand that it's not our task to build the best cars. Let the Germans make them for us. It is not our task to sew the best clothes. Let the French sew it for us. Our task is to build the best rockets, the best
Tanks
and the best combat aircraft. Then we will be supplied with tribute and clothes, and cars, and household appliances. Remember how President Nixon cherished Brezhnev when he received information about the military superiority of Russia over America, how reluctantly turned Carter's cheeks under Brezhnev's kisses? Then, 30-40 years ago, we were feared and respected. But at that hour, when the fate of our country was being decided, we went to defend not the Red Kremlin, but the White House. So did our grandfathers die on the fronts of numerous wars, so that we could steal all their conquests overnight? Do you want to become a simple folk and live for your belly, how do some Dutch people live in their tiny little pages? Will not work. Not that we are the people. Either we will dominate the Eurasian space, or we will be enslaved, and then physically destroyed.
Today the fate of the Russian nation is being decided. Something that very few people believed already happened: a new generation that grew up in a shattered country under the heel of world financial capital and in its service of ethnic criminal communities took to the streets and showed the whole world that the Russian people are alive. Alive and ready to fight. This is good news. Finally, we have not one, who is alone against a hundred. But now you should wait for the return stroke. Our enemies will not leave it this way, and our boys will be pressed in so that they will forever discourage the demonstration of their Russianness. So now it's our turn. The queue of those who were born under Khrushchev and grew up under Brezhnev, who bought American jeans for the 200 in the eightieth rubles, and who defended the wrong and the wrong one in the ninety-first. Let's correct what we have done then, and we will not give offense to our children, who turned out to be bolder and more honest than us!