December 10 US Navy tested the railgun - an electromagnetic gun, in which the acceleration of the projectile give electromagnetic pulses. Developing this
weapons
This is not the first year, it is expected that promising ships should receive it
fleet
, first of all, the already laid down destroyers of the DDG-1000 Zumwalt project (while 2 ships of the series are being built, the expected adoption of the fleet in 2013 and 2014).
Railgun is a pulsed electron mass accelerator, consists of two parallel conductive tires, along which the conductive mass moves, which can be a projectile or plasma. The principle of operation of the device is based on the conversion of electrical energy into the kinetic energy of the projectile.
The first cannon of this kind appeared in the 70s of the last century and was designed by Canadian John P. Barber. In February, the United States Navy 2008 conducted an installation test with energy at 10 MJ, then the projectile developed a muzzle velocity at 9 000 km / h. The now tested 33 MJ gun provided the firing range in 203,7 km and the velocity of the projectile at the end point of the trajectory around 5 Mach (5 600 km / h). Funding for the project is constantly increasing, it is expected that guns with a power of muzzle energy - 2020 MJ will be created by 64, they will go into service with the destroyers of the DDG-1000 Zumwalt series, which are initially developed taking into account the modular design and the possibility of arming with such weapons.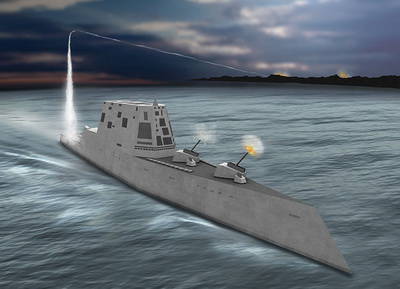 So far, the exact date of completion of tests conducted by the US Navy is not known, but at the moment it is not possible to use this weapon on warships, because the device itself is still too large, uses a significant amount of energy, and most importantly does not show the required accuracy of fire.
The Zumwalt destroyers, which were the first to be equipped with electromagnetic guns, were supposed to put in series of 32 pieces, starting with the DDG-1000, but subsequently the program was greatly reduced - to 7 pieces. Moreover, the real amount allocated for the construction of only two of these ships. The cost of each destroyer reaches $ 1,4 billion and, according to skeptics, may exceed 3,2 billion in the construction process. The life cycle of each ship will cost another 4 billion dollars, it is not surprising that the House of Representatives has so greatly reduced the appetites of the defense department. Destroyers under construction are multipurpose ships, designed not only to combat the naval enemy, but also to combat
aviation
by striking on land and supporting troops from the sea.