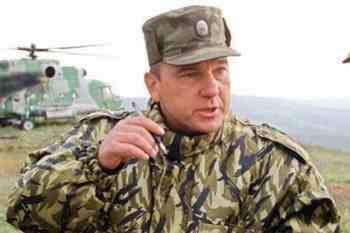 The commander of the Airborne Forces (Airborne Forces) Colonel-General Vladimir Shamanov did not satisfy the results of April 16 during a sudden test of the Pskov division, firing from the airborne combat vehicles.
Colonel Alexander Kucherenko, representative of the Russian Defense Ministry's Airborne Forces Air Force, said on Friday that Shamanov was satisfied with the results of the paratroopers' night march, which also took place last Tuesday as part of a surprise check of the 76 Guards Air Assault Division (Pskov), RIA reports.
News
».
"The units of the regiment as part of the reinforced battalion group, organized in alarm, organized themselves into a convoy and made a night march to the firing range at a very high speed - 45 kilometers per hour on average, which is an excellent indicator for our combat vehicles (BMD-2). However, the results of practical shooting from them did not satisfy me, "Kucherenko quoted the words of the Commander of the Airborne Forces.
Kucherenko said that, according to Shamanov, the reason for the poor results of the shooting was not so much the weak training of personnel, as much as the design features and age of the combat equipment, as well as shortcomings in its maintenance and modernization.
"This once again confirms the correctness of the path we have chosen to upgrade the outdated fleet of combat vehicles and the work to adopt the fourth modernized assault vehicle of the fourth generation (BMD-4M) Kurganmashzavod," said the Defense Ministry spokesman.
He added that in May at the Struga Krasny landfill in the Pskov Region large-scale gatherings will take place. "The results of a sudden verification of combat readiness will be announced by the commander of the airborne troops in Pskov today. Their results will form the basis for evaluating the division for the winter period of 2013 training, "Kucherenko said.
Recall that over the past two months, large-scale unplanned maneuvers of the Russian army were held twice. In February, a surprise verification of the combat readiness of the army was announced for the first time in the last 20 years - then the troops of the Central and Southern Military Districts raised an alarm.
In late March, the order to start other surprise exercises, in the Black Sea region, was given by Russian President Vladimir Putin. About seven thousand people participated in these maneuvers, around 250 armored vehicles, dozens of ships, airplanes and helicopters, artillery pieces.
Last Friday, the president arrived at the Rayevsky training ground in the Krasnodar Territory, in the area of ​​which the ground forces, combat and military transport were being tested
aviation
, ships of the Navy.
At the test site, Putin also observed the landing, which was carried out by airborne units from the Moscow, Ryazan and Tula regions. After that, he flew several warships in a military helicopter, in particular, large landing ships that arrived in the area from Sevastopol.