Funny and not very
stories
Army life onboard equipment helicopter, reproduced on the basis of real events during the collapse of the Soviet Union and the liberal reforms of the end of the last century. Some names of the characters are changed.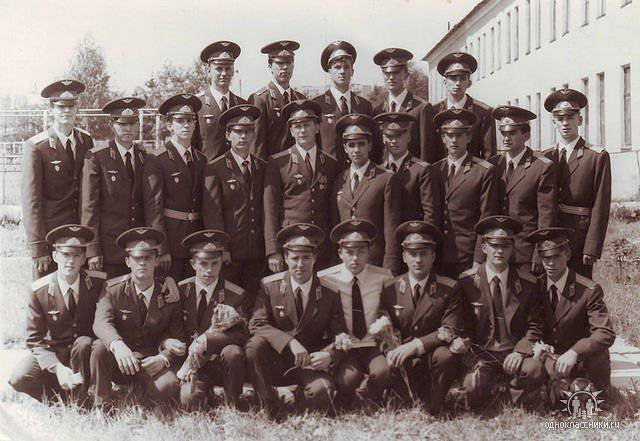 "The officer should be an example not only of physical health, dexterity, endurance and strength, not only mental development and knowledge, but also spiritual qualities, and the officer's uniform should not be a synonym for a rude, reckless, ignorant, ill-mannered person, but a synonym for decency in all respects : upbringing, enlightenment, purity, refinement and at the same time every kind of strength and courage. "
Leo Tolstoy
- One, one, one-two-three. Once, once, once or twice or three, the company commander, Major Gerasimov, periodically commands the cadets of the Kirov military school, who are running through the morning city that has not yet awakened. One hundred bare to the waist, bursting with steam from the bodies of cadets heated in the cool spring air, echo him with a clear, dull and powerful blow of boots on the asphalt. If you close your eyes, it may seem that this one runs a very big and heavy man-giant, and the earth trembles at every step.
These cadets are 19-20 years old, they are no longer first-year students, they have almost three years of hard and interesting study, three years of life on a routine, three years of intensive and regular sports, three years of breaking youthful jumps and twists. Among them are no longer too fat or too thin; they are all of about the same build with broad shoulders and decent muscles. All of them, whether they wanted to or not, learned to understand each other perfectly, they are already familiar with such concepts as mutual assistance, mutual respect, friendship and comradeship.
- One, one, one-two-three. Once, once, once or twice or three, the loud and firm voice of the commander sounded again. Our commander, Alexander G. Gerasimov, is no longer young, but rather sporty, thin, of short stature, with a white eyebrow and a stern look an officer who has devoted many years to the difficult task of educating future officers. Many more sympathetically said to us on the caption: "Hang on. In the sports company hit. Hera is driving you. " And indeed, as soon as we began to receive the first two in the class, the commander would materialize them in races around the school - in a circle for every two. Soon the twos in the company was gone. At first, we perceived Hera as a strict and heartless villain, but literally in a few months this feeling disappeared. The commander turned out to be a very understanding, thoughtful and caring person. I remember that in my evening, after a nightly peeling of potatoes in a dress around the dining room, my stomach became very sick, I spent the rest of the night in the "ZU" position and almost could not get up in the morning. It was Sunday, Hera rushed out of the house, knocked out the KamAZ school attendant and personally took me to the hospital, although the hospital was located in 100 meters from the school. It was only when he learned the diagnosis (it turned out to be banal appendicitis) that he was convinced that the head of the surgical department would perform the operation, only then he left the hospital. Later, Hera saved me from being expelled from school for a fight. It is not clear that we didn't share Seryoga from Moscow at the time, the characters probably got used up. The next morning I was with the general on the carpet, in the literal and figurative sense of the word, and in the evening I was at the teachers' council.
When the general gave the floor to the company commander, our Hera, all those present became aware that they would leave me. Hera spoke in my support a lot and sometimes not at all on the merits. The general tried to "round out" him a couple of times, but he continued. The two of us left the hall with the Hero and we both had wet shirts on our backs. Now, when I hear Lube's song, "Batyana Kombat", the image of our commander, our Hera, is drawn before my eyes.
One, one, one, two, three. One, one, one, two, three. Under this rhythm and in this system it is easy to run. Being in this burgeoning heat, health, and youthful order, you feel that you are an integral part of a powerful, unified organism capable of much. In this system there is no fear, no embarrassment, no envy, no malice. Here, only confidence, confidence in oneself, in one's comrades, in one's commanders, in one's own country, in one's own future — as yet uncertain, but surely worthy and proper, necessary for the country, family and friends, who will be proud of it.
One, one, one, two, three. One, one, one, two, three. How easy to think. I recall the abuses, the mass of motley young guys who came from all over the country to Kirov with only one purpose - to become officers of the Soviet military
aviation
. Among others, there are guys in soldier uniforms who have served a year of military service. At first they were appointed commanders of the departments, but then many were removed from these posts because the length of service turns out to not affect the art of leading people. At the first general meeting of the course at the club, the head of the school, Major General Izychev expelled one of these "old-timers" for mistreatment, thereby making it clear to everyone that the jokes were over, and we got into the army, in which discipline and subordination are the first thing.
One, one, one, two, three. One, one, one, two, three. Fresh memories of a recent internship in a helicopter regiment in the city of Chirchik near Tashkent come to mind. For a long time, on the basis of this helicopter regiment, helicopter pilots from the flatlands of the Soviet Union were re-learning to fly in the mountains before traveling to Afghanistan. The lion's share of the soldiers of this regiment visited Afghanistan for two or three terms. My instructor was in Afghanistan two times for two years, not counting the periodic flights there and back. These are simple men at first sight, but when they put on a formal uniform for some holiday, sometimes you are amazed: the person with whom you used to jokes, drank beer and chatted about women or the meaning of life turns out to be a holder of two orders of the Red Star, there is a medal "For Courage" on his chest and many other medals, including foreign ones. You feel a sense of pride for being among these people and doing one thing together side by side with these people.
One, one, one, two, three. One, one, one, two, three. Nearby, my comrades, my friends are running: Dad, Vova blue, Shaly, Sizy, Kuchik, Robert, Sanyok, Mikha, Seryoga ... In a month we will graduate from the school and scatter, disperse to different regiments and squadrons of our vast country, and who- then and beyond. It is now spring of 1990. For five years now, some incomprehensible "restructuring" has been going on in the country, and some conflicts have begun in the countries of Eastern Europe and the Caucasus. But so far almost nothing is known about them, in
the news
these conflicts are hardly reported, and so far none of this concerns us. Last year, our troops were withdrawn from Afgan, we will not get there, but we are ready. We were taught well and we are confident in ourselves. We are ready for anything.
One, one, one, two, three. One, one, one, two, three ...