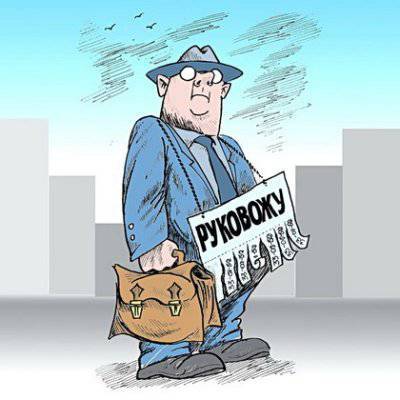 New data on unemployment in Russia recently published Rosstat. The results of the study showed that March 2013 of the year turned out to be, if I may say so, fruitful for employment in various sectors of the economy. Rosstat specialists released data showing that unemployment in our country in March fell by 9,5% and stopped at the final mark of 5,7% of the total number of economically active citizens.
Here it is immediately necessary to make an explanation about what the economically active population is. In our country, these are able-bodied citizens between the ages of 15 and 72 years (by world standards: from 10 to 72 years), including the unemployed. So, this is the most economically active population of Russia today is almost 53% of the total number of Russian citizens, or slightly more than 75 million people in absolute units. It turns out that 5,7% of the unemployed is nothing less than 4,3 million people. At the same time, the same Rosstat publishes information according to which only 1,1 million unemployed people are registered in state employment centers. If so, then another 3,2 million people in Russia remain unregistered unemployed, but at the same time the statistical agencies were able to identify them using a cunning method.
At the same time, the deputy chairman of the Russian government, Olga Golodets, remains in the opinion that the indicated number of unemployed people cannot be compared with the number of Russians who, according to her, "work in an unknown place and do not pay taxes". Mrs. Golodets, using an even more cunning method, calculated that in our country there are millions of such "unknown" 38 workers - that is, more than half of the same economically active population of Russia. At the same time, Olga Yurievna did not reveal the secrets of how she managed to get exactly 38 million people. But from her promise, it is clear that the government is thinking about how to return these "gray Russians" who earn money, but do not pay taxes, into a "light" direction. And if we start from the figure that the Deputy Prime Minister voiced (38 million people), then there is, as they say, room for action. Only with what levers the government will return the Russians to such a "bright" army, so far it remains only to guess.
Let's try to figure out specific examples.
An example of the first.
A major or minor official works in his position and receives N rubles for his work. However, N rubles for a full-fledged life does not suit him, and he decides to open a business that brings him income in the form of 100N rubles. Only now the official has to urgently restructure his business as a son-in-law or great-nephew so that there are no inconsistencies with the recently adopted law banning business for Russian bureaucratic elites of various levels. And in order not to pay a full tax on 100N-ruble profits, open another five-another companies that report a total of not RUR 100N, but about N / 100 rubles. It helps them to make such a remarkable report in all respects by the official himself, who is vitally interested in the work of this scheme and therefore covers the scheme as much as it can.
So it turns out that he (the hypothetical official) is one of those 38 of millions of Russians who were "identified" by Olga Golodets. But only to unleash this whole chain of firms, designed for son-in-law and uncles, with the intensity of the work of the investigating and controlling bodies that is taking place today, it will take so much time and money that it's easier to spit on all these tricks with tax evasion schemes. Often, this is what happens: they say, let the deputy, the governor or the minister work "no one knows where" except his main office, but let everything look calm on the surface. Only isolated cases become public knowledge, and these cases are then exaggerated in the absence of anything else.
This method of defamation of income from various levels of officials also includes an option that just a few days ago surfaced in the media. ITAR-TASS cites information that, before reporting on income, about three dozen Duma deputies divorced their wives. It remains to be wondered whether there was a massive crisis of family relations among the deputies of the State Duma, or parting with the wives for the reason that the income of these deputy wives is simply indecent to demonstrate to the general public. And the second option in this situation looks more likely.
Example of the second.
The mechanic Sidorov works at the factory and gets X (please do not confuse X with the Old Slavonic version of reading this letter). From his "X" he regularly pays tax. However, the thought also occurred to him that X is not enough, and he finds a "gray" job - well, on a vise, "bombs" on his "seven" at night. But the hands of the controlling authorities may well get to Sidorov's locksmith, because with the work of his "taxi" it causes irreparable damage to the country's economy ... Although Sidorov would not have bombed at all if his work were somewhat more adequate to the quality and quantity of the work.
That is why many specialists in the labor market say that in recent times legal employees have been literally squeezed out of enterprises, preferring to use illegal labor. For extrusion, you can create all the conditions: the salary to the level of plinth - they say, he will leave. And with an illegal modern employer, and less worries: do not pay taxes, do not pay out social programs (no sick or holiday pay to you). Unless with labor inspection it is necessary to maintain appropriate communications. On this basis, labor markets and are saturated with people who work without any documentary evidence of their employment, and a significant percentage is given to illegal immigrants from abroad who are willing to work for less money.
On the issue of attracting migrants to the Russian labor market, Olga Golodets also spoke out. This time, her position causes a positive reaction. She stated, quote:
First of all, it is necessary to create conditions for comfortable living, good jobs with high salaries for Russian citizens. If this continues in the future (we are talking about attracting labor migrants to Russia), then we can become dependent on other countries and on the availability of foreign workers.
And so that "this way" does not continue, it is time for our government to proceed from real calculations of the "gray" labor market to real matters, thanks to which the labor of a Russian who wants to work will be assessed, as expected, without prejudice, for example, for his vital needs. And then, judging by the statistics, in our country, it's not the level of education, qualifications and labor productivity of a citizen that affects the level of wages, but the geographical location of his place of work. So the average salary in Russia is indicated in the amount of 27 thousand rubles, and, for example, in Moscow - 52,5 thousand. Is selling shoes or kneading concrete in Moscow many times harder than in Bryansk or Saratov ...