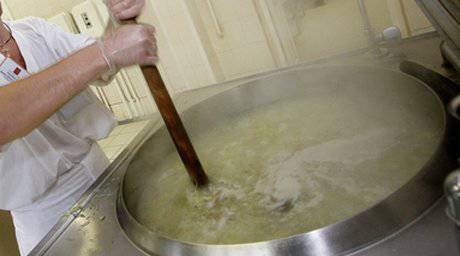 High-quality kitchenware in our country has always become a subject that can be brought as a gift. Today, cast dishes made of high quality metal can be ordered from the company.
Neva Metal
. This plant has long established itself in the market of aluminum and steel utensils, on which a special non-stick coating is applied. Such dishes are used not only in everyday life, but also for industrial purposes. Many catering establishments order just cast metal utensils, as it turns out even in production a long warranty and can be operated at a high level of intensity.
Due to the fact that it is the cast metal cooking utensils that are notable for their increased reliability, it is also used for cooking in soldiers' canteens. Today, military units throughout the country are buying not only new dishes, with the help of which the updated soldier's menu is implemented, but also household appliances. If earlier only some military units could boast the presence of dishwashers, and all the main work on washing plates, mugs and other utensils was performed by soldiers, today many units are equipped with this technology. This frees the soldiers from non-core work in the kitchen, and increases the time to comprehend the military wisdom.
In the military kitchens appears modern refrigeration equipment, which is used to preserve food. Such equipment can be installed in food warehouses for storage, for example, meat products or milk. In addition to roomy refrigerators, kitchens are equipped with special vegetable cutters, which reduce the cook's time for cooking for the entire contingent of the unit. Vegetable cutters are used for cutting products for salads, first and second courses.
If we talk about household appliances in the military kitchen, then you can not ignore the new stoves that operate on the basis of program control. The cook can independently set the temperature level in the oven, and the oven will let him know with a special signal at the right time when it is time to get the dish.
The use of new appliances and utensils in the kitchen and in the soldiers' canteen is one of the components of the modernization of the Russian army. After all, as one proverb says: War is war, but dinner is still on schedule!