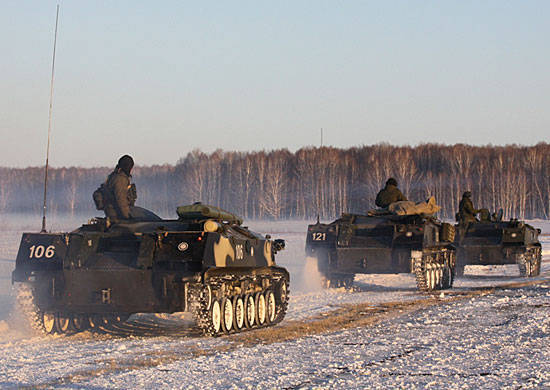 At the direction of the commander of the Airborne Forces (Airborne Forces) Colonel-General Vladimir Shamanov, a sudden test of the combat readiness and combat capability of one of the 76 Guards assault regiments deployed in the city of Pskov began.
As part of the April 16 test, the units and controls of the compound assault regiment were alerted. The reinforced battalion group of the regiment on a standard vehicle made a march to the Strugi Krasny landfill, located in 70 km from the dislocation point, where it is currently performing exercises of control firing from the arsenal of combat vehicles.
About 500 military personnel take part in practical actions, 29 combat vehicles are involved and more than 30 units of special motor vehicles.
On April 18, Airborne Troops Commander Colonel-General Vladimir Shamanov will personally take part in conducting control test sessions on driving vehicles and shooting from full-time small arms with the units involved in the inspection.
This test with the practical reduction of military units to the highest levels of combat readiness is carried out by decision of the commander of the Airborne Forces in order to assess the readiness of troops (forces) to perform tasks for the intended purpose.
The results of the sudden verification will be the basis of the overall assessment of the 76 Guards Air Assault Division following the results of the winter training period for the 2013 school year.
In accordance with the decisions of the higher military command and control bodies, the airborne units from the beginning of this year have already participated in two surprise checks of the combat readiness of the troops (forces).
In February of this year units of the Ivanovo airborne assault were suddenly raised by alarm, deployed by a military transport
aviation
to the Urals near Chelyabinsk, where they completed the tasks together with the military units of the Central Military District.
In the last large-scale verification of the combat readiness of the troops (forces) in the south of Russia in March of this year. paratroopers of the Novorossiysk airborne assault (mountain) compound, parachute regiment of the Tula division from Ryazan and reconnaissance aircraft of the 45-th separate airborne regiment stationed in Kubinka near Moscow took part.