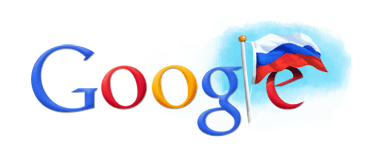 Having read the article about
stock sale
"VKontakte", remembering the purchase of Americans
city ​​portals
, I will bring in my 5 conspiracy cues, on a topic that is not interesting to most visitors - about ranking
(order of construction of organic / natural / issuance)
google search engine.
Let's start with the fact that outside the Russian Federation, even in the same Ukraine, the main search engine is Google, and in the West it is generally a monopolist with more than 95% of the audience. In addition, people who left Russia
news
RF will be searched from Russian Google, and not from Yandex. They are accustomed to use it as home slippers, so familiar, trampled and zhzhutko comfortable.
What am I for? If suddenly, tomorrow, Google-issuing will start to dazzle with videos about a coup in Russia (... shot somewhere in Canada. Why in Canada? At least for this reason:
tyts
) outside of Russia with high probability it will be perceived as the ultimate truth.
Note also that Google's share in Russia is quite large (34% versus 53% Yandex). In addition, the practice was such that Yandex took over the commercial issuance, and Google information.
But this is all a preamble. And it is about this. In March, 2013 began a massive shaking of the results of the issuance of Google, which puzzled virtually all webmasters of Russia (one of
examples
or
here
/ crying and howling is all over the Runet, just not advertised /). Not only this, many webmasters have received letters with "threats" from Google - do not stop buying links to promote your sites, we quit from issuing for the first or second hundred results. And really. Began to actively drive out.
The phase of active crying has passed, and now, for the most part, only sobs and insults are heard: "
We have normal sites, for what? After all, take out the garbage, you yourself bitch on which you sit sawing.
"
And the reason that webmasters do not go to fulfill the requirements of Google is that any site for normal positions in Yandex (in competitive topics) must buy links simply on an industrial scale. And since for us, in RuNet, Yandex is more important, on Google we are forced to "beat". Now only an active discussion is being conducted: what is happening, and how soon Google will start losing Ru-audience on such a scale that it will give up and go backwards.
The main versions of the description of the reasons for what is happening a bit:
1. In connection with the activation of the Russian promoters in Burzhunet, weak Google filters have abruptly surrendered, and now Google is struggling with the last few forces by corrupt links of Russian webmasters. Version takes its roots
from here
(Matt Cutts - Google Anti-Spam Head). The version is very patriotic, but weak in reality, because at one time similar exchanges were in Google. The key word was.
2. Mixing all the issue for a small business in hell-that, Google launched an active call-up of companies with the offer to place paid advertising on Google.Adwords. As with a bad organic issue, the return on commercial will increase greatly at the beginning. But, again, the keyword is "at first." The outcome of Ru-audience overlaps all wins.
3. Google is so used to being a monopolist in the West that it simply cannot imagine the situation that people will scratch their angry cry and "top" foot and simply spit. It looks like the truth, only Google is dancing to China like a market clown. So, too ... not a fact.
and finally:
4. To substantiate this option, we will take a small piece from an interview with representatives of Google on the work of the algorithm (
hence
) There are no conspiracy and secrets here, it's just a job description:
"Denis: ... as a myth, it is believed that Google has an uncle who can always press a button and return the position to the site. Is there such an uncle?

Andrei Lipatsev (Google): There is a whole big team of uncles and aunts, but let's now explain in a few words what is happening. Let's start with a narrower one, then move on to the general. There are situations when Google's search algorithm will not be able to detect these or other frauds or other abuses. Say, there are situations, unfortunately, when hacking sites - and it does not immediately show that the pages did not originally belong to the site, but were added by the attacker, and some malicious software was placed on them, for example, something else unpleasant - in such situations, a team of trained professionals can take measures manually and say: no, we will not show these pages, exclude them from the index, because they are harmful, because they were created by a third party specifically to cause harm, and our algorithm P I just did not have time to find it yet.

If a person sees it faster, then in such cases, for example, some part of the site may be excluded from the index. This webmaster receives a notification. Again, the webmaster is after this ... and a notification appears in the search results, say, the site has been compromised, the site may harm your computer, something like that, depending on what is happening. And the webmaster can then write a request to re-check, which falls into the team of people who are engaged in this, people always consider this request, which assess whether the situation is exhausted or not. For example, in the case of a burglary site, if the site was hacked, but the hacked pages were removed, the vulnerability was removed, the site no longer represents a threat - then the person looks and says: yes, everything is in order; the measures taken earlier no longer make sense; they are canceled. In this respect, yes, and in some other cases, perhaps in some cases, it is possible. If any measures were taken manually to protect search users. And then the webmaster, in turn, corrected the situation: either he restored the security of the site, or deleted any violations, then there is a manual review, and these measures are removed.

If it is about the fact that without any human intervention, there is a change in the issue based on the fact that the algorithm is being finalized - and the algorithm is constantly changing, there is just a whole cloud of experiments, and when it is convincingly proven that these experiments lead to an improvement in the overall the quality of the search, some changes occur, the positions of the sites change their place, as it becomes clearer which sites are more interesting for these requests, which are less, and that's all - and they are issued on the day of the change, new sites appear and so on. No one manually - and this is the answer to your question - you simply cannot respond to it manually. Even if there was such an uncle, he would not have such a button, with all the desire. Because it would not be a button on a specific site ...

If you want, there is such an "uncle" - a whole team of engineers dedicated to the quality of the search, they constantly press the buttons, trying to do the whole search better. And if it turns out that these or other changes that have not yet been implemented live, do not lead to the necessary improvement, they say: Ok, we will not make these changes ... "
Everything. Finally, all the prerequisites are described, go to the observations and summary.
Last time in the issue:
1. there is an active element of social networks;
2. All sites of the Russian Federation today have prerequisites for the imposition of a filter on them to exclude from issuing, even Russian. Due to the specifics of development in RuNet;
3. It is very easy to create an "active and popular media" filter based on basic features. On all received by the sample, the base filters are applied automatically (that is, even there is no need to make a separate list, all new ones will automatically fly under the default filter and be absent from the output according to certain criteria);
4. For sites and portals listed on the links at the beginning of the article, give a cure to bypass the filter, or manually remove it from its database. So, for example, today active advertising in some social networks can give just an explosive effect under Google (there are precedents);
5. At hour X, turn on the filter and ... the whole world will see a horror film from VKontakte, Facebook, Ukrainian media, from the portals of Russian cities and shudder in horror. 30% of the Russian audience and the majority of Russians abroad also in the first minutes fall under the mass flow of misinformation. At the same time, what is most interesting, no violations by Google will be made. This will be a process of natural, organic delivery. The name of the corporation will not be tainted in any way. "So the stars rose."
6. All this needs to be done fairly quickly, until the Ru-segment of users began to massively migrate to Yandex.
7. By the way, what about Yandex? And Yandex, in its news feed, will also pick up news from the purchased portals of cities on the machine, which will also create a primary panic.