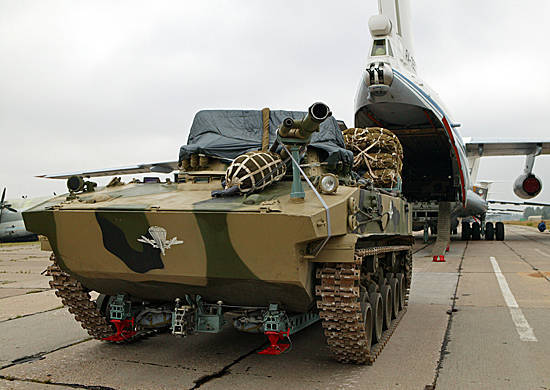 From 22 to 24 in April of this year. A joint Belarusian-Russian battalion tactical exercise with units of the Special Operations Forces (MTR) of the Armed Forces of the Republic of Belarus and the Airborne Forces of Russia will be held at the Brest (Belarus) training ground.
From the Russian side to participate in the exercise at the end of this week, the paratroop platoon of the Pskov paratrooper and airborne division will depart. The Belarusian side will provide Russian paratroopers with military equipment
weapons
, ammunition, communication and imitation, necessary property and equipment. Our military personnel will take only the necessary equipment to Belarus.
Joint tactical exercises with the participation of the Airborne Forces of Russia and the SSO of the Republic of Belarus have become traditional and are held annually. Only during 2012, the Pskov paratroopers conducted two joint battalion tactical exercises with the SSO units of the Armed Forces of the Republic of Belarus. In April, they were held on the Belarusian territory (near Grodno), and in September, 2012, in Russia (at the paratroopers landfill site in the Pskov Region).
The cultural program of the visit is planned for the Russian military to visit the memorial complex "Brest Fortress", the museum complex "Fifth Fort", and see the sights of the city of Brest.
The airborne forces closely monitor the development of the airborne component in the armed forces of foreign countries, constantly increasing the pace of international cooperation. Foreign colleagues are increasingly taking part in joint activities of combat and operational training with Russian paratroopers.
Colonel-General Vladimir Shamanov, Commander of the Airborne Forces, pays great attention to the participation of Russian paratroopers in such events. According to him, one should always take into account the positive experience of foreign colleagues, and even a negative analysis of such interaction can be useful in its own way.
"If we take comparative figures, we are comparable with our foreign colleagues in all niches," said Vladimir Shamanov, summing up the participation of the Airborne Forces in international exercises 2012. "And in a number of positions, and this applies mainly - we are ahead of them, and significantly, "the Airborne Troops Commander concluded.
This year, the airborne unit will take part in a joint exercise "Interaction-2013" with the military contingents of the Collective Rapid Reaction Force of the CSTO member states. In addition, it is planned to hold in the Russian territory a reciprocal Russian-American anti-terrorism exercise, as well as a joint exercise with the units of the Parachute Regiment of the Foreign Legion of the French Republic.