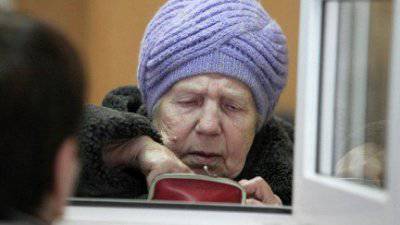 Increasingly, situations of complex legal nature appear in our country, which require legal assessment by professionals. In order not to use sufficiently cheap services of experienced lawyers every time, many companies install in their offices
Licensed Consultant Plus
. This system allows you to receive important data for the accounting and legal departments of the company.
The situation with the so-called money transfer to Vladimir Putin can be attributed to the legal incidents of the last few days. Two Ural pensioners decided to waive those allowances that the state added to their pension. They "threw off" their additions to the pension and sent them to the address: "The Kremlin. President. " As a result, Vladimir Putin received 600 rubles from two elderly women who expressed their dissatisfaction with such low additions to their pension and added a note so that the president would not deny himself anything.
This demarche of pensioners did not go unnoticed. Several lawyers at once spoke in the spirit that the pensioners insulted a high-ranking official, and therefore their actions fall under the article 319. However, other lawyers did not find any corpus delicti in the actions of the pensioners, and expressed the opinion that no cynicism that would have affected the work of the head of state was demonstrated.
Another controversial point of a legal nature: the court's refusal to release the person involved in the "theatrical" case of Pavel Dmitrichenko under a written undertaking not to leave the place if there are 30 petitions from theater workers. Dmitrichenko's lawyers insist that their ward is not at all dangerous for society, and therefore it is simply pointless to keep him in jail until the trial. Today, the notorious lawyer Violetta Volkova said that she would do everything so that the artist of the Bolshoi Theater would be released on bail of half a million rubles. Investigation into the case of "acid attack" on Sergei Filin continues, and Dmitrichenko considers the investigation to be the customer of this terrible crime. As far as the court will be ready to satisfy the petition of Dmitrichenko's lawyers, we will know in the near future.
High-quality disclosure of all legal intricacies based on the use of the software product Consultant Plus is being actively implemented in various regions of Russia today.