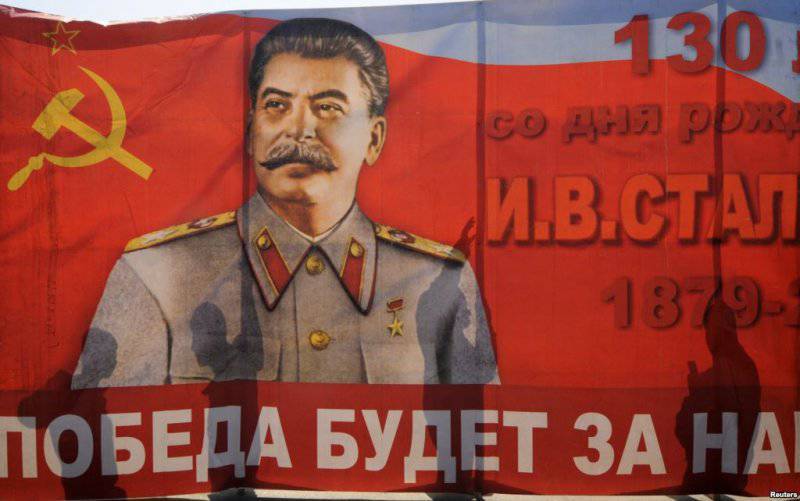 Joseph Vissarionovich Stalin continues to be the most relevant
historical
figure in modern Russia. This is recognized even by sworn enemies, on whom the name of Stalin makes the same impression as a cross on vampires. They immediately begin to turn pale, shake, spew curses and come up with utter fables. For ordinary Russian people, on the contrary, with the name of Stalin there is a hope that not everything is lost, justice will prevail, and the parasites of the world behind the scenes and domestic embezzlers will still get theirs.
Writer Alexander Prokhanov assesses the phenomenon of Stalin:
"My friends asked me:" Who is Stalin yesterday, today and tomorrow? "And this rather rhetorical and non-academic question made me think. And that's what came to my mind.
I think that Stalin yesterday, that is, yesterday's real Stalin, is a hyperrealist. This is a man who brilliantly knew and understood reality in its dynamics, in its movement. He operated with a colossal number of phenomena, facts. He managed to build these facts, he managed to foresee them. He created combinations of these vast arrays of real phenomena, both domestic and global.
Moreover, his knowledge about metaphysical reality was included in this reality. It was not just the reality of the two-dimensional world, the two-dimensional environment, it was also a kind of transcendent reality. It was knowledge about the reality that is formed, speaking pompously, in Heaven, and then projected into earth reality, where wars, revolutions, lawsuits, the construction of giant factories, the development of territories take place. There are such phenomena as great victories, as well as great defeats. All this is a projection of phenomena occurring somewhere in Heaven, somewhere in other worlds.
Due to this hyperrealistic knowledge, Stalin beat all his opponents. I am not talking about party opponents such as Trotsky, Zinoviev, Bukharin, Kamenev. He beat them and, of course, brutally beat them, dealt with them, and for this you had to have a cybernetic idea of ​​the political processes of intra-party dynamics.
He outplayed opponents like Hitler, Churchill, Roosevelt, Mussolini. He outplayed all the leading politicians in Europe and the world. He beat Mao Zedong. He did this only because he possessed knowledge that they did not possess. He was able to see the moments that they had not yet experienced. Therefore, Stalin of the past is a hyperrealist, which apparently was not and will not appear soon.
Stalin of today is the Stalin myth. Stalin returned to us in our worldviews, in our political culture, not as a real person, not as a person who spoke at congresses, created a new
weapon
, the man who led the hardest world game. He came to us as a myth in which today's Russian tribe is saved, in which today's Russian people are saved, the Russian people - trampled, robbed, deprived of their state. The people who were taken away from his greatness, his historical fate. A nation that is said to be not a nation at all. And this wounded, tormented people hiding in Stalin, as they used to hide in monasteries during the invasions.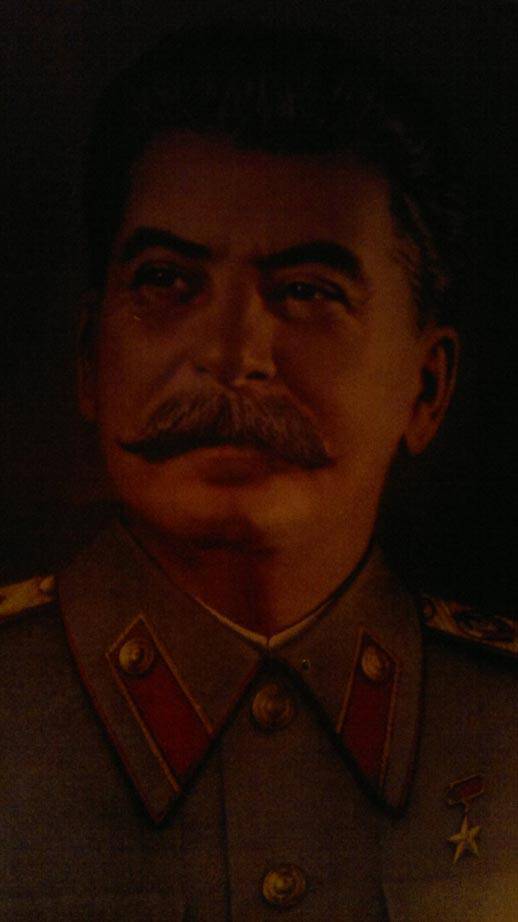 Therefore, today's Stalin is a monastery in which the Russian people are hiding, where he heals his wounds, where he is again saturated with the spirit of resistance and victory. The monastery, where he takes down his shrines, tablets, relics, where he prays, where he prepares for new battles. The monastery, from which he goes into the field on underground tunnels and fights there, fights and strikes at the enemy.
This is the mythological significance of Stalin. Stalin is not important as a carrier of specific characteristic features. These features are not useful for the construction of today's life, and another will be useful - its mythological significance, which fully corresponds to the Russian ideas about the leader, about the state, about the leader, about the winner, about the victor, about the savior. So Stalin is us today.
Stalin of tomorrow, apparently, will again change its meaning, its form, its role. I suspect that, perhaps, in the future, when Russia will again begin to build its new state, a new empire, an empire of a new type, when Russian civilization, flitting this black hole separating it from the fourth Red Stalinist empire, will start to clothe itself in new institutions, New structures, new technologies, a new ideology, which is different from both today's ideology and yesterday's ideology, then Stalin will have a completely different role.
I think that Stalin in twenty, thirty, and maybe in a hundred years will be rethought by Russian historians, Russian theologians, Russian thinkers. They will understand what he has done to save Russian civilization as much as, perhaps, no one else has done, and that Stalin is the miracle-worker of the Victory. Due to these circumstances, due to the fact that this mystical victory of 1945 of the year was won by Stalin, perhaps by that time such boards would appear on which his face would be written, and a golden halo would shine around his head ...
I do not exclude that Stalin will not just be a saint, he will be a holy martyr, because the idea of ​​murder, that Stalin was killed, destroyed, is becoming more and more apparent. He died a martyr's death for the Russian state. This Stalin - holy martyr - will shine over this imminent, non-existent Russia, and shine it with its light, its will, its love and its such sublime, some kind of ecclesiastical Russian beauty and strength. "