Researchers at the University of Washington and scientists from the Redmond-based aerospace company are currently building components for a thermonuclear rocket, which will allow astronauts from Earth to reach Mars in a matter of weeks, at speeds far exceeding those available to us.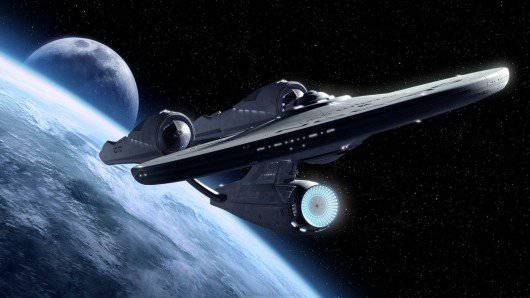 The current flight speeds of fuel rockets stretch the flight to Mars for four years, but the new fusion technology, which is now being tested by scientists from the University of Washington, promises to do it in the period from 30 to 90 days.
Laboratory tests of individual components were successful, and now the researchers plan to combine all the parts into one unit and conduct the final overall test.
"With the help of existing fuel rockets, it's almost impossible for us to explore something more or less distant from Earth," says project lead researcher, aeronautics and astronautics professor John Slow. "We hope to put at our disposal a much more powerful source of energy that can make interplanetary flights commonplace."
The project team has developed this technology using a special type of plasma enclosed in a magnetic trap. When a plasma under high pressure is compressed by a magnetic field, a nuclear reaction begins in it.
This process has successfully passed laboratory tests, and now scientists are planning to conduct the first full-scale tests of the system at the end of summer.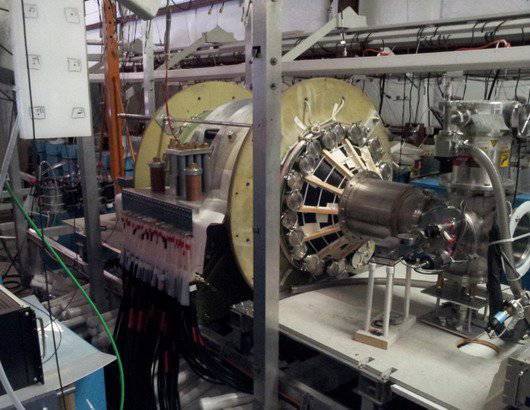 Thermonuclear rocket test chamber at the Plasma Dynamics Laboratory at the University of Washington, Redmond. The green vacuum chamber is surrounded by two super powerful magnets. Magnets are powered by capacitors through a variety of attached cables.
Powerful magnetic fields cause large metal rings surrounding the plasma cord to explode and then shrink to the point where the thermonuclear reaction begins. The process takes only a few microseconds, but this is enough to release heat and ionize the rings that form the shell around the plasma. The superheated ionized metal, in turn, is ejected from the rocket nozzle at a tremendous speed, forcing the rocket to move forward. Repeating the process at intervals of about 30 seconds is enough to move the spacecraft.
The study was funded by NASA in the hope that this technology will finally be able to replace us with rocket fuel and will allow us to build faster spacecraft than ever before. Scientists say that even the amount of plasma material the size of a grain, is equivalent to five liters of rocket fuel. This in turn makes it possible to reduce the size of the ship and its loading, making traveling in deep space much more cost-effective.