Parade calculations throughout Russia began intensive preparations for the Victory Parade. The administration of Vladivostok reports that from this day and until 7 in May in the capital of Primorye parade rehearsals will take place, in which several thousand servicemen representing various types and types of troops will take part. The highlight of the program promises to be the performance of several military orchestras, which will delight citizens with musical works dedicated to the Great Patriotic War. Today, anyone can
download music
about war using special sites on the Internet. There are also works performed at the Victory Parades of different years.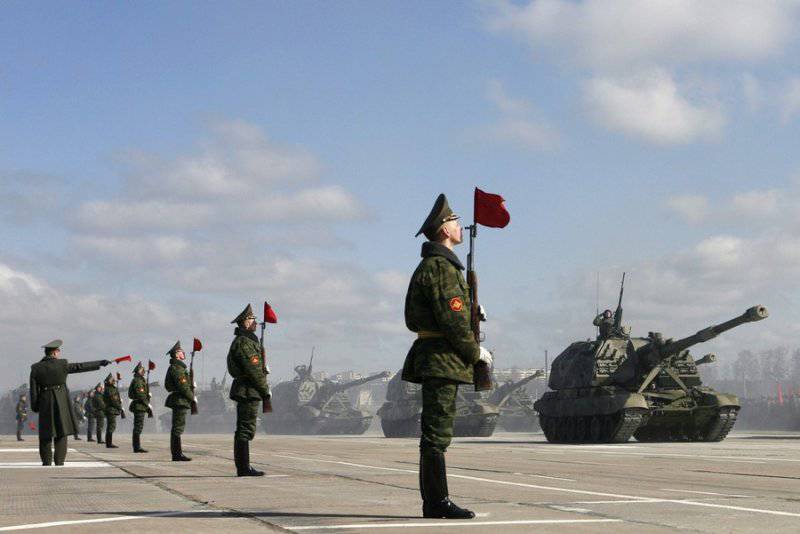 About 11 thousand troops will take part in the Moscow Parade. Intensive training began on April 8th. The organizers of the Victory Parade pay much attention to the issue of passing military equipment along Moscow streets. So that the asphalt does not collapse due to the pressure of the tracks of the armored vehicles, they (the tracks) are "shod" in special rubber similarities to the covers, which will take the main pressure on themselves. A similar practice has been used before, but this time it is reported that the rubber elements on the tracks
tanks
and other units of armored vehicles will be made of special rubber with alloying from strengthening chemical compounds.
To pressure armored vehicles did not have a negative impact on subways and entrances to the subway, it was decided to strengthen the entrances along the path of the future movement of military equipment. In particular, the fortification touched the entrance to the metro station in the very center of the capital - Okhotny Ryad.
To increase the security measures, the Moscow authorities decided to take serious measures. They banned the sale of alcoholic beverages in all shops without exception, which are located along the path of movement of military equipment. This is due to the fact that a few years ago drunken youngsters in one of the districts of Moscow tried to break through the cordon and imitate an attack on tanks with empty beer bottles made of glass. Hooligans were detained on time, but the case was not without abrasions and bruises from other viewers and even law enforcement officers.
Today, Victory Parade training, which will be held on May 9 in the capital, is held in Alabino. This is a town in the Naro-Fominsky district of the Moscow region, where the training ground is located.