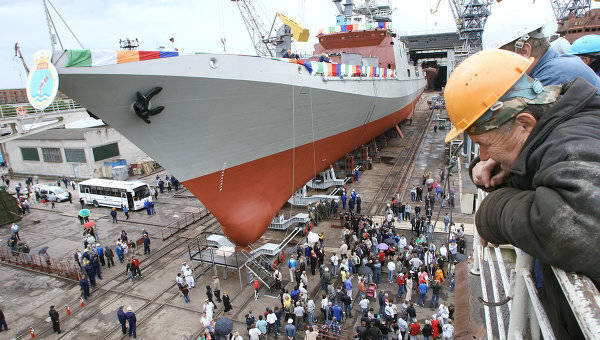 The source told the author of the material that the Russian side should not worry about concluding a new contract, since it is planned to install the Brahmos anti-ship joint Russian-Indian development missile on the new ships, unlike the previously transferred and under construction ships. In addition, the Indian Navy is very pleased with the experience of operating ships of this class.
The contract amount is 3 billion dollars. As noted in the Russian blog BMPD devoted to weapons, the price seems too high.
Recall 14 July 2006, Moscow and New Delhi signed a contract for the construction of three frigates for the Indian Navy. The contract value was 1 billion. 600 million dollars.
The first frigate Tag ("Saber") was handed over to the customer at the end of April 2012. The second ship, the Tarkash ("Quiver"), was transferred to India in November 2012. The third frigate Trikand ("Bow") was launched in May 2011.
The 1136.5 frigates are designed to conduct combat operations in the ocean and sea areas independently and as part of a ship connection as an escort ship. Their combat capabilities make it possible to search for and destroy enemy submarines, carry out anti-ship, anti-aircraft and anti-submarine defense of warships and ships at sea, strike ships and vessels, support ground forces combat operations and provide amphibious landing forces.
Baltic Shipbuilding Plant "Yantar" was formed on July 8 1945. The company specializes in the construction of small and medium-tonnage vessels for military and civilian purposes, as well as ship repair works. For almost 66-year-old
history
The factory built 154 warships and over 500 civilian ships. The controlling stake of PSZ "Yantar" belongs to the state.