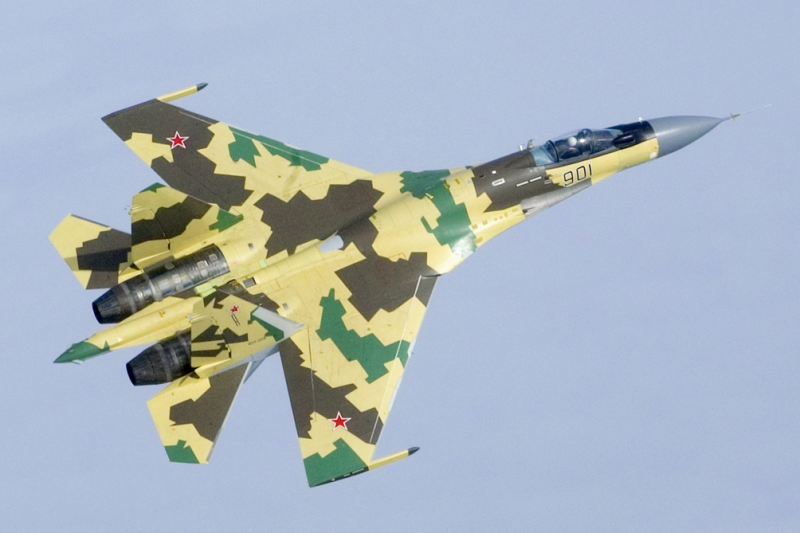 After more than a year of trading on the details of the deal, Russia agreed to sell 24 Su-35 fighters to China. A big obstacle to this deal was China's inability to guarantee Russia that its new technology on these aircraft would not be stolen by Chinese
aviation
firms. Apparently, a mutually acceptable compromise was reached.
At first, China refused to buy Su-35 fighter jets in Russia if the clause "without unauthorized duplication" is included in the contract. The Chinese wanted to buy the Su-35, but were not ready to sign a commitment not to copy the Russian aircraft. China is already producing unauthorized copies of Russian Su-27, calling them J11, and Russia is not at all pleased with this event. Since then, China has developed a double version of a fighter-bomber (J16), an unobtrusive version (J17), and also in Ukraine got a deck version of the Su-30 (Su-33) aircraft and produces copies of it (J15).
China insists that all these are Chinese projects that just by chance have some similarities with Russian fighters. In response, Russia stopped selling combat aircraft to China, but still sells jet engines for these aircraft. So far, China's attempts to create copies of these engines have failed. Sales of engines are too profitable to abandon them, as they allow Russian engine manufacturers to continue developing new models. China plans to steal the technology of their production as soon as it can figure out how to cope with the exotic production skills necessary to create these engines.
Su-35 is a 34-ton fighter and is more maneuverable than the original 33-ton Su-27, and is also equipped with much better electronics. It has a supersonic cruising speed, but costs at least fifty percent more than the Su-27. This results in about $ 60 millions (for the base model) or as much as the most advanced F-16 costs. The Su-27 was designed to fit the F-15, which is larger in size than the single-engine F-16. The large size of the Su-27 / 35 leaves developers with far more room to upgrade and improve.
Su-35 has some elements of stealth (or at least less visible to most fighter radars). Russia claims that the Su-35 has a lifespan of 6000 flight hours and engines of 4000 hours. Russia promises world-class avionics, as well as a very comfortable cockpit for the pilot. The use of jet control systems and active remote flight control engines will allow aircraft to be even more maneuverable than Su-30 (which were converted from Su-27 to be super-maneuverable). Su-35 was in development for two decades before it was declared ready for production in the 2005 year. But even then there were still problems with new engines, providing it with high flight performance. Russia claims that the problems with the engines have been resolved, but only time will tell if this is true.
Su-35 is not intended to be a direct competitor to the F-22, because the Russian aircraft is not so subtle. The Su-35 is equipped with an 30-mm automatic cannon (150 ammo) and is capable of carrying up to eight tons of ammunition on the 12 external suspension points. This reduces the stealthiness that the F-22 and F-35 achieve using internal compartments for bombs and missiles. However, if the maneuverability and modern electronics offered by the Su-35 will meet the promises, then the aircraft will surpass all existing fighters, except F-22. Since Su-35 is sold for less than $ 100 million, it should have a lot of buyers.
Meanwhile, J11, a clone of the Su-27, was not an easy affair for China. This aircraft entered service in the 1998 year, but its production was very slow and only about a hundred aircraft were produced. It was during this process that the Chinese mastered many technical details of the reproduction and modernization of the Russian aircraft. Then China changed the design of the Su-27 and built at least one hundred 33 tons of J11A. This model was equipped with modern Chinese-made electronics and is capable of carrying about eight tons of air-to-air guided missiles and smart bombs. Then followed J11B, which was the same size and weight as J11A, but was equipped with a more advanced radar with AFAR and was specifically designed for air-to-ground missions, and was also able to stand up for itself in air combat.
Su-35 will give China a lot of ideas (and technology) for its J11C, regardless of what promises have been made to Russia.