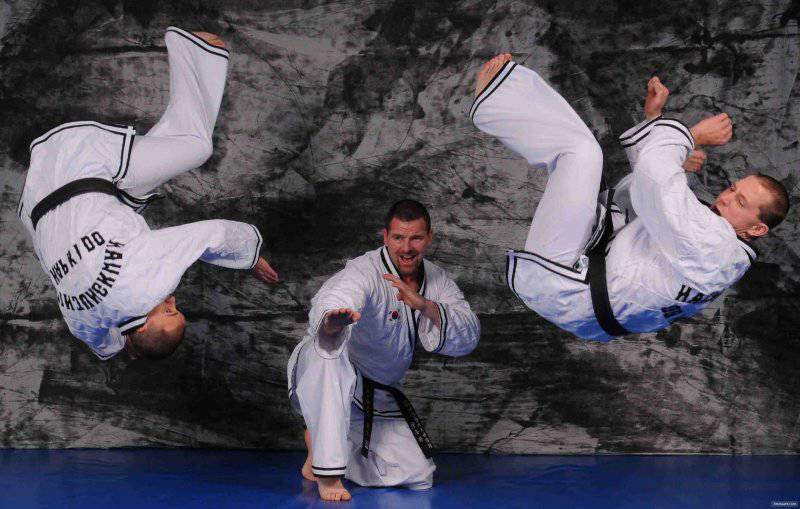 Learning to own at least one of the energy techniques of contract-free martial arts is a tempting offer. What is this - another adventurous way of earning unscrupulous people or a breakthrough in man's mastering the technique of using energy fields?
So far, the following facts are known: there are a lot of commercials for staged contactless fights, links to video courses and manuals for beginning fighters of a unique oriental type of martial arts - contactless combat. A large number of young guys who believe in the possibility of learning the unique method of martial arts, spend significant sums of money to pay for classes with the newly-minted Sensei. The guys spend their valuable time on training in martial arts, the specialists for which have never publicly fought with the real fighters. Yes, it was their own choice, but perhaps it is time to openly tell the truth about such a "virtual" method of struggle as a contactless battle.
Let's start with a simple one: did anyone see a real contact, not a staged fight, a contactless person (waving and hand passes in films are not considered)? Could you imagine that in a street fight one of the fighters would "scatter" his enemies with just a wave of his hand (or, at least, his legs) or by turning his head? Are the facts of the victory of the "energy warrior" over the armed man, etc., known?
Until now, only teachers' fights with their students, who pay a lot of money to their mentors for science, are available for viewing. True, the Internet posted one of the fights of kickboxer with contactless. But when viewing, the results of energy strikes are not visible, except that the masterly possession of avoiding real fighter-kickboxer attacks. But this cannot be called a real fight, because mastering the skill of avoiding enemy attacks is one of the exercises that is practiced in all martial arts sections. On the available publicly available video materials, no one saw the long-awaited miracle of technology. Maybe the noncontactor "was ashamed" or did not want to demonstrate the secret methods of the fight. But any dispute can be resolved in a simple way - to go to the carpet and prove for all the reality of the existence of such an interesting and tempting method of hand-to-hand fighting, such as contactless combat, against a specialist of any kind of contact martial art.
Unfortunately, we often witness the scams that artificially surround a halo of secrecy, election and inaccessibility. Newly-born contactless teachers refer to their chosenness and special abilities to master the power methods of hand-to-hand combat. A very convenient position - if you succeed, it means that you are just as elected as they are, and if not, it means that you are not given to comprehend the methods, and even more the peaks, of the energy methods of contactless defense and attack.
The fact that all the media are involved in promoting information about the existence of energy contactless martial art is not surprising. The mass media will advertise any nonsense for money (think of advertising "MMM", drugs for all illnesses, cigarettes, alcohol, etc.). And the customers of this information are confident that they will more than return the money spent on advertising by attracting new trainees to their schools, sections, etc. Moreover, the promotion of any, even delusional, ideas has now become much simpler: highly professional specialists in organizing PR campaigns have appeared, journalists are ready to write materials on any topic (as long as they pay money), agencies for the selection of actors and extras will gladly provide any organization with their wards for shooting staged video. So the average person also feeds the young people with fairy tales that the contactless person easily, without touching his rivals, throws the attackers at him or disarms the armed special forces with one pass to the teeth.
After such skilful handling, a mass of people are knocking down the shaft into the contactless sections, carrying their money, for the right to possess secret power struggle skills. Youths already in their imagination see how easy they defeat their enemies in street fights. They are enthusiastically ready to blindly follow the advice of their latter-day instructors, mastering the methods of meditation and control over their own biofield under their vigilant eye, train their "special" look, learn to concentrate and control the mysterious energy. They try to pronounce correctly and try to understand a lot of unusual and beautiful words - energy flows, the upper and lower energy channels, etc. Sensei hammered their students into the head, carefully prepared a beautiful fairy tale that the Ancient East is the birthplace of contactless combat. It was there, over the millennia, that a technique was developed to develop the strength of mind and thought, which are the basis of the ability to conduct an energy contactless hand-to-hand battle. That according to this secret method, Russian special forces soldiers are trained. Newly-minted Sensei are ready to transfer the ability to conduct an effective contactless battle to anyone who wishes, but for a fee, of course.
This idle talk occupies most of the time the student. And it lasts until the student has run out of money or patience. In an edification to the remaining students, Sensei, in the event of the departure of the next listener, argues that the comrade who had left them could not reach the proper level of enlightenment (a very convenient and not provable wording).
But is it safe to cheat with the training of young people contactless martial arts? As a result of their training, with an empty waving of their hands, of course, no one gets hurt, "sparing partners" go home without bruises and cuts, but the harm from such machinations and showing off is still huge. Young guys, instead of mastering real military specialties and fire training, spend time on empty training in submission and use in combat with the enemy of their energy field. How many lives can such a false science carry in real, cruel, not for life, but for death, in battle?
By the way, there is a video on the Internet, where an ordinary fighter easily fought off Sensei-contactless in open battle in the ring (see video). Only such true information is not as advertised as the commercial projects of a large number of schools, sections, or groups for training in contactless martial arts.
Materials used:
http://russznahar.narod.ru/combat.htm
http://www.fire70.ru/beskontaktnii-boi.htm