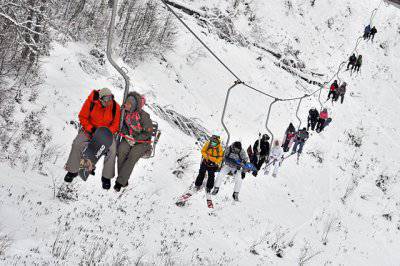 The Main Directorate for Economic Security and Anti-Corruption of the Ministry of Internal Affairs of Russia, with the assistance of the prosecutor's office of the Krasnodar Territory, uncovered an illegal income-generating scheme for the construction of Olympic facilities. It is suspected of former leaders of Krasnaya Polyana OJSC and co-owner of the National Bank for Business Development OJSC (NBRB), the press center of the Ministry of Internal Affairs reported to ITAR-TASS.
According to police, "in July 2009, OAO Krasnaya Polyana entered into a number of agreements with the state corporation Olympstroy to finance the construction of the Gornaya Karusel sports and tourist complex and springboards. More than 1 billion rubles received from Sberbank of Russia under equity agreements construction, were placed "Krasnaya Polyana" on deposits with the NBRB at 4% per annum. "
After that, the bank lent to the controlled firms, which in turn issued loans to Krasnaya Polyana already under 12,5%. More than 45,5 million rubles were withdrawn in the form of interest payments on loans through affiliated organizations.
A criminal case was initiated against the former general and financial directors of Krasnaya Polyana OJSC under art. 201 of the Criminal Code ("Abuse of authority").
Currently, other participants in the criminal scheme and additional episodes of criminal activity are being established.