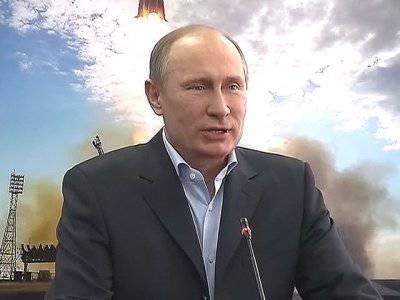 The President of Russia on Cosmonautics Day will hold a meeting dedicated to the development of the industry. Vladimir Putin on the evening of April 11 arrived in Blagoveshchensk. From there he went to the Vostochny cosmodrome under construction in the Amur Region. From the cosmodrome under construction, Putin organized a live video communication session with the crew of the International Space Station (ISS).
"I want to congratulate the entire crew on the holiday - Cosmonautics Day. But this is not just a congratulation, this is a congratulation from the construction site of our future, the largest in Russia, the most labor cosmodrome of the East," Putin addressed the international crew of the ISS. "I very much hope that he will be used not only by our specialists, but also by our colleagues from the United States, from Europe, from other countries. We plan to launch missiles and manned missiles here, plan to work on deep space. "We've chosen it for a long time, and now the work is being fully developed."
During the video session with the ISS, Putin noted that in Russia there is not a single settlement that would be named after the founder of modern cosmonautics, scientist and researcher Konstantin Tsiolkovsky. The President of Russia proposed to name the city to be built near Vostochny Cosmodrome in the name of Tsiolkovsky.
The head of the Russian state recalled that the first launches from Vostochny are scheduled to start from 2015, and by 2018, the first launches of manned projects will be carried out.
"The next stage is by the 2020 year. I hope that we will launch super-heavy rockets here. Initially we planned up to 55 tons, but experts believe that it is necessary to go to a larger volume," Putin said. This question, in particular, the president continued, will be discussed at a meeting on the development of the space industry in Russia.
52 a year ago the world's first Vostok spacecraft was launched into orbit, with Yuri Gagarin on board. Until now, most of the space records belong to Russia. This is the first spacewalk, the first woman in orbit, the longest flight is more than a year and two months, as well as a record of the total time in space - 803 of the day. In total, around 1957 rockets were successfully launched from domestic launch sites from 3000. After the United States stopped the program of shuttles, the Russian "Soyuz" remained the only carriers on the ISS.