The recipes of the country's happiness, no matter how discussed on our website, always inevitably run into a clear watershed. He is called Vladimir Putin, President of the Russian Federation.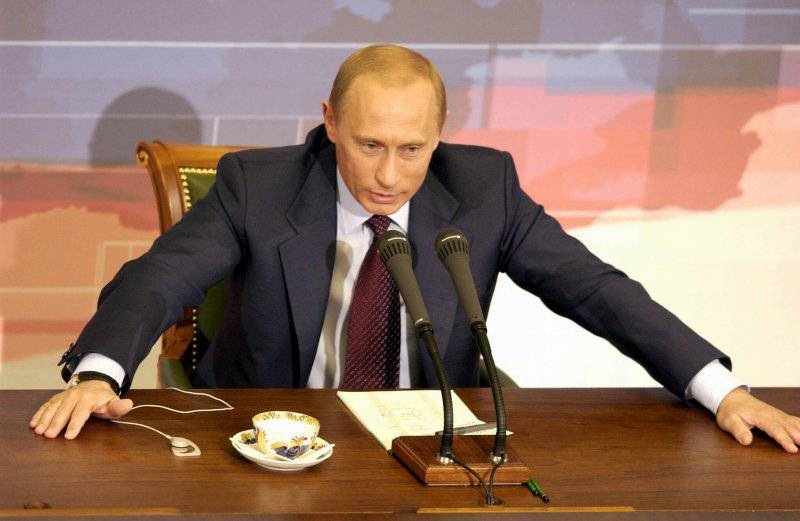 Opinions are diametrically different, which is not surprising. Without giving any assessments, I want, because of my abilities, to look at the problem from the other side. Maybe find a compromise?
So, a little political science. All the tsars-priests, presidents, commissars and other rulers repeat the simple evolutionary cycle of "revolutionary" - "stabilizer" - "builder". The revolutionary breaks the old social and social framework that prevent the country from developing. An example of a revolutionary - Boris Yeltsin.
The stabilizer stops the revolution until the liberated people in revolutionary frenzy destroyed the country itself. Thermidorism is not an invention of the French who were horrified by the blood, but tough
historical
need. This need in Russia is embodied by Putin Vladimir Vladimirovich.
The builder develops new models of society, economics, and politics. According to historical logic, Medvedev Dmitry Anatolyevich could become a builder. But did not. Not because there is nothing to build, but, apparently, because of the inability of a systematic and integrated approach to management.
The circle is closed. The authorities began the cycle "stabilizer" - "stabilizer", which does not bode well. For problems are accumulated, their resolution requires either decisive development, which redesigns all pits and garbage heaps of public problems into new foundations and roads, or, after a not very long historical cycle, will again have to cause a revolutionary bulldozer.
And because of this state of affairs, I personally find it extremely unwise to consider repressive mechanisms to be the only cure for Russian ills. It is impossible to deny them, without repression, the country is slipping into anarchy, but then what? In order for a country to develop, it is necessary to have integrated management on the basis of a well-thought-out strategy, and this commissioner with Nagan cannot solve this problem. Although, of course, the simplicity of this approach appeals to many.
Next, a little elite theory. King, as you know, plays retinue. Retinue, in turn, is also played, and often even more energetic than the king himself. And in this situation, even though you are Ivan the Terrible, even though the dragon is GuGu, you can't manage to drive out the servants to the frost. Especially in the case when all the servants are assigned in order for you not to do something bad in the heat of something. In this embodiment, there are several simple ways to get rid of annoying courtiers, and at the same time from their patrons. The easiest way is called genocide. He has two problems - international isolation and the impossibility of stopping the process. Yes, and it is used only in the case of retaining personal power, which in the current situation is not very relevant, because the fruits of such a power are almost impossible to use.
The second option is a revolution. However, she is known to devour her parents regardless of their desires. In addition, in modern Russia there are no prerequisites for any revolution, with the exception of the liberal-democratic one. But here the form of holding on to conquests is again complementary to genocide in some kind of "one-democratic" form.
The third option we are seeing now. This is an evolutionary change. They are, of course, disgusted with the Russian spirit, for they are very unhurried and do without hanging dissenters by the neck at the gates of a manor house. But the reality is that the elites just will not leave. Either destroy them, or weaken them, letting them grow new. And the second takes time and is completely invisible to society.
And a little political economy, where are we without it. Sorry for Marxism, but the modern economy is closer to politics than any other science. So, for the normal development of the country as an economic power, it must be integrated into various institutions of world trade and world production. Of course, these institutions are far from a social poorhouse, and often there are more problems from them than benefits — the WTO, for example. But when you come to the market as a meat seller, no one asks you whether you will sell meat in the meat line or for you to look for a place among the milkmen. Stand up, look around, get your customers, and then negotiate.
Why do we need these world trade institutions? Without them, somehow easier, like. But it is now. The huge amount of problems that was triggered by Russia's entry into the WTO is offset by the mere fact of having a place in the market. And when the world smells fried (and the smell is already distinct), we have a chance to realize all our advantages. This chance is also without integration into the world trading system, but this is a breakthrough "from zero", from the position of an outsider. Which of these is simpler, I cannot seriously argue in connection with the scarcity of economic knowledge, but on the whole it is inevitable to enter the market, although it is possible to argue endlessly about the forms and methods. Moreover, the money of oligarchs through international structures is much easier to control. Perhaps, in fact, this is the only option for such control.
And finally, about Putin V.V.
First, he managed, if not to get rid of unfriendly courtiers, then to put them in place. And the question of their weakening is under special control. And the fact that these guys are not trampling on Siberian expanses is quite understandable from the point of view of court logic. The enemy must be close, in front of his eyes, so that he cannot hide and weave intrigue. Intelligence is taught that way.
Secondly, the dynamics of evolutionary development seems to be quite reasonable. The speed of individual processes can be discussed, but the development process is the right one. I wonder how Putin has enough patience to prepare these or other steps for years, but this is only a question of the psychological stability of the leader, with whom everything seems to be in order.
Third, the construction of a new Russia. Putin, as an ideal stabilizer, cannot be a great builder. These are incompatible psycho. And it may happen that the nomination of Medvedev DA just was an attempt to find a builder. It is encouraging. So, there will be a new attempt, and I really hope that it will be successful.
And the last, from physics. Any unstable system reacts to an abrupt change in some parameter or some object inside it in a most unexpected way. It may crystallize, may break, or may change its structure. And it's not for the object inside the system to decide how it will change. The object has its own properties, the system has its own. So that the system does not become aggressive, alien, changes must occur adaptively. And our country is an object in the world unstable system. We can change, but how we will do this is a far from idle question. We can become stronger, and we can imperceptibly get such a complex of problems that we have to remember again what a tribe is. So when we talk about the Russian flag over the Capitol - I join. But let's give a report that for this we need many, many, many things to do, and absolutely not worth fussing about.
And why Vladimir Vladimirovich does or does not do something as it seems to us correct? It seems to me that he has hundreds of options for each step. But as a stabilizer, he chooses the principle of "do no harm." And from a global perspective, this is a very effective policy, which we observe. But the builder will come - let's look at the principle of "forward at any cost." I very much hope that this person will be able to preserve a considerable share of Putin's conservatism so that we together would not change our place of residence for the sake of another great construction project and would not put our modest savings on the altar of the great light idea. Who has them, of course.
Yours sincerely, Botanologist.