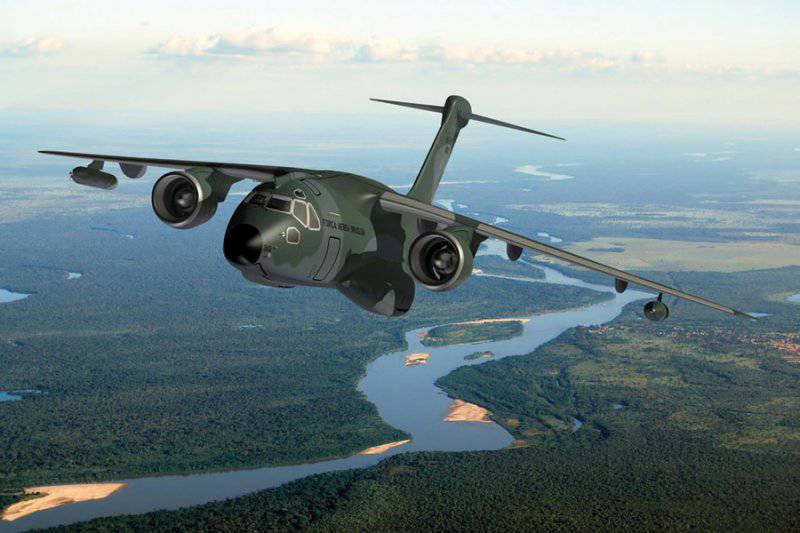 During the LAAD-2013 exhibition, Embraer Defense and Security announced the launch of a marketing program to stimulate sales of the BTA KC-390 advanced jet aircraft.
At the end of March, the Brazilian Air Force and Embraer successfully completed the protection of the working draft (CDR - Critical Design Review) of the KC-390 aircraft.
Completion of this stage allows to proceed to the implementation phase of the development of design documentation for the assembly of two prototypes. Production of the first components will begin in the near future.
The first flight of the transport vehicle is scheduled for the second half of 2014. The implementation of this stage will confirm the tactical and technical characteristics of the machine, assess its potential cost, begin the implementation of a marketing campaign and start a discussion of sales with potential customers.
Embraer and the Brazilian Air Force signed a partnership agreement to implement a program to develop a new military transport aircraft KC-390 in April 2009 during the 7 Latin American military exhibition LAAD-2009 in Rio de Janeiro. The development program, the cost of which is estimated at 1,3 billion dollars, provides for the supply of two prototypes, auxiliary equipment and tools.
The KC-390 will be the largest aircraft ever built by the Brazilian aircraft industry. The aircraft will be able to transport the payload 23 t to 1400 nautical miles (2590 km) and develop a maximum cruising speed of 465 knots (860 km / h).
The KC-390 is supposed to be equipped with the latest generation of on-board radio-electronic equipment, an electrical remote control system, a loading and unloading system that provides for carrying out operations of various types, as well as a modern self-defense system.
The KC-390 is intended for the transportation of troops and cargo, landing, refueling in-flight of jet planes and helicopters, conducting search and rescue operations, medical evacuation, as well as supporting humanitarian missions.
Embraer company expects that after the completion of the development of KC-390 at a cost of about 50 million dollars will compete on the world market with the American C-130J Hercules, which costs 90-120 million dollars. The potential market for the KC-390 platform is estimated by developers at 600-728 units, and the total cost of the program can be up to 50 billion dollars.
Currently, the potential order book (no official contracts signed) for the KC-390 aircraft is 60 units, including 28 units. For the Brazilian Air Force, 12 units. - Columbia, 6 units. - Chile, 6 units - Portugal, 2 units. - Czech Republic and 6 units. - Argentina.
As expected, the first production contracts will be signed in the first quarter of 2014.