Wherever we, Russian people, live, in whatever position we are, we never and never leave the sorrow about our Homeland, about Russia. This is natural and inevitable: this grief cannot and should not leave us. She is a manifestation of our living love for the Motherland and our faith in it.
In order to be and fight, stand and win, we need to believe that the good forces of the Russian people have not dried up, that God's gifts did not diminish in him, that it is still only on the surface that their darkness of God lives in it, that this defilement will pass and spiritual strength will be resurrected. Those of us who lose this faith will lose the purpose and meaning of the national struggle and fall away like dried leaves. They will no longer see Russia in God and love her in spirit; which means that they will lose her, come out of her spiritual womb and stop being Russian.
Being Russian means not only speaking Russian. But it means - to perceive Russia with the heart, to see with love its precious originality and its all universal
stories
unique originality, to understand that this originality is the Gift of God given to the Russian people themselves, and at the same time - an indication of God, having to protect Russia from the encroachment of other nations and demand for this gift - freedom and independence on earth. To be Russian means to contemplate Russia in the ray of God, in its eternal fabric, its everlasting substance and love to accept it as one of the main and cherished shrines of its personal life. Being Russian means believing in Russia as all Russian great people believed in it, all its geniuses and its builders. Only on this faith can we confirm our struggle for it and our victory. Perhaps Tyutchev is not right that "one can only believe in Russia", because, after all, reason can say a lot about Russia, and the power of imagination should see its earthly greatness and its spiritual beauty, and a lot must be done and approved in Russia. But faith is also necessary: ​​without faith in Russia, we and ourselves cannot live, and it cannot be revived.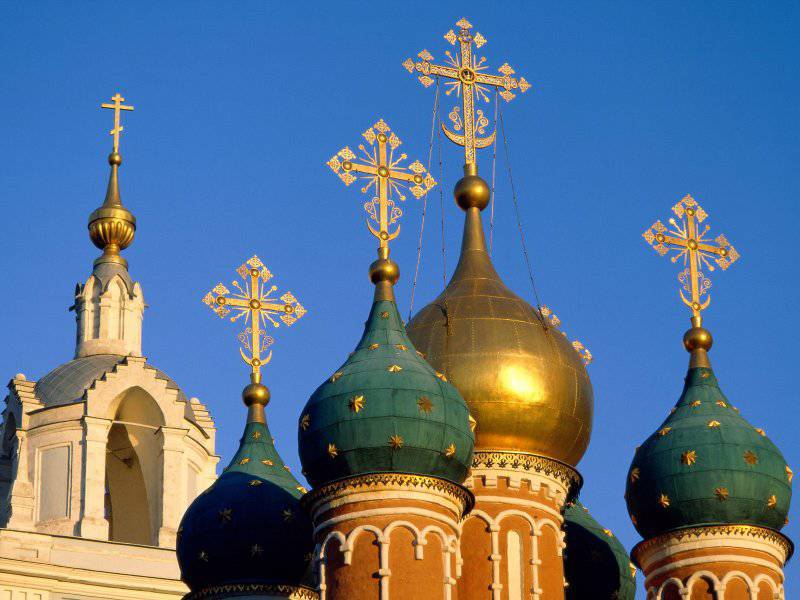 Let them not tell us that Russia is not a subject for faith, that it is fitting to believe in God, and not in earthly circumstances. Russia in the face of God, affirmed and glorified in God's gift, is precisely the object of faith, but not faith that is blind and counterintelligent, but faith that loves, sees, and is reasoned. Russia, as a chain of historical phenomena and images, is, of course, an earthly circumstance subject to scientific study. But this very scientific must not dwell on the appearance of facts; it must penetrate into their inner meaning, into the spiritual significance of historical phenomena, to the one that constitutes the spirit of the Russian people and the essence of Russia. We, the Russian people, are called not only to know the history of our fatherland, but also to see in it the struggle of our people for its distinctive spiritual face.
We must see our people not only in their restless passion, but also in their humble prayer; not only in his sins and falls, but in his kindness, in his valor, in his exploits; not only in his wars, but also in the intimate sense of these wars. And especially - in that direction of his heart and will, hidden from a stranger's eye, which permeates his entire history, his entire rejuvenated life. We must learn to see Russia in God - its heart, its statehood, its history. We must reflect on the whole history of Russian culture in a new way - spiritually and religiously.
And when we interpret it this way, then it will be revealed to us that the Russian people had to stand up to God all their lives, sought, harassed and struggled, that he knew his passions and his sins, but always measured himself with God's criteria; that through all his evasions and falls, in spite of them and in spite of them, his soul always prayed and prayer always constituted the living nature of his spirit.
To believe in Russia is to see and recognize that its soul is rooted in God and that its history is its growth from these roots. If we believe in it, then no "failures" in its path, no tests of its forces can frighten us. Our unabating sorrow is natural about its temporary humiliation and the torment suffered by our people; but unnatural despondency or despair.
So, the soul of the Russian people always sought its roots in God and in His earthly phenomena: in truth, righteousness and beauty. Once upon a time, maybe even in prehistoric times, the question of truth and falsehood was resolved in Russia, resolved and sealed by the verdict in a fairy tale.
"We must live according to God's ... What will be, then it will be, but I don't want to live with a curve" ... And on this decision Russia built and kept throughout its history - from the Kiev-Pechersk Lavra to the Righteous Men described by Leskov and the Engineers - Imbalance "; from Sergius the Rev. to non-commissioned officer Thomas Danilov, tortured in 1875 by Kipchaks for loyalty to the faith and homeland; from Prince Yakov Dolgorukov, who was directed by the enduring truth of Peter the Great, to the confessor, tortured by the Bolsheviks, Metropolitan of St. Petersburg Venyamin.
Russia is first and foremost a living host of Russian truth-lovers, "direct costists", faithful to God's truth. By some mysterious, powerful confidence they knew, they knew that the appearance of earthly failure should not embarrass a direct and faithful soul; that the one who does God's work wins by his own doing, builds Russia with his own (albeit lonely and martyred) standing. And the one of us who has ever tried to embrace the gaze of these Russian stolees, he will never believe the Western talk about the insignificance of Slavs and will never be shaken in his faith in Russia.
Russia held and was built by the memory of God and being in His living and gracious breath. That is why, when a Russian man wants to reason with his neighbor, he says to him: "Fear God!" - while reproaching, he says the words: "There is no God in you!" For he who has God in himself carries living love and a living conscience in his soul: two the noblest foundations of all life service, priestly, civil and military, judicial and royal. This view is primordial, ancient; it was precisely this that found its expression in the decree of Peter the Great, inscribed on the Mirror: "You must come before judgment, beforehand the judgment of God is, everybody curses, do the work of God with carelessness." This view was always expressed by Suvorov, putting forward the idea of ​​a Russian warrior fighting for the work of God. On this view, whole generations of Russian people were brought up - both those who fought for Russia, and those who liberated the peasants from serfdom (on fundamentals not practiced anywhere in the world except Russia), and those that created the Russian zemstvo, Russian court and the Russian school of the pre-revolutionary period.
A healthy statehood and a healthy army are impossible without a sense of one's own spiritual dignity, and the Russian man asserted him on faith in his immortal, impending God and God-led soul: this is where the Russian person has this amazing religious-epic and calm perception of death - and on the bed of illness, and in the battle, which was noted more than once in Russian literature, especially in Tolstoy and Turgenev.
But a healthy statehood and a healthy army are impossible without a true sense of rank. And the captain of Dostoevsky who replied to the godless was right: "If there is no God, what kind of captain am I after that?" Creative statehood also requires the wisdom of cordial and inspired contemplation, or, according to the words of Metropolitan Philaret, said during the coronation of Emperor Alexander II - it requires "most mysterious overshadowing from the Lord the Lord's spirit, the Spirit of wisdom and knowledge, the Spirit of conscience and strength".
Russia kept this spirit throughout its history, and its falling away from this spirit always led it to innumerable misfortunes. Therefore, believing in Russia means accepting these deep and great traditions — its will for quality, its identity and service, to take root in them and confidently build its revival on them. And when Western people ask us the question, why are we so firmly confident in the coming revival and restoration of Russia, we answer: because we know the history of Russia, which you do not know, and live in its spirit, which is alien to you and inaccessible. We affirm the spiritual strength and bright future of the Russian people by virtue of many reasons, each of which has its own special weight and which all together lead us to the depth of our faith and our loyalty.
We believe in the Russian people not only because it has proved its ability to state organization and economic colonization, politically and economically uniting one sixth of the earth's surface; and not only because he created law and order for one hundred and sixty different tribes - multilingual and diverse minorities, for centuries showing that complacent flexibility and peaceful livableness, to which Lermontov once bowed with such joyful feeling ("The Hero of Our Time", chapter I, "Bela ");
and not only because he proved his great spiritual and national vitality by raising and overcoming the two hundred and fifty-year yoke of the Tatars; and not only because he, unprotected by natural frontiers, having passed through centuries of armed struggle, having spent two thirds of his sacrificial life in defensive wars, overcame all his historical burdens and gave by the end of this period the highest average birth rate in Europe: 47 people per year for every thousand people;
and not only because he created a powerful and original language, as capable of plastic expressiveness as an abstract soaring, language, about which Gogol said: "No matter the sound, the gift, and the right, a different name is even more precious than the things "... (" Selected places from the correspondence with friends ");
and not only because, by creating his own special national culture, he proved - and his own power to create something new, and his talent to translate someone else's, and his will to quality and perfection, and his own talent, advancing from all classes "his own Platons and quick minds Nevtonov "(Lomonosov);
and not only because he developed over the centuries his special Russian sense of justice (Russian pre-revolutionary court, works of the Russian Senate, Russian jurisprudence combining the Christian spirit with a refined sense of justice and informal contemplation of law);
and not only because he created a beautiful and original art, taste and measure, the originality and depth of which has not yet been appreciated by other nations, either in choir singing, or in music, or in literature, or in painting, or sculpture, neither in architecture, nor in theater, nor in dance;
and not only because the Russian people are given from God and by nature inexhaustible wealth, aboveground and underground, which provide him with the opportunity - at the very worst and worst case of a successful invasion of Western Europeans into its borders - to retreat into the depths of their country, find everything there is necessary for defense and for returning the dismantled dissenters and defending their place under the sun of God, their national unity and independence ...
We believe in Russia not only for all these reasons, but, of course, we find support in them too. Behind them and through them something more shines to us: a people with such gifts and with such a fate, who suffered and created such things, cannot be abandoned by God at the tragic hour of their history. He is in reality and will not be abandoned by God, already by virtue of the fact that his soul has been rooted and rooted in prayer contemplation, in the search for the highest, in serving the supreme meaning of life. And if his eye was temporarily darkened, and if his power, which distinguished the right from temptation, was shaken once, then suffering would clear his eyes and strengthen his spiritual power in him ...
We believe in Russia because we contemplate it in God and see it as it really was. Without this support, she would not have lifted her harsh fate. Without this living source, she would not have created her culture. Without this gift, she would not have received this vocation. We know and understand that for a person's personal life - 25 years is a long and painful period. But in the life of an entire nation with a thousand-year past, this period of "falling out" or "failure" is not decisive: history shows that people respond to such trials and upheavals by returning to their spiritual substance, restoring their spiritual act, and new blossoming of their strength . So it will be with the Russian people. Experienced trials will awaken and strengthen his self-preservation instinct. Persecution of faith will clear his spiritual eye and his religiosity. Outdated stocks of envy, anger and strife will become a thing of the past. And the new Russia will rise.
We believe in it not because we want it, but because we know the Russian soul, we see the path traversed by our people, and speaking of Russia, we mentally turn to God's plan laid in the foundation of Russian history, the Russian national being.