The first April decade stood out very rich in
news
associated with the so-called LGBT community. We believe that far from all (and this is great) Russian citizens know how this abbreviation stands for. The LGBT community is a community, forgive my God, lesbians, gays, bisexuals and transgender people who fight for their rights, forgetting that their struggle often violates the rights of the rest of the world's population, whose representatives, thank God, are still the majority. The LGBT movement itself, which is often referred to by its opponents as the movement of sodomites, began to be actively cultivated since the middle of the last century in the West. However, the real, let's say, flourishing propaganda of sodomy comes at precisely the time in which we live. And if earlier gay parties, gay parades, lesbian processions and other similar events seemed to Russia to be something far and not overstepping the borders of the state, in recent years the propaganda of homosexuality and other manifestations of rampant sodomy (up to the conclusion of same-sex marriage and education school students the basics of same-sex relationships) are increasingly annoyingly trying to break into Russian society.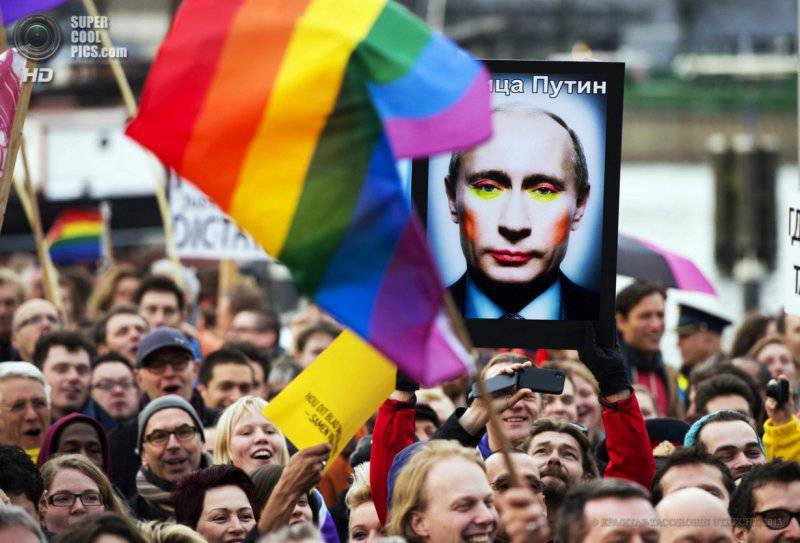 Netherlands. Amsterdam. 8 April. The action of the LGBT community against the arrival of Vladimir Putin. (EPA / ITAR-TASS / ROBIN UTRECHT)
So, what happened in early April? It all started with the next rally of the LGBT community in Russia. The action took place from 1-th to 7-th of April and was called "Week against homophobia and transphobia-2013". The action is coordinated by the Russian LGBT network, which decided to present about fifty different projects devoted to "informing the population" that gays, lesbians and other citizens with non-traditional sexual interests - they, you see, like everyone, require them rights in Russia were not violated. They say that laws banning the promotion of homosexuality in the regions of the country are from the evil one ...
The website of the LGBT network in Russia has published a whole list of events that were held in different Russian regions during the "Week Against Homophobia and Transphobia-2013". In addition to various information campaigns and concerts, LGBT representatives conducted and trainings, which is directly indicated on the web site. As they say, I don't even want to think about how to try to connect the theme of homosexuality propaganda with the planned trainings in a little bit of a decent way ... What were the activities of the "disadvantaged in rights" trained at these events? It may be how the "men" properly wear thongs under a business suit ... Or the order in which to meet their sexual needs for the representatives of the bisexual LGBT link: man-woman-man-woman or man-man-woman-woman ...
We present a selective list of events that took place as part of the "Week" organized by the above-mentioned organization in various regions of the country. This list will demonstrate the motives that indicated the gentlemen guided their struggle. But after all, sodomites do not call their actions as a struggle ... It turns out that we are here, you know, we live, work, give birth and raise children, and do not even suspect that someone else is going to fight with us ... But how! Especially creative: seminars, parades, trainings, flash mobs and other things. Yes, and the indispensable appeals to the western "fellow".
Krasnodar
LGBT picnic, discussion table on the topic of LGBT support.
Immediately begs a comment. Well, okay, another picnic: gathered there together, forgive me, they yelled at the glass in a different way, kissed each other and went home and work: who was at the theater, who was at the office, who was at the show business, and someone at the local meeting. ... But it turns out that someone else must support it ... Apparently, without any support. All this resembles a system with well-known letters of happiness. Something like: "Having received this letter, you have to become one of the LGBT people yourself and persuade ten others to do this, having sent 10 similar letters. If you become one of us, and you also send out letters, then you will be happy in heels and a sea of ​​smiles from the guys in thongs, and if you don't send them out, then the hellish abyss will open up before you and ... "
Moscow
Presentation of the exhibition of pictorial works of LGBT teenagers.
Evening games and dating.
Parent-teacher meeting.
Conference for LGBT activists, civil society activists and journalists, dedicated to forms of protest.
It is noteworthy that the same people had time to light up at the teenage exhibition, and at the evening of games and acquaintances, and even at the "parent" meeting. And those of the journalists who were sent by the editorial offices to cover this, if I may say so, act, and clearly not related to the LGBT network, felt somewhat embarrassed in the LGBT community, nervously fidgeting in the allocated chairs.
Samara
The action "marriage boycott".
The essence of this event was that homosexual couples visited Samara notaries in order to conclude agreements on the registration of marriage between people of the same sex. Some notaries clearly did not understand what was happening, and tried to explain to those who came that there was a law in the region that emphasized the social disparity between traditional and non-traditional relations in marriage. However, it was important for LGBT gentlemen not to get some notarial confirmation of their "marriage" or "marriage", but to arrange a PR action to draw public attention to their "problems".
St. Petersburg
Presentation of the film "The same as you ..."
Sorry, but you don't have to decide for everyone - not the same, not at all the same ...
Seminar "What the Bible really says about homosexuality?"
Well, what can I say ... It is a pity that the round table on the topic "LGBT community lines in Marx's Capital" was not held, or "What does the actual matter of gay raw materials say about gay?"
Tyumen
The action "Maybe you're next ..."
God forbid ...
Press conference "Homophobia and hate speech."
Well, this, apparently, including, and on materials such as ours ...
And there were still LGBT actions in Tomsk, Astrakhan, in the Far East, in Murmansk, Perm, Novosibirsk, Omsk, Arkhangelsk.
In this regard, the question arises: how much does the money go? .. Not that we were going to count other people's money. Not at all. I would just like to know how much for those sums allocated by certain structures for the promotion of outright sodomy in Russia, it would be possible to build sports facilities, how much to buy new medical equipment, how many educational institutions to equip with new multimedia tools, how many old buildings to be renovated? ..
Well, if you consider that the coverage of LGBT events has touched literally all of Russia: from Nakhodka to Murmansk, then LGBT lobbyists have a considerable budget that the LGBT network calls for funding through its official website. Here, just for 300 rubles, everyone can forever tie up with their "vicious" heterosexual past and "untie" other sexual preferences, or even more simply: 300 rubles - and you are one of the sympathizers ... And how many such sympathizers in Russia? But there are also obvious "subsidies" from outside the country.
April LGBT continued
история
if not strange, President Putin's tour of the countries of democratic Europe. In Germany and the Netherlands, the Russian leader was literally attacked with questions about human rights violations, and most often these questions concerned a strictly defined group of people, namely, all the same gays, lesbians, bisexuals and transgender people. In Amsterdam, while Putin was answering questions about how things are in Russia with the rights and freedoms of LGBT people, various meetings and demonstrations were held. On some, Putin was called on not to violate the rights of homosexuals and to allow same-sex marriages in Russia, on other Russian presidents they were urged to stop the persecution of dissidents, on the third, they rallied in support of Russia's position on Syria, on the fourth, they said Putin was thankful that Russia remains the bulwark of traditional family relations . In general, Holland ...
Considering all this, it seems that in Europe there is not an economic crisis, but a crisis of household employment. In other words, many Dutch and Germans had too much free time. And as soon as a person has a lot of free time, he begins to painfully reflect on what to do. This, apparently, recalls the desire to certainly register same-sex marriage, wearing a veil over a baseball cap, that the young generation should be inculcated with the basics of same-sex "ethics", bare breasts and many other things from the same series, and also you need to definitely go to the meeting of the leader of a foreign state and tell him about your attitude towards him. And it also seems that Europe was waiting for President Putin just to discuss the most painful topic for himself. There is no other topic, gentlemen Europeans?
Well, in fact, what's the problem? The fact that gays, you understand, do not give marriage everywhere, or does it mean that someone is trying to commit another economic scam, hiding behind an imaginary desire to protect LGBT rights. Do not the representatives of this community themselves realize that supporting their sexual whims is a big business project that hides real geopolitical tectonics ... And do they really think that touching on the issues of "protecting the rights of homosexuals" at the highest level in Europe is really? .. Well, no ...
When ladies and gentlemen with rainbow flags and pink fishnet tights on hairy legs will realize that their very presence and their "problems" are used by certain forces to solve much more serious problems. And they themselves - colorful (rainbow) screen. This is from a series of tales about combating global warming or protecting Europe from Iran's nuclear
weapons
...
But, apparently, so far the understanding of this fact by the LGBT community is far. Well - time puts dots over the "i" ...