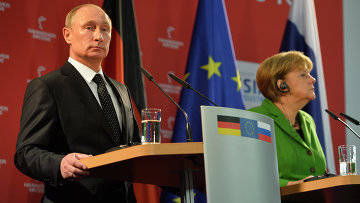 The money of foreign sponsors of Russian NPOs could be sent to help the economy of Cyprus. About this at a joint press conference with German Chancellor Angela Merkel, said Russian President Vladimir Putin.
"We talked in detail about NGOs during the negotiations. I conveyed to Madame Chancellor our concern not with the activities of NGOs, but with their financing from abroad. In the first four months since the adoption of the law on NGOs, almost $ 1bn. $ 1 billion could be sent not to NGOs, but to troubled countries, including Cyprus, "said Vladimir Putin.
The Russian president hopes that no other European country will have to apply a tax on accounts. "I assume that there will be no such decisions (no more)." For our part, we decided to restructure the existing debt of Cyprus to Russia. This is our contribution to solving this problem, "the Russian president stressed.
"There is no fundamental concern for the state of the European economy. I share the approaches of Mrs. Merkel. First you need to get rid of systemic difficulties, and then move on to experiments to increase the money supply, "said Vladimir Putin.
Korea and Syria
"Our position on the Korean issue is well known. We are against spreading
weapons
. We are for denuclearizing the Korean Peninsula. The escalation of the situation worries us. If something happens on the Korean Peninsula, then Chernobyl may seem like a children's fairy tale, "said Vladimir Putin.
The head of the Russian state noted the US attempts to defuse the situation on the peninsula. "The United States postponed the testing of a ballistic missile so as not to provoke a situation. I hope that this will be noticed in North Korea, "Vladimir Putin stressed.
In Syria, Russia is seeking a cease-fire and the start of negotiations, the head of state said. "We need to achieve a suspension of arms supplies. We supply the legitimate mode, it is not prohibited. We are ready to get together and discuss how to get out of this bloody bath, "the Russian president stressed.
Femen
German journalists asked Putin to comment on the public striptease of the Femen group during the Hanover Fair.
"As for the action. I liked her. We knew she was preparing. Say thank you to the participants. What are they shouting, I did not really hear it. Security officers piled on them, I didn't even consider whether they are brown-haired or brunettes, "commented Vladimir Putin.