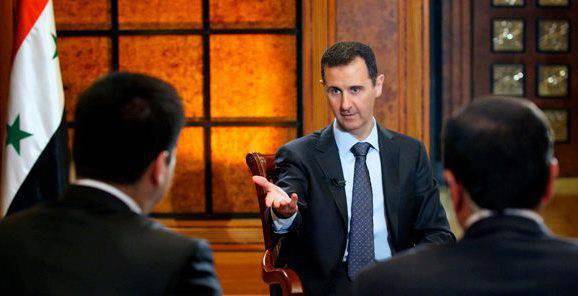 QUESTION: Mr President, we welcome you on behalf of the Ulusal TV channel. My first question may be a little strange, but I have to ask it, because a lot of information was published in the Turkish and world media that you were killed or left the country. Can you confirm that you are alive and in Syria?
PRESIDENT BASHSHAR AL-ASAD: First, I would like to welcome you and your group in Syria. It is a pleasure for me to speak with you today to address the fraternal Turkish people.
What you see yourself is obvious: I am here in my land. I am not hiding in an underground bunker. And such rumors spread in order to undermine the morale of the Syrian people. I do not live on a Russian military ship or in Iran. I live in Syria, in the same place where I have always lived.
QUESTION: As you know, at the last meeting of the League of Arab States, the place of the Syrian Arab Republic was given to opposition representatives. The question of the legitimacy of Syria was openly discussed. Does this mean that you have been deprived of legitimacy, because the place of ATS is transferred to the opposition, and you are no longer represented in the Arab League?
PRESIDENT AL-ASAD: Frankly speaking, the League of Arab States itself lacks legitimacy. This is an organization that represents the Arab states, not the Arab nations. It has not had enough legitimacy for many years already due to the fact that these Arab states, taking different positions, do not reflect the will and interests of the Arab peoples. Even when we were part of the League of Arab States, we knew about it. Therefore, this League is unable to give someone legitimacy or deprive it. Her step was more symbolic than any other. It was undertaken to create the illusion of our illegitimacy.
Real legitimacy cannot be granted by international organizations or by some officials located outside your country in other states. Only the people have the right to give or take away legitimacy. If people abandon you, then you become illegitimate. And, on the contrary, if the people express their support to you, then you are the legitimate president. Everything else does not make sense and is only a machinations that do not bother us.
QUESTION: There are decisions and actions taken against your country by some Arab countries and the West. On the other hand, there are BRICS countries, which, observing developments in Syria, make decisions that differ from those adopted by Arab and Western states. How do you evaluate the activities, policies and decisions of the BRICS countries?
PRESIDENT AL-ASAD: Your words underline one important point. The conflict in Syria from the very beginning was not internal. There were certain processes within Syria, but the main points of what is happening are connected with plans to redraw the map of the region and with the conflict of interests of major powers.
Creating a BRICS bloc means the United States is no longer the only global power in the world. Today there are partners whose views and interests cannot be ignored when making decisions in the international arena.
The BRICS group is not supporting me personally, as the president of Syria, but in favor of stability in the region. Everyone knows that if instability in Syria leads to a division of the country or if terrorist forces take control of the territory of the SAR, then the situation will inevitably spread to neighboring states. Then there will be a "domino effect" in the whole Middle East and even beyond its borders - in the East, West, North and South. This will lead to a state of tension for many years, perhaps even decades. It is on this basis that the countries of the BRICS group supported a political resolution in Syria, contrary to the will of the Western states.
As for some Arab or regional forces that are against Syria, it is well known that most of these countries are not independent and cannot make independent political decisions. They operate under the dictates of foreign circles. Within themselves, they can support a political decision in Syria. But, receiving orders from the West, they consider it necessary to carry them out. Generally speaking, this is the reality both in the region and internationally.
QUESTION: Mr. President, during the past two years we have witnessed an armed conflict in Syria. One of the parties to this conflict is supported by the United States, France, Turkey and some Gulf countries. These states say that people are fighting against your "regime." More than a hundred countries have stated that you must resign. Do you think on this background to resign or transfer power to someone?
PRESIDENT AL-ASAD: Your question implies that a large number of Western states and their allies, including Turkey and a number of Arab regimes, oppose me as the president of Syria. At the same time, there are allegations that the people are also against the president. How is the leader still at his post? How does Syria last for two years?
I do not care that any foreign countries are against me. I am the president elected by the Syrian people. Only Syrians can decide when the president takes office or when he leaves office. This is an internal Syrian decision that will be made only by the Syrian people, but not by the states that demand my resignation.
Are these states interested in democracy in Syria? Are they concerned about the blood of the Syrian people? Let's be frank. Let's start with the United States. We see that they have supported the crimes committed by Israel over the decades since it was created in our region. The United States committed massacres in Afghanistan and Iraq. Millions of people are killed, injured or imprisoned. France and the United Kingdom killed many people in Libya with the support and cover of the United States. Currently, the Turkish government is knee-deep in Syrian blood. So are these states concerned about the blood of the Syrian people?
The question of the power of the president will always be the prerogative of the Syrian people, and no other country in the world has the right to resolve this issue.
QUESTION: You said that what is happening in Syria is mainly supported from outside. But we are in Damascus and hear the sounds of explosions and shelling. Why is this happening in Syria?
PRESIDENT AL-ASAD: We live surrounded by countries that help terrorists. Of course, not all countries do it intentionally. For example, Iraq opposes the penetration of terrorists into Syria, but it is constrained by certain circumstances that do not allow it to fully control its borders.
In Lebanon, there are parties and forces that support the sending of terrorists in Syria, and there are those who oppose it.
Turkey officially covers these terrorists and sends them to Syria.
Some terrorists enter Syria through Jordan. It is not entirely clear whether this is Jordan's deliberate stance or not.
As long as these terrorists continue to illegally enter the country, we will continue to fight them - this is natural.
In fact, there is a war in the full sense of the word. These are not just separate incidents. The terrorists are going to Syria in the thousands, maybe even tens of thousands. It is difficult to establish the exact amount. So it is not surprising that the sounds of battle are heard in many Syrian provinces.
QUESTION: Mr. President, you said that the Turkish government officially and publicly supports the terrorists and provides them with various types of assistance. But we know that you recently had good relations with the Turkish government. What happened, why did this situation happen?
PRESIDENT AL-ASAD: Maybe Erdogan saw in the events taking place in the Arab world a chance to prolong his political life. The mindset of this person is the same as that of the Muslim Brotherhood. Syria has had the experience of fighting Muslim Brothers for over 30 years. They are a group of apostates who use religion for their personal interests. Erdogan saw that in countries where coups took place or that were victims of foreign intervention, forces associated with the Muslim Brotherhood came to power. In this, he saw an opportunity for himself to remain in power for many years.
He spoke out against Syria because he saw in this a personal opportunity to remain in power. From the very beginning, he tried to interfere in the intra Syrian affairs. Even before the crisis, he put the interests of the Muslim Brotherhood higher than the Syrian-Turkish relations and even higher than the interests of Turkey itself. That is how this man thinks. In the present circumstances, he also decided to put his personal interests and above the interests of both Turkey and Syria. As I said, he tried to intervene in Syrian internal affairs, and as a result, his government began to openly support terrorists. The Erdogan government has become actively involved in the bloodshed in Syria. Naturally, in such conditions, the relationship between us is severed.
QUESTION: When we asked Mr. Erdogan about what happened to the Syrian-Turkish relations, he replied that he was honest with you making proposals for reforms, however, you rejected them. Why did you not take into account the proposals made by Erdogan?
PRESIDENT AL-ASAD: Unfortunately, Erdogan never uttered one true word from the very beginning of the crisis in Syria. I do not exaggerate. The "proposals" put forward by him contained only general words that the Syrian people must decide who will be president and what political system will be in the country. I made such proposals a long time ago and presented them in much more detail in many of my speeches.
Now we are at the stage of preparation for the national dialogue, in which all the political forces of Syria will be represented. We will choose the best path that our country will take. No matter how important Erdogan's proposals are, they will not be more important than the wishes of the Syrian people. Is there anything more important than the decisions of the Syrians? All that the Syrian people decide on their own will be implemented.
There is, however, a simple question that we must ask. If Erdogan claims that he put forward proposals to solve the problems of Syria, then what is the connection between these proposals and the support of armed groups? Today, Erdogan with the help of Qatari funding organizes terrorist groups, provides them
weapon
, medical equipment, logistics in Turkey, and then sends them to Syria. Were his offers a gift to the Syrians or did he simply use them as a facade to cover his goals?
Does he know that we have advocated dialogue from day one? We have agreed to conduct this dialogue with all the Syrian parties. But the first stage of their plan, which they call "peaceful," failed. Then they began to support the armed groups.
Erdogan uses his proposals as a mask. We can take advice from any force, but under no circumstances can we accept intervention in Syrian internal affairs. It seems that Erdogan did not understand our position. But he decided that the fraternal relations between Syria and Turkey would allow him to interfere in the internal Syrian affairs in order to defeat the Syrian state. For me, the situation was clear from the very first days.
QUESTION: There are reports in some Turkish media that officers and officers of special services of Turkey are participating in terrorist attacks in the SAR, assisting terrorists, that they have penetrated into Syrian territory and were directly involved in the activities of terrorist organizations. Some media reports that Syria will respond the same to Turkey. What can you say about this?
PRESIDENT AL-ASAD: As I said, at present the Turkish government is directly involved in the murder of the Syrian people. Some people expect Syria to retaliate, but we will not.
First, we oppose criminal acts and reject them.
Secondly, we consider the Turkish people a brotherly people.
Thirdly, this is what Erdogan wants.
He wants to sow discord between the peoples of Syria and Turkey in order to gain public support for his policies and restore former popularity. We will not fall into this trap for reasons of principle and because our interest lies in good relations with the Turkish people. The conflict between our two nations will not be in the interests of either Syria or Turkey. It will only complicate the situation.
More than 10 years ago, then-Turkish President Sezer visited Syria to eliminate all the bad things between Arabs and Turks. Now Erdogan is trying to jeopardize these intentions. We will not commit any actions against the Turkish people.
As for the Turkish special services, we have not hitherto captured their member or soldier of the Turkish army. This does not mean that they do not participate in what is happening. They provide terrorists with training, equipment, communications, and provide them with various forms of political and informational support.
From the confessions of many terrorists, we know that there are people in Turkey who are involved in what is happening. But the main participation of Turkey is the policy of the current Turkish government. And, if there are no intelligence officers on the land of Syria, this does not mean that they do not participate.
QUESTION: Your statements about the Turkish policy are clear. Turkish Foreign Minister Ahmet Davutoglu said: "I would prefer to resign than shake hands with President Al-Assad." What does this fact say about the relationship between the two countries?
PRESIDENT AL-ASAD: I will not respond to that. Suffice it to say that I received the appropriate upbringing in my own home. It is clear that this can not be said about him.
In what he says, there is no embodiment of the high moral principles of the Turkish people, which I saw quite clearly during my visits to Turkey. On the other hand, the Syrian people also have high moral standards. Therefore, I do not feel the need to respond to such attacks.
As for the bridges between our countries, my relations with Erdogan, in theory, would have to reflect the Syrian-Turkish relations. But when the prime minister, the government or its individual members are involved in the bloodshed in Syria, these bridges do not exist either between us personally or between the Turkish government and the Syrian people, who have no respect for the leadership of Turkey.
QUESTION: When Barack Obama was in Israel, Prime Minister Netanyahu suddenly announced that he apologized to Turkey for the incident with the Turkish ship. How could you comment on this event?
PRESIDENT AL-ASAD: There is a clear and obvious answer in this situation. Netanyahu is the same person who was Israeli Prime Minister 3 a year ago when the Marmara ship incident occurred. He is still the prime minister. Why did he not apologize for all these years? What changed? Erdogan is the same and Netanyahu is the same. But what has changed is the situation in Syria.
This very clearly and clearly confirms that a Turkish-Israeli alliance is being created against Syria. Erdogan enters into an alliance with Israel in order to aggravate the situation in Syria. In the past two years, he has failed to achieve his goals: set up Turkish public opinion against Syria, as well as break the Syrian state. Syria has remained steadfast, despite fierce battles.
Erdogan has no ally to help him, except Israel. Israel is our obvious enemy that has occupied our lands. I believe that what is happening is clear evidence of a union between them. At the same time, this apology helps Erdogan regain some of his authority, which he lost in Turkey.
QUESTION: We want to remember what happened recently. 21 March, Erdogan met with Ocalan. During this meeting, the parties talked about the formation of a new Middle East consisting of Arabs, Assyrians, Kurds and Turks. What do you think about the meeting and these statements?
PRESIDENT AL-ASAD: At the moment we have information spread through the media. We have not received information about the details.
From the first steps of Turkey to solve the Kurdish problem, which were taken several years ago, our position was to support any solution between the Turks and the Kurds. Because we do not want to see further bloodshed in Turkey, which will undoubtedly have a negative impact on the region. We will support any real solution to this problem, because the Kurdish people are a natural part of life in the region. Kurds are not guests or immigrants - they have lived on these lands for centuries and millennia.
But the prospects for resolving Turkish-Kurdish relations depend on Erdogan's trust. I do not trust this man and I doubt that he will keep his promises. All the measures he takes are temporary measures aimed at attracting political support. Here we can again ask the question: why did he not take the same steps a few years ago? Again, this is due to the Syrian situation. But let's not anticipate events, but wait and see.
QUESTION: You said that solving the Kurdish problem is one of the important issues for the region. Can we hear your position on solving this problem in more detail?
PRESIDENT AL-ASAD: We should note that the concept of a nation is different from the concept of ethnicity. We live in a mixed region. If, for example, you are a Turk, this does not mean that you cannot be a Kurd, Armenian or Arab, speak a different language and be a carrier of another culture. This is the situation in both Turkey and Syria. When we talk about an Arab, it does not mean that he cannot be of another origin. Both Turkish and Arab nations are an example of a civilizational structure that includes representatives of many nationalities.
There were problems with this concept. The great advantage of this region is its diversity. The most dangerous thing for us is not to see in this variety of opportunities for prosperity and development. When we see this as weakness, we allow outside forces to force us to fight each other and create conflicts.
So it was at the beginning of the last century, when in the last days of the Ottoman Empire, a conflict began between the Arabs and the Turks. Many forces wanted to defend the ideas of Arab nationalism within the Ottoman Empire. However, as a result of mistakes made by both Turks and Arabs, as well as as a result of interference by foreign players, the conflict began.
That is why we have to look at the current situation in such a way as if we are made of the same fabric, but of different colors.
QUESTION: Mr. President, one of the most important issues currently under discussion in Turkey is the issue of the Kurdistan Workers' Party. There are organizations operating in Syrian territory that cooperate with it. The PKK has a great influence on these organizations. They say that this organization is interested in creating a military vacuum in the north of Syria, because it can be filled by Kurdish forces. How do you feel about this?
AL-ASAD PRESIDENT: When there is any chaos, as is the case with Syria at the moment, there will inevitably appear any groups wishing to fill the vacuum created. Sometimes these groups are gangs with a single goal — murder and theft. Sometimes these are political groups that seek certain interests.
There is no doubt that there are several organizations that want separatism. They exist in Syria, Turkey, Iraq and other countries. But we cannot extend the desire of individual organizations to all Kurds. Most Kurds are patriots who want to live in Syria. Thus, due to some cases, we cannot generalize the situation and assume that things are moving towards separatism.
Separatism needs a certain environment: it must have broad public support or rely on external factors. The situation in Syria is currently different from this situation. I am not concerned about this issue today.
QUESTION: Mr. President, there is a very important question. Since the beginning of events in Syria, certain parties and research centers have begun to talk about a new project, which involves the separation of the north of Syria, the north of Iraq and southeast Turkey. Do you think there is a danger of separation of the north of Syria from the state?
PRESIDENT AL-ASAD: As I have already said, in the current conditions in Syria there are no conditions for this, especially from the point of view of public opinion. The ideas of separatism will be completely rejected by the Syrian people and the state. No sovereign state will accept the separation of a part of its territory. Such a position is totally unacceptable and is not negotiable in Syria.
QUESTION: It seems to us that there is a clear plan put forward by Western countries in cooperation and coordination with some countries of the region. It provides for the creation of Great Kurdistan, if we separate the north of Iraq, the west of Iran, the north of Syria and southeast Turkey. They want to achieve this goal. Are we going in this direction?
PRESIDENT AL-ASAD: I do not believe that four states - Syria, Turkey, Iran and Iraq - will agree to such proposals. Independent states in the modern world strive for integration, not division. Unfortunately, our region is an exception, which is a sign of backwardness. Today, large countries are coming together, an example of this is BRICS. States seek to unite and form blocs, because this is the requirement of the era in which we live. So why should we go in the opposite direction and strive for fragmentation in our region? What prevents people who belong to different nationalities, religions, faiths, to live with each other?
If we accept the ideas of separatism, it will lead to such consequences as splitting up into small mini-states based on ethnic and confessional signs. In our rich and diverse region, this will create a dangerous situation that will provoke wars in the future. That is why I do not think that such proposals are real. Each of these four countries concerned must do everything possible so that all its citizens feel like people of the first grade, with equal rights. This solution is therefore clear and simple. On the other hand, when a citizen feels that he is of the second or third grade, he will think about separation or even oppose his own state.
QUESTION: Earlier you, Mr. President, put forward an interesting project. You talked about the political and economic unification of the five seas and the countries lying between these seas. How can we benefit from such a project? Can you talk about it to a Turkish audience?
PRESIDENT AL-ASAD: This is what I had in mind when I said that in this era we must unite. This does not mean that we will become a single state, such as the vast empires that existed in the past. Today we can unite our interests. For example, we can build railways and other land transport facilities together, develop gas and oil fields, develop electric power facilities and all types of energy, and, therefore, create connections between our countries in this extremely important from a strategic point of view region of the world that lies between five seas. This in itself would bring a lot of investment to the region, we could achieve prosperity in all its countries. This would allow our states and nations to be strong enough to repel any foreign intervention.
This idea requires will and independent decision making. Moreover, many Western states are not interested in creating such projects in the Middle East.
To implement this project, security and stability are also required. I do not believe that such conditions exist at the present time. There are problems in Syria, in Lebanon, unrest in Iraq. Most of these problems are the result of Western intervention. Moreover, the current government of Turkey is incapable of this, since it is not independent. And Turkey is important for this project because of its strategic position.
This does not mean that we should abandon these plans. They must remain in our minds, because the future of this region depends on ambitious projects. If each of us is enclosed in our national borders, we will be considered small on a global scale - even such large countries as Turkey and Iran. We cannot be strong unless we create such strategic cross-border projects.
QUESTION: Mr. President, we want to move on to another issue that is related to interfaith conflicts. Many people say that there is a war between Sunnis and Shiites in the region. Do you agree that conflict is interfaith in nature?
PRESIDENT AL-ASAD: This question was first raised in 1979 against the backdrop of the Iranian revolution, which overthrew one of the most important US allies in the region. Their only decision was to declare that this Shiite revolution and other confessions should oppose it. On this basis, the war between Iraq and Iran was provoked, with the complicity of some Gulf countries.
After some time, for the same purposes - inciting sectarian strife - the Muslim Brotherhood in Syria was used. But this attempt failed.
Now, three decades later, they again have no choice but to attempt to create inter-religious strife in the countries of the region. Therefore, they again raised this issue.
In the early days of the Syrian crisis, slogans were heard concerning the confessional issue. But so far, these plans have not been successful. If they had been realized, the entire region would have been split as a result of this conflict. A positive point in all this is the increased level of public awareness. Thanks to this, the people oppose these plans, despite the fact that there are some ignorant sectarian forces that are usually present in any society.
I believe that the essence of the conflict is not in the confessions now. This is a conflict between forces seeking to throw the nations back to prehistoric times, and states willing to go with their people to a prosperous future.
This is a conflict between those who desire the independence of their homeland from the West, and those who seek to be satellites of the Western powers for the sake of achieving their vested interests.
At the same time, the disagreements between Syria and Turkey are part of the international struggle of conflicting interests. The course of this struggle is influenced by various factors that may lead to a fragmentation of the region, which would allow the major powers to control our fate and our future.
QUESTION: Nevertheless, some countries outside Syria have officially adopted a policy of separation according to ethnic and religious grounds. On the other hand, we witnessed what you said about Turkey. Under the leadership of Mustafa Kemal Ataturk a secular republic was created. Unfortunately, the government distanced itself from this project and began to develop religious projects. How do you see the future of such political systems?
PRESIDENT AL-ASAD: These political forces, who want division and fragmentation, have provoked wars that can last for centuries in our region. They will destroy everything, will create obstacles to development and prosperity, will reject us in the Middle Ages. It is very dangerous.
When I speak of a secular state, I mean freedom of religion. Our region is quite conservative. Most people are religious. They should have the freedom to perform their religious rituals. We should not think for a moment that there is a contradiction between ethnic groups and religions. This is the essence of our secular thinking.
We must always strive to bring people together in our region. As I mentioned earlier, regardless of what happens between the governments of Syria and Turkey, this should not affect relations between the peoples of our countries. These relationships are the only guarantee of our unity, diversity and prosperity of society.
QUESTION: Mr President, do you closely follow the events in Turkey?
AL-ASAD PRESIDENT: This is natural. Because what is happening in Turkey - a neighboring large country with an important strategic position - will directly affect the events in Syria.
At the same time, there is a lot in common between our peoples: the mentality of people, their emotions. The structure of society in Turkey is very similar to that which exists in Syria.
So, I repeat: what is happening in Turkey will have an impact on Syria. That is why we believe that the stability of Turkey is in our interests. In contrast, instability in Syria has a negative effect on Turkey. The task is to convince Turkish officials in the current government, in particular, the Prime Minister, that the fire in Syria will spread to Turkey. Unfortunately, he does not see this reality.
QUESTION: A question regarding the dialogue with the opposition. You called for a political decision and a direct dialogue with its representatives. Is there a "red line" in this dialogue?
PRESIDENT AL-ASAD: "The Red Line" is a foreign intervention. Any dialogue should be only Syrian. There can be no foreign interference in this dialogue. In addition to this, there is no other "red line". Syrian citizens can discuss anything. Syria is the motherland for all Syrians, and they can pose any questions they want.
QUESTION: On many TV channels and other media, the conflict in Syria is viewed as confessional and claims are being made that there is a dictatorship of Alawites, whose sole purpose is to persecute Sunnis. Even the murder of Muhammad Said Ramadan Al-Buti is considered in this context. What is your reaction to such statements?
PRESIDENT AL-ASAD: I talked about the diversity of this region, part of which is Syria, which has lived steadily for many decades without any internal problems. Can there be stability without a government that is a reflection of its people? When a government in any country represents only one or a few groups of people and, therefore, does not reflect the interests of the entire population, it cannot survive. Sooner or later it will fall, and with it the country. Therefore, such claims are not true. We live together in this country for hundreds of years. The country's leadership reflects the diversity of society and takes part in its affairs.
As for the late scientist Al-Buti, it is absurd to blame the Syrian government for his murder. This accusation was invented by the same groups that accused him of being the mouthpiece of the authorities. Such an accusation was invented to reduce its popularity among the Syrian people and among its followers in the Muslim world. In fact, he was not a mouthpiece of power, as they are trying to present it. He never wanted to get power, did not want to be a minister or mufti, did not ask for any money. He lived a modest life. His only fault was that he stood in the vanguard of a group of religious leaders who resolutely resisted the conspiracy to sow interfaith strife among Syrians.
Al-Buti was at the forefront, firstly, because of his status in Syria and the Muslim world, and secondly, because he was deeply aware of and understood the truth about what was happening. There is no doubt that the position of these religious leaders, including Al-Buti, played a decisive role in disrupting attempts to incite inter-religious hatred. That's why they killed Dr. Al-Bouti, as well as other religious leaders. Most recently, a few days ago, a religious leader was killed in Aleppo. All those who spoke of true religion, of tolerance and religious tolerance, have become a target since the beginning of the crisis. Without a doubt, al-Buti resisted this war. He was not for the state system, but stood with his people, for which he paid with his life. In any case, he always spoke of his readiness for martyrdom.
QUESTION: Thank you, Mr. President, for the interview with Ulusal. Is there anything else you want to say to the Turkish people?
PRESIDENT AL-ASAD: We are now at an important historical stage. We are Syria, and Turkey, and the region as a whole. Even if some of the changes taking place in our region were spontaneous in nature, but much of this is planned from the outside in order to establish control over this region.
What is happening now is, in fact, similar to what happened a hundred years ago. There is a repeated division of the region. One hundred years ago, we accepted the Sykes-Picot division when they set boundaries for us. But this time we should not accept any plans to rebuild the region, with the exception of those that are suitable for us - the peoples living in this region. We have to be decision makers. Unfortunately, this vision is lacking in many governments that have agreed to act in accordance with foreign dictates, in particular, to fulfill the will of Western countries. Therefore, we see that over the past two years there have been many attempts to destroy relations between the Turkish and Syrian peoples.
I want to say that what we started twelve years ago with President Sezer should continue under any circumstances. I mean the Turkish-Arab brotherhood. It cannot be achieved if the Syrian-Turkish relations are not good, because, along with Iraq, we are the Arab countries neighboring Turkey.
Therefore, we must continue to move in this direction. Prosperity in one country will be reflected in other countries. And the fire in any country will also spread to others.
Governments come and go, they do not stay forever. Therefore, we should not allow governments and officials, especially stupid and inexperienced officials, to undermine our relationship, which should be built by us, and not by foreign powers. This is my message to the Turkish people. I am glad to receive you today.
JOURNALISTS: Thank you very much, Mr. President.
PRESIDENT AL-ASAD: Thank you again and please convey my best wishes to the staff of the Ulusal TV channel and Aydinlik newspaper.