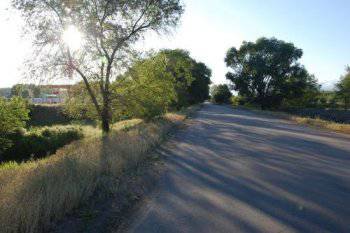 Homeland is a land
Where is the captive soul.
Voltaire.
Looking at the current situation in the world, when people are increasingly annoyed at each other, when it became "fashionable" to just touch the nationality, I decided to recall how we lived in peace and harmony with our neighbors. It has never been on my street that a person of one nationality humiliates or insults a person of another nationality. That, in fact, is my preface. This article was written by me 2 a year ago, but I remembered about it only recently, when I used to rummage through my disks.
Today I am reporting from the intersection of Bayzak Batyr Kylyshbai akyn street. From here begins the street of my small homeland. Asphalt road - one of the main arteries of the city divides it into two equal halves. The one that continues from the big ditch to the end of the Central Market is the part of the street where my early childhood passed.
Here it is, dusty and dirty at any time of the year. All in potholes and potholes, as in old wounds, Received in the most severe fights. This is today it has become so. Street name Kylyshbay akyn. Probably, the famous akyn, seeing her miserable and broken, would be offended and kindled with just anger. On our mismanagement and carelessness, on our laziness and indifference - and rightly so! But before this street had a different name - Nikolai Bauman, a fiery revolutionary of the era of the emergence of Soviet power. Neither being a completely snotty boy, nor later, becoming an adult, I did not think about the name that she bears. But then in my memory there are clear memories of the street of my childhood as a cozy, sweet and homely home.
Our family arrived in Kazakhstan in the summer of 1969. It was a starry southern night. As my mother told me later, two teenage girls were struck by the velvet night sky, deep, with a special feature of density that seemed to touch this blackness - and the hand would go to the warm, enveloping abyss. I still have a good idea of ​​this night, although from where I, who appeared more than a quarter of a century later, know and remember about it. But these were the nights of my childhood on this street. I am mentally transferred to my childhood years. Here is our street, a house with a small courtyard. Narrow palisade with lilies of the valley and primroses. A tall, sprawling apple tree, densely dotted with small apples. Little dead end, where only six houses. Quiet murmurs - whispering water in the aryk. Then he was clean and transparent, and we children floundered in it and swam on cylinders, not afraid to pick up the infection. What has he become today ?! Heaps of rubbish, jams from evil spirits, muddy waters ... No sane person dares to put even a hand in it. On the croaking of frogs, which used to be many in coastal thickets: ecology buried in sewage. It is a pity that people failed to preserve the original nature of man-made nature! I again mentally go back to the distant past. There, the street of my childhood smells of roses and the fresh coolness of irrigation water. There high pyramidal poplars proudly stretch straight to the sky. There is a special, homely atmosphere.
It was created by people living on Bauman. Where are they now? .. Our neighbors were people of different nationalities: Germans, Greeks, Koreans, Uzbeks, Russians. Uncle Hariko went to Greece, to his ethnic homeland. Carried all his family. I imagine his children: fat man Yurik, with whom they invented various boyish tricks, and then tried to put them into practice (now he is dead); Aritulu, his beautiful sister, a woman of fashion (she is today a sought-after hairdresser - fashion designer in Greece); her two little daughters, graceful, like pupae, girls ... They all left with their father, and emptied them into a cozy, clean house. Shura, a wonderful housewife and a very friendly person, lived a little further away from them. With her sweetest, as she said, skinny, but terribly alive last Dimka, I fiddled with an improvised sandbox and drove with a twig of Aunt Shurik geese. And then Dimka and I roared together, frightened by the angry hiss of angry birds. I walk to the green gates of my neighbors -
Uzbeks. Shukur-ata together with his wife still lives in this house. As before, the sounds of unique Uzbek melodies can be heard from their courtyard. As before, they sound from early morning until late evening, filling our dead end with a mixture of oriental "flavors": music, cakes, sweets, Shukur-ata is just as active and focused. He reminds me of a cartoon Winnie the Pooh, puzzled by how to find a jar of honey. I greet him by the hand, almost bowing my head. Shukur-ata still remembers my grandfather, with whom he loved to lead his male conversations about farming,
family, work, and my grandmother, who is still very young teasing him and sending greetings to his wife.
I notice that my feet themselves carry me to the gates of our former home. He is the same and not the same. The new owners rebuilt something in their own way, repainted in lemon-pink tones, and therefore, probably, it blows from the house quite a stranger, only a little diluted with elusive family smells. There is no longer an old apple tree and two giant poplars. I can not hear the joyful dog barking - the new owners of the dog, apparently not. Unusually quiet and sleepy ...
Bauman Street is my little homeland. Here, despite the years that have flown by, everything is familiar and dear to me. Over there, further and closer to the bazaar, lives my former classmate Lola. The house of her parents is still strong and beautiful, as then, in the distant past. And next door is an unsightly, dilapidated little house of World War II. He looks out over the street with his eyes gone out, with windows like sorrow about his masters who have passed away. And once this house was one of the most benevolent and cozy on our street. My grandmother remembers Olga Nikolaevna and her husband well. She is Greek, he is German, both doctors, who gave a lot to the public health of the city. This beautiful couple passed through the fiery hot weather: she was on the front line in a military hospital, he was in the rear, beyond the Urals. I vaguely remember a dear blind old woman who lived out her life alone and helplessness. And it was scary to think what was waiting for her at the end of her life, if not for the good neighbors (almost half of the street) who had come to help her. Such kindness and sensitivity have always distinguished the inhabitants of our international street.
The street of my childhood, you are clumsy and ugly today. But so glad to know that, finally, the city authorities have paid attention to you. And they decided to restore your former beauty. You have always been a hard worker. Quiet, calm and comfortable in the past, dirty and dusty in the present, you always welcomed the passers-by hurrying to the bazaar and on their business. You stood dozens of cars loaded with a variety of goods. They inflicted wounds to you with large and small wheels, but you continued to live and endured all adversity. I'm standing at the fork in the road, at your beginning. You are still dear to me and loved, because my best memories are connected with you. From you, as well as from many other streets, roads and paths, our great life roads begin. You have remained forever in my heart, because the Motherland, the Fatherland of each person is "this is the land, where the captive is the soul."