The profession of a submariner is one of the most dangerous, difficult and responsible military professions. Submariners are at risk of every minute, dying both in wartime and in peacetime. For more than a century
history
Russian underwater
fleet
several dozen submarine accidents occurred
that caused casualties among the personnel.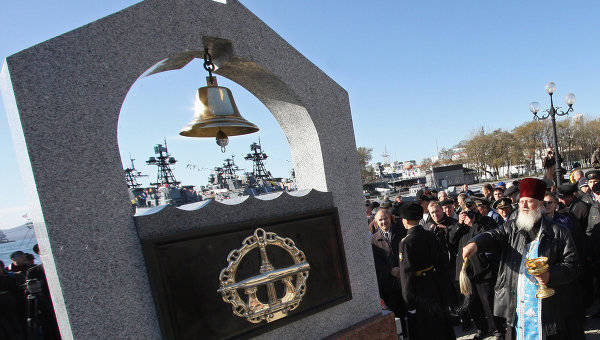 The dead submariners are remembered in Russia every year on April 7. April 7 Day was chosen as a memorable date in memory of the tragic death of the K-278 Northern Fleet Komsomolets 7 April 1989 submarine of the year. On this day 24 a year ago, the Komsomolets submarine, equipped with the latest technology and many years ahead of its time, sank in the waters of the Norwegian Sea. On the way to the base in a submerged position aboard the "Komsomolets" there was a fire with the subsequent depressurization of compressed air systems. After the ascent of the submarine, the crew began a selfless struggle for the survival of the vessel, which lasted for 6 hours, as a result the reactor was stopped, a nuclear disaster in the Atlantic Ocean was prevented. However, the submarine itself could not be rescued - its solid hull was completely depressurized, the stern compartments were completely flooded, too much fresh water entered the boat, and the Komsomolets went down.
The disaster of Komsomolets claimed the lives of 42 submariners, including the ship's commander Yevgeny Vanin, all were posthumously awarded the Order of the Red Banner, and a memorial plaque with the names of the dead sailors was installed at the St. Nicholas Naval Cathedral in St. Petersburg.
No less dramatic was the death of the nuclear submarine "Kursk". This catastrophe was perhaps the most tragic event in the modern history of the Russian Navy. 12 August 2000 of the year during the exercises of the Northern Fleet in the Barents Sea sank the nuclear submarine cruiser Kursk, becoming a mass grave for all 118 members of its crew.
Today, in memory of the deceased submariners, selflessly fulfilling their duty to the Motherland, after raising the flags on ships and vessels of the entire Russian Navy, a minute of silence passes. According to tradition, in every part of scuba diving and higher educational institutions that train naval officers, events are held dedicated to the memory of submarine heroes who have been martyred aboard their ships.