At the International Salon "Integrated Safety 2013" AIR Group from Moscow will present the latest development - a tether unmanned carrier of the fan type Air 400X - CARRIER of the middle class.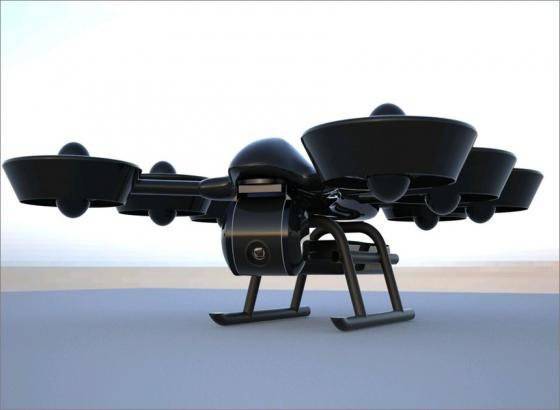 vertical takeoff (landing) Air 170X - OperA
As the general director of the company, Alexey Aravin, said, "this will be a working model, which is planned to be placed within the framework of the Salon exposition".
The carrier, according to him, is designed to accommodate the payload that solves the problem of monitoring the surrounding airspace and water surface, as well as relaying information of various contents. According to the head of the company, the 128 kg carrier engines with vertical take-off (landing) ensure the lifting of the payload 60-70 kg to a height of 50 m. The carrier is weatherproof and can be operated for 24 hours at wind speeds up to 15 m / s. The Air 400X platform - CARRIER is equipped with flight stabilization systems and GPS navigation. In addition, according to A. Aravin, unmanned aerial vehicles (UAVs) of a new generation of fan type will be presented at the Salon. Thus, Air 250 is an aircraft of enhanced maneuverability, which can be used from sites of limited size and vehicles without additional devices for vertical takeoff and landing. Among its other differences: the possibility of using inside buildings, forests, mountain gorges and caves, as well as landing in the patrol zone and the use of stationary observation points. The UAV is equipped with one fan-type engine located inside the apparatus, which ensures safety during its operation. Able to fly along the route and return to the place of take-off. With a weight of 5 kg, it can carry an optical gyro-stabilized photo-video system weighing up to 2 kg with a viewing angle 270 degree. Horizontal flight can take place with a cruising (maximum) speed of 120 (160) km / h for 3-4 hours with an internal combustion engine or up to 30 minutes. with electric motor.
Air 170X - OperA - UAV of vertical take-off (landing) type and differs from the previous apparatus by the presence of eight fan-type engines. It can be executed in versions "A" and "B" with a mass of 8 and 11 kg with a loading capacity of 1-2 and 2-4 kg, respectively. The flight time of the UAV for option "A" ("B") is 30-40 (20-30) min. With overall dimensions 910х860х350 mm.
AIR Group (air group) specializes in the development and production of new-generation media and UAVs with a fan-type engine. These devices are characterized by minimal deployment time, increased load capacity, compactness and vertical take-off (landing), increased maneuverability, safety and ease of control during operation. Depending on the size and energy equipment, they are capable of performing the same tasks as the aircraft and helicopter-type UAVs at a qualitatively new level.
According to the company's general director A. Aravin, currently work is underway to create a light-type UAV. In addition, the company's specialists are working to create an optical 2-x component optical system, which is a complex of optical-electronic devices, previously executed separately.