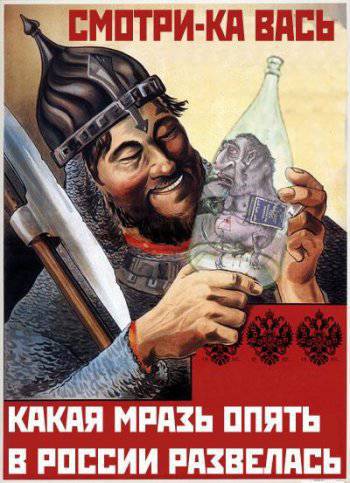 Let's really try to figure it out, because indeed many of us have at least rejection, and even hatred of the United States and the West. Where does this come from?
There was a country called the USSR. And she was a superpower. At a time when the whole world was the scene of the confrontation between the two systems, when NATO and the ATS looked at each other through the crosshairs of the sights of the USSR led the socialist bloc and was the most powerful socialist state. All over the world, only the USA could resist the USSR, and if in Europe their opposition came down to the Cold War, then Asia was seething with constant conflicts in which
weapon
and tactics for deploying troops for future global wars.
But the USSR fell. And along with the collapse of the superpower, the whole of Soviet ideology collapsed. And what came in her place?
First of all, the native intelligentsia raised its ugly stigma. Alas, but still under the USSR (and its roots are completely lost in Tsarist Russia), this specific layer of the population was formed - these are people who:
a) They didn't like and didn't know how to work, but they had extraordinary self-conceit, and, as a result, they got an inferiority complex: "If I'm so smart, why not rich?"
b) Compensated for this of his complex as follows: "I was born in the wrong country." But if an intellectual would live under capitalism in the United States or somewhere else, then he would, of course, become at least Abraham Lincoln, yeah :)
c) Accordingly, such a person is in every way "zapad" on everything Western, while Haya is all domestic.
Here, however, you need to hold a "thin red line", separating the lambs from the goats. There are people who are really sure that the social, economic and other principles of the West are truly the best of everything that exists today. And they, these people (let's call them Americanists), call for learning from the West and adopting the best of what the West has.
There is a huge difference between an intellectual and an Americanist. The trend of the Americanist is positive - he seems to be telling us: "Yes, here in this and here in this, the West is ahead of us, so let's do it the same way as they do, so that we have as good as there!" An Americanist first of all strives to make his country BETTER than it is now.
Unlike an Americanist, an intellectual DOES NOT STRESS to make his country better than it is. He does not need better. He needs to justify his own failure, and the more Russia will lag behind the West, the worse the Russian will be, the better the intellectual will be, because he lives according to the principle "joy is not when your cow calved, but when your neighbor died."
It is time.
When the USSR collapsed, and the market came to us, those who could "rise" in this very market formed a new, non-existent capitalist layer. And she, of course, needed some ideology of her own. But what could she be?
Socialist ideas are completely inappropriate. And no other - no, in fact people were thrown into the wild market and survive as you know. Die you today, and I tomorrow. Those who were able to survive and succeed in this competitive struggle, where their own life was often a bet, began to look down upon those who lost or those who had not even entered into such a struggle. In 90, the device of the former USSR turned out to be closest to feudalism — those who had money and power could afford almost everything, and those who did not have it could not oppose anything to them. The regions had their own, specific princes and barons, with their retinues, and it was not worth the ordinary person to get on their roads ... As Lord Acton said, "Power corrupts. Absolute power corrupts absolutely" Of course, these people looked down upon others - " scoops "that you take from them ...
This two.
And so, surprisingly, the impoverished and incapable intelligentsia and the quite active "elite" had an amazing similarity at one single point - both of them despised the "scoop" and those and others bowed down to the experience of the West, only the intelligentsia for the sake of compensating for their complexes, but the "elite" because it was the market economy that gave them something they could not have gained earlier, in the USSR.
The result is well-known: from the pages of newspapers, from the screens of televisions, a shaft of pseudo-western turbidity fell upon us. The intelligentsia, with the connivance of the "elite" that has power, has completely displaced its complexes on us. We have diligently argued that the Russians are cattle, people of the second grade, that everything made in the USSR is not worth a penny, that our whole
история
- it's a shame without a single bright light, that we are drunk and ragged through life, that we are just fierce animals, that we have committed a lot of crimes before the civilized world and that we need to repent, repent, crawl on our knees, grovel, pray to the West, listen to the IMF , do as Soros orders, and then we will be happy ...
Interestingly, here the voice of the intelligentsia, the "elite" and the Americanists practically merged into a single whole. Despite the fact that, unlike the intelligentsia, Americanists did not at all call to fall on their knees and break their forehead, attaining their own sins, but, alas, most of them were not free from the contempt for the "scoop". Therefore, with all the difference in outlook, their voices turned out to be mostly indistinguishable in the choir of the intelligentsia.
And this powerful chorus of voices, demanding admiration for all Westerners, gained the power of official propaganda ...
These are three.
But interestingly, a huge number of those very ordinary "scoops" turned out to be passionate about the ideas of a market economy and a new order. It seemed that we had to be patient, a little more, a little more, and a wise owner would come, and there would be salaries, almost like in the USA, and a cottage and a house in the village and all the children had a car .... Just before they were rebuilt we must tighten our belts a little, and then, of course, everything will be much better than it was!
These are four.
5 years have passed ... 10 years ... 15 .... but that's the point - economic well-being, comparable to the United States as it was not and netuti.
And then these very "scoops" began to raise questions
1) There was a total disappointment in the "invisible hand of the market" as in a management tool. The "effective owners" in the perception of the majority turned out to be somewhere between the Serpent Gorynych and Barmaglot, a fabulous creature that does not exist, but even if it were, it would still be no good to expect anything good from it.
2) No less disappointing caused the decline of Russia's prestige on the world stage compared to the USSR - a simple question - if we do everything better than in the USSR, then why do we listen less to us? If we are on the right path - then why are we becoming weaker, not stronger?
3) And finally - selfish question - why many, working on 10-12, live much worse hours than in the West?
And what answers did people get to these questions?
Because you - cattle. Because you are worthless and will never be fit. Because you did not repent of 100500 for millions of German women who were raped in World War II, did not pay 100500 billions to unfortunate Latvians, etc. etc ... Because the West is a paradise, but for our own, for normal and adequate ones, and you freaks never get into it. Because you are superfluous at this celebration of life ...
Everything is very simple. Our valiant intelligentsia, which gained access to microphones and cameras, diligently introduced a new picture of the world to people, where at one extreme is a prosperous United States, and at the other - drunken and worthless Russia. Our Rush, if you will. And what happens when a certain person is constantly demonstrated to an ordinary person (not a secret, for example, that the life of Americans shown in cinema is approximately four times as high as the average standard of living of an average American family) that this simple person cannot achieve and at the same time speaks taldych " You will never reach it, because you - freak !?
That's right, he will begin to hate this ideal.
And to whom should we say thank you for this ?!
But there are more reasonable people who are accustomed to thinking with their heads and who are not amenable to cheap intellectual screams. What do they think and feel?
First of all, we understand that the value system that our intelligentsia is trying to instill in us DOES NOT HAVE ANYTHING WITH THE WESTERN! True, there is a little reservations - from the Western sample of about 80-ies of the last century.
Firstly, that Western civilization will not infringe upon its national self-esteem. Errors? Well, fool with them. Look, fencing in England ... how many people even know about him? The revolution in France led to the dictatorship of Napoleon, who threw Europe with hecatombs of corpses ... What, France repents for the "fierce Buonaparte"? yeah, schazzz ... Napoleon, in fact - a national hero and brand of France ... and that a lot of corpses ... so this time it just was. Heroic.
But what is interesting is that when the West begins to repent of its mistakes, it turns out that ... we don't need this! Yes, the same United States fully realized the injustice of slavery. Poor blacks African Americans! Now, apparently, America decided to return the paid, giving its white population into slavery to the black brothers. And we ask ourselves the question, do we, the Russians, need such repentance?
Western civilization, surprisingly, is built largely on respect for work. Of course, there is a certain estate everywhere, only it is not customary in the United States to express its contempt, say, to an officer of the US Navy for not earning a million. And who was, until recently, a Russian officer, the last Afghan and Chechnya? And no one - "boot" - a loser and generally a sucker in life - loot can not earn. Even crazy - about some kind of "principles" and "ideals" babbling, bu-ha-ha !!!
Well, our story, of course. When you begin to carefully study where the Russian land came from, then you understand - everything happened with us, and the Poles near Moscow and the Cossacks in Paris. There were ups - there were downs. There were dark pages - and there were undoubted successes. We, damn it, have something to be proud of!
And here a feeling of patriotism finally began to wake up at last. Who - before, who - later.
We have already got rid of 90's illusions and understand that the United States is for us rivals, not friends, and that the maximum that we can (and should) achieve is a peaceful solution to the issues and finding consensus. And that for this you need to become strong again, because, alas, with a kind word and a revolver in modern politics, like in the past, you achieve much more than with a kind word.
We see the practice of double standards, when everything that benefits the golden billion is declared correct and democratic, and everything that is useless or harmful for it (let it be 100500 times fair) is declared unrighteous.
We do not like the categorical way in which the United States crawls into the internal affairs of countries that have not asked for it. We are Russians, we respect the right of the peoples to choose their own ways of life, no matter how different they may seem to us. We regret that we do not have enough strength to effectively prevent such American actions.
And we are told in response:
"If the United States attacked Belarus, then indignation about this would also be understandable - after all, one of the closest nations to us. But Egypt? But Libya? But Syria and Iraq? Is this what side can excite and cause hatred in Russia? "Is your dad something like a Studebaker?"
The clearest, by the way, is an example of double standards. The United States is allowed to bomb Libya, Iraq, extrude Syria. Although ... why? What would the US be worried about because of Libya? What the fuck did the USA forget in Libya? "Daddy is that a Studebaker"?
But for us - the position should be completely different - well, they beat someone there, so what? Do not you beat something, here and sit on the pope exactly ...
What is taught American child? If you see that something is wrong, you see a crime, do not bother yourself, but as soon as an opportunity arises - let the one who can help! Call 911, call the police, do not leave evil unpunished, the law is above all and you need to abide by it!
And what are they calling us to? Do not you ludzuyut - do not tweet.
Oh, these are my double standards ...
But we are Russians. And we will not be good about those who bomb the civilian population of foreign countries "in the name of democracy." Yes, Russian can also say, "My house is on the edge, I don't know anything," but at the same time he will KNOW that he is doing wrong.
And yet - we want our country to regain its power and superpower status, but only at the expense of OWN forces. We do not want to select anything. No one.
The feeling of patriotism in the Russian Federation is now slowly recovering. And the first reason is the rejection of the standards imposed on us by our rotten intelligentsia. That's just so historically, that these standards are issued to us for Western ...
Therefore, those who associate our intelligentsia with the West (and this intelligentsia has put a lot of effort into this) hate the West. Well, those who understand that our intelligentsia and the West are two big differences - they hate our intellectuals, liberals (in the bad sense of the word) anti-stalinos (please do not confuse with anti-Stalinists, and these are completely different people) similar figures, diligently grafting the Russian nation their own problems and complexes. And many of them do not even hate them, just treat them as a mixture of moldy worm with a tapeworm ...
We treat the West ... as an opponent who, if something happens, will play with us by no means according to the knightly rules. The attitude towards the USA is nevertheless more negative ... their desire to apply force to the place and out of place, getting into the affairs of other countries, leads to the fact that many of us are slowly beginning to see in the US such a gopnik 90, physically strong and fucked up feelings of impunity. Well, how to deal with such us dashing 90-e taught up to the conditioned reflex ... with the right in the eye and the heel in the scoreboard, so that I learned from my own experience how uncomfortable it is to collect broken teeth with broken fingers :)))
That's all.